Send to Kindle
We've seen Michael Daves twice before. Once, in a solo performance at Rockwood Music Hall and once with Chris Thile for their CD Release show next door at Stage 2. Our first experience with him was good, but the duet with Chris Thile was extraordinary, even though Michael couldn't sing due to the crazy allergy season.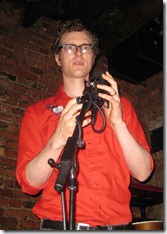 Last night Michael was back from a 4-week hiatus while he was touring with Chris Thile (he plays every Tuesday night at 10pm at Rockwood 1). His voice was fully back to normal. He performed an excellent set of hill-country bluegrass numbers. His voice is high-pitched, but so clean and powerful.
The real magic happens while he's playing the guitar (accompanying himself while he's singing, as well as a number of amazing instrumentals and solos). I mentioned in my first post about him that he plays a style I've never seen before. Basically, he strums full chords (a fast rhythm style), while somehow using a few fingers to blast out lightning fast and interesting leads.
Close your eyes and you'd have to believe there are two guitar players on stage.
While we (and others) specifically came to see Michael play, our main reason for coming out last night was to see the next performer (whom we had never seen before). She's a huge star in Mexico (if you're interested in knowing more, read my next post). Quite a number of her fans did what we typically do at Rockwood, they came one set early to get settled in.
I was impressed by how much it seemed that they appreciated Michael's unique performance, considering that it couldn't be more different from the one they came to see.
I'm sure this won't be the last Michael Daves' set we'll be catching.
This was post three of four today, on to the last one. Whew.