Send to Kindle
We are huge fans of everything Alex Wong does. His talents seem boundless. One of those talents is spotting other talented people, then collaborating with them to increase the talent level in the room geometrically.
Recently, Alex toured with Elizabeth and the Catapult (see, I told you he knows talent) when they opened for Sara Bareilles. Elizabeth ended up being the middle group each night.
Ximena Sarinana opened those shows, which was Alex's first introduction to her and her music. Like I said, Alex can spot talent. He is now touring with Ximena and last night they hit Rockwood Music Hall. We knew about the show for a few weeks and had it marked as an unmovable event (which is why we missed last night's epic Campfire at Slane).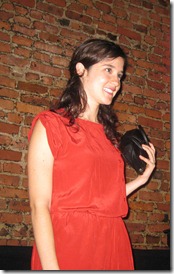 Before I describe the show, let me state some facts. The typical (successful) indie musician in NYC has between 1,000 and 6,000 followers on Twitter. These are people who release CDs, have a lot of fans (obviously not all of them are on Twitter, or bother to follow musicians), and sell out shows regularly.
Take it up a notch. One of the bigger NY-based artists is Ingrid Michaelson. She has nearly 80,000 followers (more than 10x the top of the other local artists).
@XimenaMusic has how many? Over 600,000! That's 7.5x more than Ingrid, and 100x the following of the typical Rockwood headliner. Why would she be opening for Sara Bareilles then? Because Sara has over 2,000,000 followers! There's always a bigger fish.

Let's back it up a bit. Ximena is huge in Mexico, where she broke out years ago (she's all of 25 now!). After conquering Mexico (my words, not hers or anything I've read), she decided to see if she could crack the US market. She moved here and is now touring. Her first CD was released in Spanish (to huge sales). Her next CD (I believe she said that the release is expected in August 2011) will be in English.
That's the buildup, now we find out whether there is any meat to go with those potatoes.
Yes!
OK, I'm done.

Seriously, I was blown away. For all but one number Ximena played the grand piano. There was nothing particularly amazing about her play (compared to some other singer/songwriters who specialize in keyboards) but her play is extremely solid and interesting.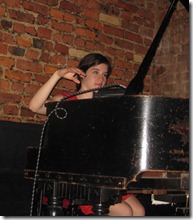 Then she opens her mouth. The sound that comes out is heavenly. Range, power, sweetness, raw emotion, basically, whatever she wants to project, you're going to take it, and say "Thank you ma'am, may I have another?". It's not just the voice (which is stunning), but also the melody, the chords, the arrangement, etc.
Note that I haven't mentioned anything yet about lyrics. Last night, Ximena chose to play 1/2 the show in Spanish (opening with it) and 1/2 in English. She alternated songs the entire set.
I speak zero Spanish. The only words I could understand were the biggies, like bueno, aqui, corazon, etc. It didn't matter, I didn't care. I was hearing a vocal instrument that took me somewhere (even if was different from where the lyrics were taking the Spanish speakers in the room), that was more than sufficient. I would have been happy if the entire set was in Spanish, though I enjoyed the English songs just as much (and I admit that I didn't pay as close attention to the words as I otherwise might have, given the lesson I learned in enjoying the Spanish ones!).
Ximena opened the set solo. For the second song she called up a surprise guest (to her as much as to us!). I apologize if I get the facts wrong, but I thought I heard her say that she bumped into him at a show next door (Stage 2) where they were both audience members. They used to play together in Mexico, years ago!
Ilan Bar-Lavi played electric guitar. It was a gorgeous Jazz style. I have no idea whether they had the time to rehearse, or whether they fell back to an old favorite and executed like it was yesterday. Either way, it worked. I'll have to keep my eye out for Ilan independent of Ximena. That's the only song he joined her for.
Alex Wong joined Ximena for three songs, playing a full drum set (something that we've rarely, if ever seen Alex do, though we've seen him as a percussionist, including pieces of drum sets, many times). Of course he was excellent, don't ask.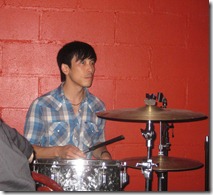 Ximena used a loop on two numbers. The first was awesome and unaccompanied by any commentary on her part. She merely looped her voice and sang harmony with herself, adding piano (I don't recall whether Alex joined on that one as well, but I think he did). Here's a shot of her holding the loop before the show started: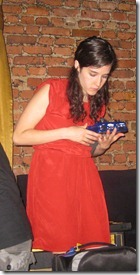 Toward the end of the set, Ximena was about to use the loop again, but this time she apologized for it (I don't know why, it's one of the most amazing live experiences I can imagine, as I've noted from Vienna Teng concerts many times). She said that she normally doesn't like the loop, but that she was going to use it one last time tonight.
Now that I've experienced that song, I have to say that if I see her again and she refuses to play it because she's bored with the loop, she'll have to answer to me after the show.
While there was a touch of piano in the song (barely a hint), there was no drum. It was basically a dozen (or more) loops of Ximena's voice doing various vocal acrobatics, while she also snapped her fingers into various loops at various tempos, creating her own percussion section.
If you've never experienced looping done by a pro, it will be hard for you to understand/imagine what it's like. It's not just gorgeous harmony (though it's certainly that). Because of the way the loop works, it's a process that keeps building on itself. Every time she sings a phrase, that phrase continues to loop. But, so do all of the phrases she sang before that.
So, one, then two voices at the same time, but the key is that the second is live, and the first is now recorded (it was live a minute ago, if you're following). Now the third voice (obviously still hers) is live, while the first two continue looping. You can always distinguish the current live voice, because it's typically doing the most interesting thing in the loop, soaring over the other loops and of course blending into the background looping a minute later when the newer, fresher vocal is added live.
Man, I feel inadequate to describe the experience.

All I can say is that if she had played that one song and left, I would have been perfectly satisfied.
She closed with another song then said goodnight. Obviously, the completely jammed room would have none of that. Since many in the room were fans who knew every word to her Spanish songs (remember, the English CD has not come out yet), they started yelling out various song requests.
While Ximena looked up to the sound engineer to ask whether she could play another, the crowd magically agreed on a song and started chanting it. It sounded to me like a single Spanish word as the title, but obviously, I have no idea.
I may have this wrong, but I think Ximena said that this was the first song she ever wrote and it was for (or placed in) a movie or TV show (again, apologies if I misheard or just don't remember correctly today). She said that she doesn't play guitar (implying that the song is normally accompanied by a guitar) and that she doesn't know how to play it on the piano.
So, rather than disappoint the crowd, she calmly took the microphone stand that was stretched out over the piano all night, carefully brought it out on the stage, straightened it up, and announced that she'd perform it a cappella.
When you read the next sentence, remember what I said about the looping song, and how close that was to a cappella too (just a hint of piano in that number).
I can't imagine not having heard her sing this song!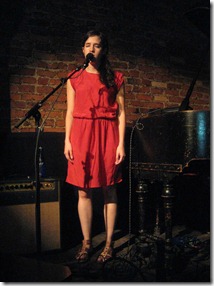 Got it? Just like I now know how special that looping song is, even though this one is as stripped down as it gets (Ximena and microphone, no loops, no accompaniment), I didn't want the song to ever end (of course, I didn't understand a word). You can only imagine how the crowd felt, since they chanted (literally) for it to begin with.
I have no real word to describe it other than Wow!
So, is that all Hadar? You got nothing else for us? Ha! Just like Ximena was forced to give an encore, I will too!

She is one of the most charming, natural, witty, disarming people on stage. Did I mention that she's only 25? Yup, she's got it, whatever it is.
Alex Wong (a.k.a. @highceilings), we bow to you again. That doesn't mean we are surprised, but we'll bow nonetheless.

P.S. I know I missed an absolutely extraordinary Campfire at Slane last night, but at least I have a reasonable sense (or illusion) of what I missed there. Had I missed Ximena's show, I would still be a clueless dolt in thinking "How could I enjoy songs that I can't understand?".