Send to Kindle
Having seen Delta Rae twice before, we were looking forward to this show at Rockwood Music Hall Stage 2 with great anticipation. Whatever expectations I had, they were exceeded.
You can safely stop reading now, as everything else will be detail to back up that statement. Here is a retweet of theirs with my additional comment coming before the RT:
Yes it was! NY loves you too! RT @DeltaRaeBand That was AWESOME! WE LUV YOU NEW YORK!
Now you know their Twitter handle so go follow them. Aside from learning about upcoming shows and projects, there are often other delicious things you will get. For 12 straight weeks they released a free song (available for download as well as streaming), often accompanied by a fun video. Some were covers, some were originals. I'll get to one of the originals a bit later in the post.
That series was called gRAEt Mondays. Get it? If not, you might only appreciate the music this group produces, rather than enjoy the complete package of their personalities and style.

You can read my past reviews of them, but I'm going make you jump through the tiny hurdle of searching for them rather than linking them. That's because both times, while I thoroughly enjoyed their performances (the first time acoustic, just the four of them, the second time with a full band), neither approached last night's quality. That means you can ignore all of the quibbles I might have had in the past, this band has grown up fast (really fast).
Each of the four members of Delta Rae sings lead. They combine for harmonies including two, three and all four of them. Every combination of their voices is exquisite (even when it's just two of them, any two of them!). Their arrangements of building the harmonies from two, then three, to the explosion of all four are done to perfection. At other times, they'll launch directly into four part harmonies that will knock you back a few rows (especially if you're standing).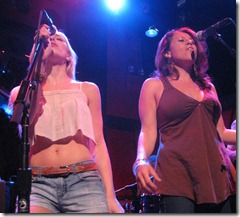 I'll be brief about each of them, since this is really a group (team) effort, then I'll cover the other two band members. Left-to-right on the stage:
Eric Holljes grand piano, acoustic guitar and vocals. Eric has an incredible voice, plays the piano wonderfully (on a few numbers he was really flying up and down the keys) and plays the guitar nicely. He's an excellent songwriter as well (I'll circle back to that when I mention some highlights in the set list). Check out his site, and you'll see that his talents extend well beyond Delta Rae.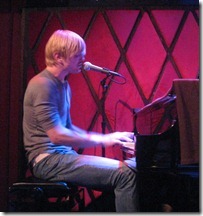 Brittany Holljes vocals, tambourine and shakers (no good individual link). Very powerful voice. Brittany typically takes the highest parts of the harmony and hits those notes very cleanly. She takes the lead on some of the more passionately sung songs, and at times I fear she might collapse afterward given how much she's putting into it (I'm kidding, I just want you to realize she leaves no gas in the tank).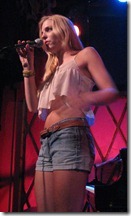 Elizabeth Hopkins (she goes by Liz) vocals, tambourine and shakers. Liz sings a bit lower than Brittany, but also has an exceptional voice and gives her all. Both women dance a lot on stage (which matches the feel of the music), with Liz perhaps doing a bit more of it (or more dramatically) than Brittany.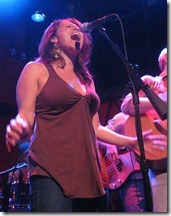 Ian Holljes vocals and acoustic guitar (no good individual link). Ian sings well and plays rhythm guitar on nearly every song. He kicks off the majority of the songs on the guitar. On quite a number of them, he's the first singer, even if he doesn't end up being the main lead. He's quite a good songwriter as well.
Mike McKee on drums. After the first acoustic Delta Rae show, I requested (in my blog, not of them) that they bring a band up to NYC. They delivered. Mike played drums (extremely well) the last time I saw them. Last night he cranked it up a lot. Aside from excellent and energetic drumming throughout, Mike got to really let loose a few times, notably on a number he was absent from the other time I saw him.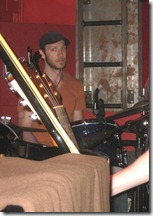 One of Delta Rae's signature covers is The Chain by Fleetwood Mac (the group Delta Rae most credits with inspiring them). At Arlene's Grocery Mike (and Mark, up next) were dismissed from the stage. Last night, everyone participated in The Chain. That included fantastic drumming by Mike. After all, it's one of the more iconic Rock songs, so you'd hope and expect the drums to be prominent. Mike delivered.
Grant Emerson Mark McKee on electric bass. Mark is Mike's brother, but there's no way he got invited to play with Delta Rae through nepotism. He's a wonderful bass player. I felt that the last time we saw him, but he too took it up a level (to be honest, a few levels). He had a few shining moments (across a number of songs), but like Mike, The Chain saw him wail on a nice bass solo (something he too missed out on at Arelene's).
Update: Wow! Mark played bass the last time we saw them, but in between, they replaced him with Grant Emerson and I missed that completely. That totally explains my feeling that he took it up a few levels from the performance before. No disrespect to Mark, but Grant is a better all-around bass player.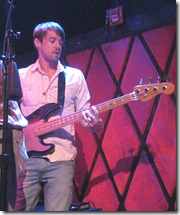 On one song, Grant Mike banged a heavy set of chains on a large metal garbage can (percussion, hillbilly style).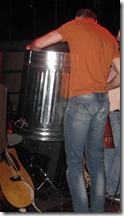 I attach the set list, which doesn't include the encore.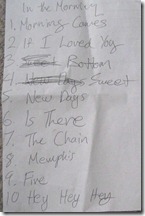 Song #8 on the set list is Memphis. It's a song that Eric recently co-wrote with Marcus Hummon. Check out Marcus' Wikipedia Page for a list of his extraordinary songwriting accomplishments. Some of those songs rank among our favorites. As I understand it (and I might be completely wrong), Memphis was driven by Eric, in collaboration with Marcus, not the other way around.
Here's a video (one of the gRAEt Mondays releases!) of that song. We love the entire song, but definitely stick around for the last full minute (the crescendo), to get a sense of what I described above about the four part harmonies:
Memphis, by Delta Rae, featuring Eric Holljes
While every song was a highlight, I'll call out one last song. I think it's the one listed as New Days, but I'm not sure, since I can't find a mention of that song online in order to verify it.
Eric came out from behind the piano and picked up an acoustic guitar. Ian stepped back behind Liz. The four of them were close to each other. The ladies stepped away from their microphones. Ian didn't sing, he only played rhythm guitar. Brittany, Liz and Eric sang directly to the crowd and both Ian and Eric unplugged their guitars. This was 100% acoustic.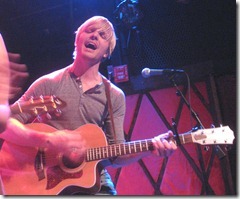 We were sitting under their noses (as you can see from the angle on some of the photos), so we had no trouble hearing it with full force. I hope that those in the far corners of the room could hear it as well (and I suspect that they could, given how powerful and clear it was to us). It was awesome and would be a crying shame if we were the only people who got to enjoy it.

Right before they played their last song, a number of people in the crowd yelled out some requests (uninvited). When someone yelled Darlin' If, loudly (he wasn't the only one to yell it, but he was the most vociferous), I noticed that Liz (who sings the lead on that one), had a reaction. They didn't play any of the songs that were called out.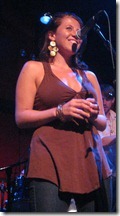 When the set was over, clearly, they had to come back out. They played Darlin' If, to the delight of everyone in the room. I'm thinking that Liz's reaction came from knowing that if they were called back out for an encore (hahaha on the if part), she would indeed be fulfilling the guy's wish.
We would have loved to stick around and say hi, but we had an issue that needed tending to since 8:45am, that we couldn't take care of until this show was over. We scooted immediately after it was over, and resolved our problem successfully at 11:05pm (thanks for asking).

In closing, I'm going to relate a story mostly so that I can remember it. Even though the set was scheduled for 9pm, we got there very early (because of our issue, we drove instead of taking a cab, and left too much time in case we had trouble finding parking). The set before Delta Rae was a paid show, so I waited (very patiently) outside (it was stunning weather). Obviously, I was first in line. Lois went next door (Rockwood 1) and watched most of the the 8pm set.
I was right near the bouncer (or whatever more polite term you might wish to call him) and saw everyone come and go. At one point, someone associated with the band (Delta Rae), but not one of the performers (I have no idea who, Manager, Booking Agent, very good friend, etc.), bumped into Tommy Merrill, the person who books shows for Rockwood. They had a very warm exchange.
Tommy mentioned that the room wasn't crowded (this was at around 8:40). The Manager (I'm just saying that to call him something) said, well, I'm gonna bet that between 9 and 9:15, it will be a lot more crowded. I admit publicly that I laughed a bit inside (but had my poker face on) at his bravado. Crowded shows usually start filling up early.
Well, you know how the story ends. It was incredibly crowded with wildly enthusiastic people. It would seem that the Manager knows Delta Rae fans better than I do. Apparently, they like to cut it close (or is that just called being Fashionably Late nowadays).

Delta Rae, y'all come back soon now, ya hear?