Send to Kindle
We've only been to one NYC Campfire before. That one was missing Martin Rivas, one of the co-founders of Campfire. Last night Martin was back hosting Campfire, this time at the original site of the Campfires, Slane (link is currently broken). Martin's partner-in-music (crime?), Craig Meyer, was on the road and didn't attend last night. It was the last Campfire until late August and we didn't intend to miss it.
Campfire is held in a bar, so it's not a traditional show. It's mostly covers, though the artists will occasionally sneak in one of their originals (or as was the case last night, they might be forced to play some originals when someone requests it).
Martin kicked it off solo. It was our first time at Slane and I was impressed with the sound quality coming out of the portable PA/amp that Martin dragged out of the back room himself. Slane is a very nice bar.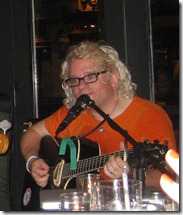 After Martin played a song of his choosing, he just started going in order in the audience asking people to pick songs. Ryan Vaughn sat closest to Martin and he chose first (a Police song). Ryan later joined Martin on percussion. I've seen Ryan a number of times, usually on percussion with Martin. Very recently, we saw Ryan on a full drum set twice, the first time supporting Robbie Gil and the second with John Schmitt.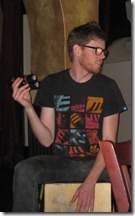 Last night, Ryan played the cajon (along with other percussive instruments like shakers and a tambourine). I am in love with cajons, and Ryan was masterful on his. I believe that someone (I know who, I'm just not naming them!) told me recently that Ryan was one of the first to play (and master) a cajon in the local scene and that he's famous for it. Now I know why!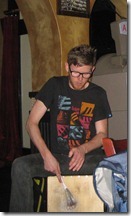 Lois was second on the request parade. She chose Me and Julio, which Martin nailed (of course). It would have been my turn next, but Martin asked if it would be alright for him to play another Paul Simon song. You don't think anyone objected, do you?

While Martin was playing Me and Julio, Greg Mayo walked into Slane with a guitar case. Martin had tweeted that he might have a guest or two, but he didn't name them. I was thrilled to be there just to see Martin, but how can the President of the Greg Mayo Fan Club (that's me, in case you're wondering) not be extra-thrilled that the object of the fan club was about to join the merriment?
By the middle of Me and Julio, Greg was set up and playing his patented awesome guitar leads. He was also singing harmony (fantastically) with Martin, but he wasn't mic'ed. Thankfully, we were so close it was really easy to hear him.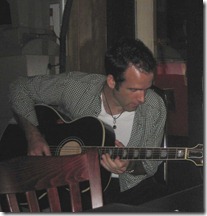 It was finally my turn, and I noted that since we were in the Village, he should play at least one Dylan song. He said he'd have to break out the laptop for the lyrics. After the laptop was turned on, he proceeded to play an oldie that wasn't even close to a Dylan song. I guess Martin was in the mood to tease me. After that, he did play a Dylan song, Positively 4th Street (great choice).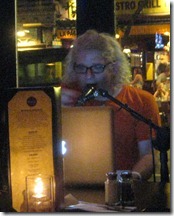 But, in classic Martin style, he turned it into a full-blown Soul number. It was 100% recognizable, but only from the lyrics. Otherwise, you would have thought it could have been from the catalog of any of the top Soul/R&B groups of the 60's! Nicely done.
The person sitting next to me chose Cecelia (it turns out it's her middle name!), and of course, Martin (and Greg) obliged.
In the meantime, Slane kept filling up, both with people who specifically came for Campfire and with a typical bar crowd. I was impressed that the people at the bar seemed to be enjoying the performance as much as we who came specifically for it were.
Brian Killeen was one of the people who came in that wave. He sat down to enjoy the music, but a few songs in, he was coaxed to come up and play the electric bass. It was at the same time that Ryan Vaughn jumped in on percussion. Greg took a break and joined the audience.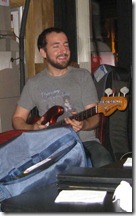 Brian was fantastic, with a number of long leads on the bass. He also sang "I'm gonna add some bottom, so that the dancers just won't hide" during Sly and the Family Stone's "Dance to the Music".
If you need proof that our deceased loved ones can directly affect our world, in order to reach out and let us know they're watching over us, here you go…
Brian had a margarita. I missed it, but somehow, it got spilled. After successfully soaking his shirt, the rest landed on the floor in front of the band. Lauren (I only know her first name) sprang into action, got a towel from the bar and cleaned it up lickity split. In the meantime, Brian got up and asked Greg Mayo to take over the bass duties for the next song.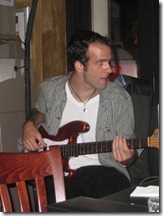 Just as Greg took over the electric bass, someone (I actually think it was the same Lauren who took care of the cleanup on aisle 3) requested Sara Smile by Hall and Oates. Now for the proof part: Bob Mayo, Greg's dad (sadly taken from us way too early!), toured for roughly 10 years with Hall and Oates!
A drink gets spilled, causing a change of bass players, followed by a request for a song by a band that the replacement bass player's dad toured with? Coincidence? I think not.

Martin passed the mic to Greg who sang a few verses. He hit the high notes perfectly (more thrills and more evidence!).

This was my first time seeing Greg on the electric bass. Can you believe that even though it has two fewer strings, and they're way thicker, that he's still as buttery smooth and his sensibilities are just as awesome as his guitar play? I knew you wouldn't argue with me on that.
I think Brian took the bass back on the very next number. Final piece of evidence.

It was Lois' turn again. She picked Into the Mystic by Van Morrison. Martin complied, wonderfully! Rachel, who sat across the table from me, was intending to request Sara Smile when it was her turn, but she was scooped by Lauren. Then she was going to request Moondance by Van Morrison. She told Iris both of those before they were called out, so she had a witness. All that proves is that we in the audience have similar (wonderful) taste in music. I guess that explains why we all like to hang out at these shows together.
A few songs later (nearly two hours in), Martin announced that they would take a short break, then play one more short set. At first we intended to stay, but a few minutes into the break and our eyes were getting droopy (it was 11:05pm). We called it a night.
On our way out, I spotted two of my favorite people coming in, Brian Collazo and Jason Vargas of Live Society. I bet they sang a bit with Martin after we left. That's a little soul-crushing for me (get the double-entendre?), but the sleep was so welcome (we slept later than we have in a very long time), so missing them (assuming they sang) was a price that had to be paid.
Martin is opening one of the biggest concerts of the year in NYC tonight (7pm, River to River show). Unfortunately, we'll be missing that. Then he's off for a concert tour in the UK and Europe the very next day! Knock 'em dead Martin, we know you (Chrissi Poland and Alex Berger) will indeed do so!