Send to Kindle
We've seen Nick Howard perform once before, as part of his side project with Rachel Platten called Chasing Violet. I really enjoyed that set and was looking forward to hearing Nick do his own stuff at Rockwood Music Hall Stage 2.
Nick had a full band backing him. He's British, lives in NYC and is a star in Europe (Germany in particular). His new CD is already out in Germany (where he just completed a radio promotion tour). We're still waiting for the release in the States.
Nick is a really good songwriter. Clever lyrics and excellent song structure (melody, rhythm, harmonies, arrangements). He sings well. As I mentioned in the post about Chasing Violet, Nick speaks normally (whatever that means), but typically sings in a higher register than he speaks. It's a sweet sound, but still catches me a bit by surprise.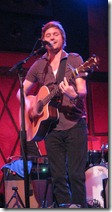 Nick played acoustic guitar on all but one number, when he broke out a ukulele. Nicely done all around.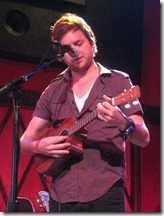 Unfortunately, having a full band, and a higher voice, isn't the greatest blend. Nicks vocals were a bit strained. I could hear every word, but he sounded better with Rachel (and later last night, which I will cover two posts from now).
Nick's band, left-to-right on the stage:
Dave Sherman on electronic keyboards (couldn't find a good link). Dave was mostly blocked from my view by the guitarist, but I could see his hands on either end of the keyboards. I could also hear him reasonably well. He had an L-shaped setup, with a big keyboard in front of him and a smaller one to his left.
He played funkier sounds on the smaller one and split the larger one between organ and piano sounds. Both were very good, but the piano parts were much easier to distinguish from the electric guitar.
Michael Reid on electric guitar and harmony. Nick introduced him as Mike, but his page is full of "Michael"s, so I will stick with that. His guitar play was very nice. His vocals were excellent (all harmony, no lead). I would have been happy with even more vocals, but no complaints.
Spencer Cohen on drums and light harmony. I've seen Spencer twice, both times on cajon and percussion supporting Chelsea Lee. I enjoyed both of those sets (including Spencer's play), so I was pleased to have a chance to discover his full drum set play. Score! I enjoyed every bit of his drumming. He also added a bit of harmony a few times, joining Nick and Michael.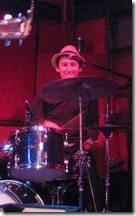 Malcolm Gold on electric bass and shakers. Malcolm did a good job. Early on, he had a problem with a cable and stopped playing (for roughly 1/2 a song). The band continued to sound good without him. However, when he started playing again, the sound got much fuller. While he wasn't flashy, he was definitely a welcome addition.
In addition to having a good repertoire of songs (and performing them well), Nick has a delightful stage presence. He has a winning smile, self-deprecating humor and quick wit in responding to the crowd or commenting on something he spots in the audience.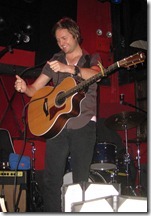 Here's the set list: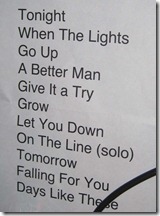 Even though this was to be a very long night of music (known in advance), I'm extremely glad we decided to start it off earlier than originally planned when I found out that Nick was going to be at Stage 2 (7pm).