Send to Kindle
We attended a Leave a Lasting Mark benefit show on Thursday. Rebecca Haviland was one of the many performers that night. She performed a version of Carolina On My Mind that captivated the audience. You can read about it here.
Even though we had a jam-packed 48 hours in between, I admit that I was still distracted a number of times, anticipating Rebecca performing a full set at Rockwood Music Hall.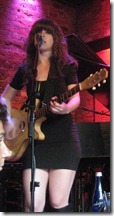 This was only the second full set that we've seen by Rebecca. The first one was five weeks ago. In that post I mis-identified one of her new songs as "Sing". Looking more closely at the set list (and having Rebecca correct me), it's called Sins. She didn't play it last night, so I don't know why I felt the need to correct that here.

Rebecca is in the midst of a writing spree. We all are the beneficiaries of that. Well, all of us who see her perform live. Later today she should be launching a Kickstarter campaign to fund a new CD (I'll update this post with the link once I get it). Once that gets funded (and it will!), the rest of you who don't live in NYC or don't come out for live music, can hear what I'm talking about.
While Rebecca sings a variety of styles (all equally well), at heart, she's a blues rocker, and a darn good one. Last night's set was mostly originals (I love every one of them) plus a few extraordinary covers. One of my favorites (it grabbed me the first time I heard it) is If You. The chorus has a recurring "Oh, oh oh oh oh". At times Rebecca is singing that too, at other times she's singing over that.
The last time we saw her, she invited the crowd to sing the "Oh, oh oh oh oh" part with her and we all did. Last night, without thinking about it, I started singing it (out loud) with her. I'm pretty sure I was the only one in the audience singing (as we weren't explicitly invited this time). Even though I was self-conscious for a second, I admit to continuing to sing it each time the chorus repeated. Ha, that's how I roll (occasionally, OK, rarely).

We didn't snag the set list (I'll have to talk to my minions about that oversight!), so I can't share all the song titles with you. In addition to If You, I'm sure Rebecca played Collide With Me and Direction (also new, unreleased) along with at least two other brand new ones.
The two other covers were her signature version of Led Zeppelin's Black Dog and another Zeppelin number that she morphed into (and back out of) mid-song.
After singing two songs with the band, Rebecca dismissed them and fulfilled my secret wish. She played Carolina On My Mind. For those of us who had seen her perform it Thursday, there was a deep satisfaction in not having had to wait too long to hear it again. For the newbies, I can only assume that their minds were sufficiently blown. In my next post (there will be four today!) you'll see that I need to use my extraordinary powers of mind control more often (I promise to use my powers for good only).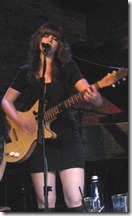 Before bringing the band back, Rebecca brought back Chris Anderson. In addition to being Rebecca's bass player (electric bass last night), Chris is also Rebecca's primary writing partner on her current project. He's also been singing background vocals a lot more, thanks to Rebecca prodding him. In addition to singing a lot of harmony last night, Chris also sang lead on one number, kicking off the first verse on his own.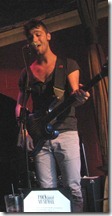 We got to meet Chris' parents, who came to hear him serenade his fans: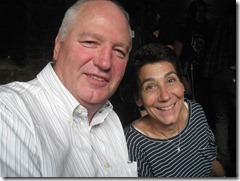 After one (or possibly two) numbers performed by Rebecca and Chris alone, the rest of the band rejoined.
Greg Mayo on keyboards and background vocals. Fantastic, as always. I'll have more to say about Greg in the next three posts.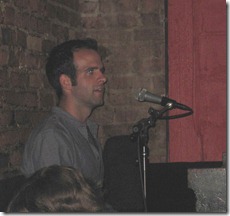 Kenny Shaw on drums. After seeing Kenny perform five times in one week, he decided to hide from us. Exactly one month later, we picked up his trail again. He was his usual solid self, complementing Rebecca really well. In particular, when Rebecca morphed into her second Zeppelin cover, Kenny was instrumental in supporting her.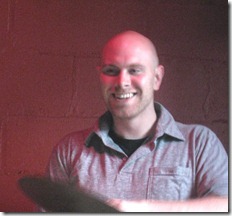 Sierra Noble was called up as a special guest to play the violin/fiddle on one number, taking a long solo. The sound complemented Rebecca perfectly (though a good violin solo complements a variety of music beautifully). My third post of the night will be about Sierra Noble's own set, but the other two will mention her as well. Last night was a big ol' party.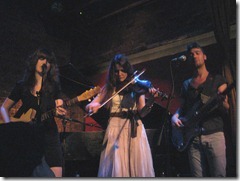 Before Thursday's benefit, we reached out to Rebecca and asked her to bring all of her previous CDs for us to purchase. We got two of them at the show (a full CD: Three Thousand Miles and an EP: What I'm Sayin'). As I noted at the top, we had a very busy 48 hours, so I haven't gotten to listen to either yet (hopefully later today).
Last night, Rebecca brought us the earliest one, Taking Advice From Strangers (from 2003-2004). I'm listening to that one now while typing this. Gorgeous. A bitt Jazzier than much of her current stuff, with as perfect a voice as you could hope for. Lovely lyrics, I'm drifting… a.w..a…y….
Here's a suggestion for Rebecca: make one of your levels on Kickstarter include all of your past CDs (I suggest $50) so that your more recent fans can find out that your talent is deep, broad, wide, and consistent, for at least eight years, probably more! (Disclaimer: this advice is free, I am not a paid endorser.)