Send to Kindle
Dave Eggar is an extraordinary musician. We've only seen him play the cello, but I hear rumors that he plays other instruments as well (no surprise) and I bet he's pretty darn good on those too. Every time we've seen Dave, it was in support of another artist (Ian Axel, Rachael Sage, ambeR Rubarth, Joey Ryan).
After the Ian Axel show (March 2010!), I bumped into him. Here's what I wrote in that post:
After the show, I accidentally crossed paths with Dave Eggar as he was leaving. I got to say the following to him (100% heartfelt!): "You are perhaps the greatest musician I've seen live, on any instrument!". The fact that his instrument is a cello astounds even me, and I said it! Obviously, that's a wildly subjective statement, but I'll let it stand.
In the past 17 months, we've continued to see live music at a frantic pace. This has included some phenoms (e.g., likely the best finger picking guitarist I've seen, just this week).  None of that changes my feelings about my statement above.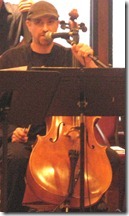 While I follow Dave on Twitter (@daveeggar), his tweet about this series (we only saw one of three nights, all different themes and musicians) flew by me, because I had never heard of Barge Music and didn't understand that this was a public concert.
All that changed when Alex Wong announced that he was one of the guests who would be appearing last night. When I realized I could get one more taste of Alex this week (last night was our third in a row seeing Alex perform), but more importantly, finally catch a full show headlined by Dave Eggar, our other plans fell by the wayside (I was really looking forward to seeing Emily Zuzik for the first time).
I dropped Emily a note apologizing. She told me that Dave organized and played much of the strings on her 2006 CD, You Had Me at Goodbye! She asked me to say hi for her. Since I didn't chat with Dave last night, I'm passing that along publicly, here.

Barge Music is music, played on a barge (literally). Doh. It's parked right under the Brooklyn Bridge (on the Brooklyn side). I'll say some things about the logistics of that at the bottom of the post. Suffice it to say that it's typically classical music, delivered in a gorgeous room, with excellent acoustics. I have no doubt I'll be back there for another show.
The program last night was eclectic. Each guest brought something unique and the pieces were very different. Dave explained that in the beginning, noting (correctly) that it was highly unlikely that at least one of the performances wouldn't appeal to every individual in the audience.
Before describing each piece and sharing how I felt it about it, I'm issuing the following blanket statement:
Every single musician was spectacular in their ability and technique!
In other words, even if I didn't appreciate a particular composition, it's not because it was delivered poorly. On the contrary, even pieces I would never listen to on my own, had enough elements of mastery to make them worth paying close attention to (at least once).
Given Dave's talents, it's clear that anyone he would invite to join him would be at the top of their game.
Apologies for the quality of the photos, and in some cases, the lack of one for a particular artist. We weren't in a good position.
Dave sat center stage throughout, with the others coming and going depending on the piece. All of the guest composers were listed on the site. The supporting musicians were all introduced (a couple of times), but it was hard to hear their names (we were much further back than usual) and since I don't take notes would have been impossible to remember. My heartfelt thanks to Tony Maceli (one of those musicians!), who responded to my email this morning to fill in the huge gaps in my memory/hearing.
John Patitucci was up first, playing upright bass. I didn't recognize the name. It's only in recent years that I pay attention (and homage!) to the names of sidemen (I always appreciated their work). It turns out that he's played with so many greats, many of whose albums I own, so I do indeed know his play and now his name! The first composition of the night was written by John (I think specifically for Dave Eggar!).

Before all of the musicians joined in, John and Dave kicked off a jazz improv on bass and cello. That morphed into John's composition. Joining John and Dave were four cellists (making five playing simultaneously!): Jeff Law, Diane Barere, Peter Sachon and Sachi Patitucci (yes, John's wife). After the cello's were in full swing, David Budway joined all of them on the grand piano. Later on it morphed again into a jazz trio with John/Dave/David.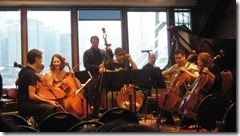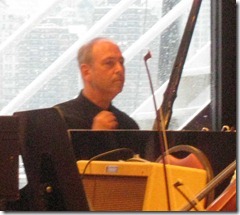 I love Jazz, but I'm a luddite, preferring Smooth Jazz over the more traditional full-on improv. I enjoyed this piece (and the improvs around it), but it's not the kind of music I would typically seek out.
Next was Dave's own group, Deoro. Deoro is Dave Eggar and Chuck Palmer (drums/percussion). If I understand correctly, they often perform with at least a bass player. Last night (and on their recent tour), it was Tony Maceli, one of our favorite bass players. Tony was on electric bass and Chuck played the cajon.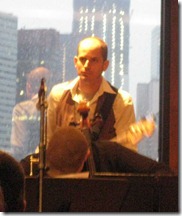 They were amazing. Tony's bass play was so subtle, but perfect. I was impressed by the restraint he had to show, both in tempo and volume, but it worked to enhance the piece(s) just right. Chuck played the cajon in a more free-wheeling jazz style than I've heard it played before (though it was tuned to sound very much like a snare). He did an excellent job for the most part.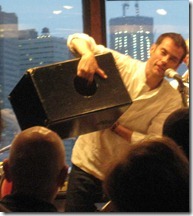 That said, Dave Eggar was so spectacular on the cello (I should be institutionalized if I try to describe it, so I won't) that a number of times I felt Chuck was interfering with my pure enjoyment of Dave's play. I am sure that's not how Dave felt. He seemed to be feeding off of Chuck's play. They clearly have a close musical rapport.
Elliot Sharp was up next. As with most aspects of life, technology has greatly affected (if not revolutionized) music. Dave, and to a much greater extent Elliot, introduced the piece by describing how music can be broken down and represented/visualized. They showed the audience a variety of printouts of what they were about to play. Here are some feeble photos of it, but last night, there were many oohs and aahs when they were held up.
Basically, the hard part would be reproducing these micro bursts of music on the various instruments, synchronizing them all together. Elliot played the bass clarinet. Joining him were: John Patitucci on bass, Dave Eggar on cello, Chuck Palmer on cajon, Victoria Paterson on violin and Alex Wong on marimba.
This piece didn't do it for me. It felt technically difficult. Playing a hundred micro-bursts of music, at high speed, and matching them with the others has to be a feat, but that doesn't make it pleasant to my ears. In an irony, the most pleasant sounding instrument was the marimba, which had nothing to do with the fact that Alex Wong was playing it.
I was impressed with Victoria Paterson's violin play. Click on her name above and read the scrolling list of her credits. Have patience, it goes on (and on…). We've likely heard her more than a few times on Broadway (possibly elsewhere).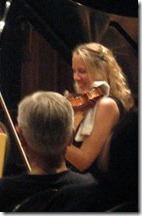 Alex Wong was a big change of pace. He performed two songs, both at the grand piano. These are both songs that we've heard before, though one of them perhaps only once. The big difference for us was more instrumentation. The big difference for the audience last night was the addition of vocals and lyrics.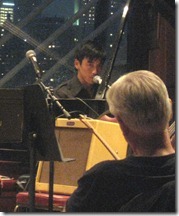 Dave introduced Alex and explained that things were still in flux even a few hours before the show (in terms of the arrangements). He said that Alex was still working them out while he was in the cab on his way to the barge. Alex added that he brought a printer with him in the cab, so that when he finally finished scoring the various strings, he could print out the sheet music for each instrument on the barge.
Sounds nerve-wracking to me, but hey, I'm not a professional musician and producer. Perhaps this is the way it's always done (and been done, except for the printer-in-the-cab part!). Before beginning, Alex apologized for feeling queasy due to the conditions on the barge (I'll explain in greater detail at the end). In addition to apologizing to the audience and his fellow musicians, he directly apologized to the gorgeous Steinway he was about to play, considering what he was afraid might happen.

The first song Alex played was so new it didn't have a title yet. He was taking requests from the audience. In keeping with the classical theme, he offered up "Untitled". Then added "Untitled #7". Then quickly added "Untitled #7, Beige". I will refuse to recognize the actual title he purports to call it by on his CD later this year. I will always call it "Untitled #7, Beige".
He then played the song I've been obsessing about in my past few blogs about Alex, Are You Listening (otherwise known, by me only, as the "Yeah, Yeah, Yeah" song). It's always gorgeous, but with the strings added, even more so.
Accompanying Alex were Dave Eggar on cello, John Patitucci on upright bass and two of the four cellists mentioned above (Jeff Law and Peter Sachon).
John Patitucci played another number that he composed, this time on electric bass, accompanied by Dave, Victoria Paterson on violin and others (not sure exactly who).
After the song, John made a reference to the word apogee, explaining that it was furthest point in the orbit of a satellite. Dave repeated the word apogee and asked someone who appeared to be an audience member whether that definition was correct.
The reply was yes, but it applies not just to satellites, but anything that orbits another thing. That person ended up being Dr. Dan Gareau. It turns out that he should know. Shortly after confirming Dave's question, Dan (or should that be Dr. Dan) was invited up to rap a science song, all about DNA. I think it was called Double J Helix. It was a blast!
Dan explained that he's a Laser guy, working on non-invasive ways to diagnose melanomas. He did a great job, so I think I can understand what he's doing, but I'm not quite at the point of competing with him. He's also very into music. You can see his own personal music page, or his MySpace Page (which is called LaserManDan!).
Dina Fanai sang two songs. Absolutely beautiful voice. Every note she sang made me feel like it was (or should have been) featured in The Lord of the Rings trilogy. In other words, reminiscent of Into the West by Annie Lennox (more the voice than the songs). Very dreamy.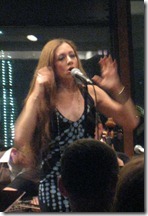 She was accompanied by the biggest group of the evening, flawlessly. Dave Eggar on cello, with all four cellists joining as well. Tony Maceli on electric bass. Chuck Palmer on drums and cajon. Bob Kinkel played the piano and sang some light harmony with Dina.
Dave told a story about his admission into the Julliard School of Music. On the entry form, there was a blank for your primary instrument. Dave knew that the proper name for the cello is violoncello (I didn't, but he did). He didn't know how to properly spell it though, so on the form, he filled in violincello. One of the professors (or the headmaster) embarrassed him by publicly stating that one of the students didn't know how to spell the name of his instrument. He then made Dave sight-read a difficult piece in front of the class.
Dave didn't tell us how that part went, but I'll bet no one made fun of him ever again.

Dave introduced the next person, Mari Kimura as a violinist, but also as a scientist. She has pioneered a technique on the violin called subharmonics. The NY Times wrote an article about her (and it) two months ago. If you clicked through, you see a glove on her right hand that is connected wirelessly to a computer. That glove registers every movement (including the speed) of her bowing hand. That project is profiled in the current issue of Scientific American.
Dave further explained (while Mari set up the complex equipment on stage) that the gloves (he wore one too!) interact with each other, sending information from one musician to the other, allowing them (or prompting them?) to change their play to match the other. I have no idea whether that's true, or how it would/could work, but it sounds pretty cool.
Since the setup was long and complex, and the song they were going to play was not an original, Dave took the opportunity to play it for us the way it was originally written. Mari kept setting up, while Dave, Chuck and John performed the song. Now they were ready to unveil Mari's interpretation, gloves and computer included.
The introduction was fascinating. I couldn't wait to hear the piece, and possibly see one of their arms move involuntarily as a result of a signal sent by a different glove. Unfortunately, the piece itself wasn't to my taste, even though the virtuosity was as obvious as it was on every other number.
Joining Mari and Dave were Chuck on percussion and Elliot Sharp, this time on acoustic guitar. Elliot heavily employed a slide, in addition to also hammering on the frets on occasion. It was interesting that Elliot joined on this number, as this was similarly staccato-like (micro bursts of music) as was his piece. A number of times I could see his left hand flying up and down the frets. I have a strong feeling that he will blow me away if I ever hear him play a more normal guitar piece.
Medicine Woman (or more accurately, a current subset of the group) was up next. Liz Hanley sang and played the violin, both extremely well. Domenica Fossati sang and played flute, both extremely well. They were accompanied by Peter Matson on guitar. Of course, Dave played along with a few others.
Liz Hanley sang lead on Devil's Paintbrush Road, a song I love by The Wailin' Jennys. I really liked her voice, and violin play, but their version of the song doesn't quite hold up to The Jennys version in my opinion. Domenica then introduced a song by telling us about her grandmother. Domenica translated a song into Italian and set it to a tune that sounded like a classical Italian folk song (you could almost hear the hand-held accordion). She sang it in what she described as her grandmother's Italian accent. It was wonderful.
Deoro was back in business for the finale, written and sung by Chuck, Follow Me to the Sun. You can listen to it on his MySpace page, linked above to Chuck's name. It's not a lyrical masterpiece, but it's a wonderful musical one. Dina returned to the stage to sing harmony with Chuck and to use a shaker for additional percussion. Dave joined in the singing a couple of times to create three-part harmony.
Before the song, Dave joked that he can't play the drums and sing at the same time. I feel that way every time I see a drummer do it too.
A little over two hours of awesomeness, even the pieces I wouldn't choose to listen to again. I am grateful to have experienced it. I'm also sorry to have missed Deoro the night before, and Dave doing pure classical trios tonight. There will be more Dave Eggar in our future, you can count on it!

A little bit about the barge experience to close out this post. Since it's real, it moves with the waves. They realize that some people don't handle that well (it was obvious yesterday), so they supply a bucket of Dramamine pills for anyone who wants/needs some.
I feel very badly for those that are affected by it in general. Last night couldn't have been a good night. Given the rain all day (and generally stormy conditions), it wasn't a quiet river. For those of us who are (at least relatively) unaffected by it, the experience can be pretty cool in and of itself.
First, there's the motion. When things are calm, the barge moves left-to-right (pulling itself away from the dock) until the restraints snap it back toward the dock. Then it moves right-to-left. All of this is very gentle and slow. It seemed that when the water was calm, this motion didn't get to people unless they are super-sensitive.
The stage is at the front of the boat, with a very large glass window behind the performers, overlooking the Manhattan skyline (as you can see in many of the photos above). The view is stunning, but even when the barge is moving incredible slowly, the scenery behind the musicians is still moving in the opposite direction to the boat.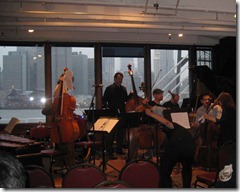 When the water gets a bit choppier (as it was for a reasonable portion of the evening yesterday), the movement of the NY skyline has to be as distressing to the motion-sickness prone people as the movement of the boat. To me, it was an enhancement to the show.
The most troubling motion, which occurred a number of times last night (thankfully not too often) is when the boat moves up and down, front-to-back. In other words, when a wave comes straight at the boat, and it first lifts up, then descends the wave, finally rising again in the front to even out. I can only assume that this is the most unsettling feeling for the sensitive. For me, it produced the most unusual visuals, as the skyline starts to shrink, before coming into view, then disappearing in the other direction (you're now looking at the lower floors of the buildings), before realigning.
Anyway, be forewarned, if you're not good on boats, don't assume that because this one is docked, it will be any different. On non-stormy days, I imagine it's better than last night, but there are no guarantees, only Dramamine…