Send to Kindle
If you wound up here looking to read about Five For Fighting, skip to the bottom, or read about the openers first, followed by why I chose to cover them last (not my usual order).
While we were very excited to see Five For Fighting, we primarily showed up to see Ian Axel. Ian is a star in the making. At some point, he'll be less accessible (just the nature of the business and the world), so we try to see him whenever and wherever we can, especially in places where fans can easily connect with him. If the music business wasn't as mired in the old (broken) ways, while simultaneously (blindly) feeling it's way through to the (eventual) new ways, I believe that Ian would already have broken through (as they say).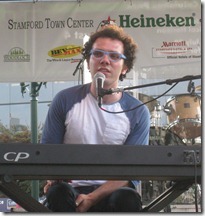 Ian, along with his songwriting and performing partner Chad Vaccarino, create songs that connect instantly, but will be timeless as well (I have little doubt). The range (slow ballads, with Ian playing/singing solo) to feverish full-band numbers with Ian and Chad singing together (e.g., their hit single, This is the New Year) is impressive for people of their age. They have a lot to say and they find interesting ways to say it.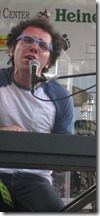 Ian plays the keyboards and ukulele. He is an incredible pianist. He has a wonderful voice that displays a number of characteristics. One of those is his easy way of slipping into a falsetto to hit high notes. In a not-so-small irony, that's one of John Ondrasik's most notable vocal features (he is Five For Fighting, for the one person reading this who didn't know that).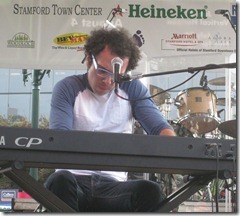 Chad Vaccarino has a voice that moves every single crowd I've seen him perform in front of. There's a soul to it that you can't escape and it's just darn beautiful independent of his emotion. He's an amazing songwriter, proving that in collaborations with people other than Ian (I'm particularly thinking of a number of songs he's co-written with Mike Campbell).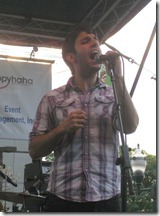 Chad plays keyboards (double decker) in an organ-like accompaniment to Ian's spectacular piano play. During one song last night, he used the lower keyboard to simulate bells. He plays the trumpet on a couple of songs as well.

Chris Anderson on electric bass and vocals. Chris always nails the bass lines no matter who he supports, but he gets significantly more animated when he plays with Ian. It's a fantastic thing to see how much joy he derives from playing Ian's songs (fitting, since he embodies the joy we feel listening to those songs!).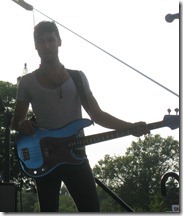 He led the crowd in the fun clapping part during It's Not Easy. He was instrumental in leading us in the call/answer parts of Girl I Got a Thing for You as well. Too much light behind Chris for good shots, but this one in the shadows, of his leading the clapping, was nice:
Ian was new to the majority of the crowd last night (I'm willing to bet on that). So, the fact that he and the band were so impressive was amusing (and a bit of a relief) to me. I'll tell you at the end how I know that he impressed the newcomers. First, why was I amused/relieved?
Ian's electric guitar player was unable to make the show at the last minute (way too late to replace him). So, they simply played without a guitar. Did it make a difference? Not in the least! I've said a number of times that in this particular band, the guitar isn't highlighted anyway. Last night proved me correct, once and for all.
Ian's regular drummer is one of my favorites, Adam Christgau. Adam is currently touring with Sia, selling out venues all over the place. Last night, he was committed to playing in Washington, DC. That tour was set before Ian was invited to Stamford, so Ian had time to find a replacement drummer.
Zach Jones on drums and vocals on one song. We just saw Zach for the first time last week (not with Ian) and I was very impressed with him. That lessened any nervousness I had about how well he might substitute for Adam. After the fact, I feel foolish that I worried.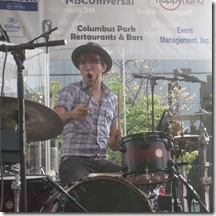 While I won't be disappointed when Adam rejoins Ian (he's touring with Ian on both coasts starting in a few weeks) I'm not afraid to admit that there's a qualitative difference between Adam and Zach. Adam can blow your mind at any moment (he's got mad skills). So can Zach. But, Zach seems more disciplined and consistent. I'll always love and appreciate Adam, but I think last night was the best drumming I've seen at an Ian Axel show.
Rockstar is one of Ian and Chad's newest songs (still unrecorded). If you're not falling in love with it during Ian's piano intro, and head-over-heels halfway through the first verse, you don't like Pop/Rock music (the gauntlet has been thrown). Given the name, Rockstar, you can imagine that there is a big finish.
In an absolutely unscriptable moment, when Zach Jones hit the cymbal on the very last note, he hit it so hard (Rockstar, right?) that it flew into the air and landed on the stage! His face (and the rest of the band's when they realized what happened) was priceless. I was feeling what they were looking like.
Ian and Chad added a twist to Rockstar that took us by surprise. Toward the end of the song, they morphed into a mini-cover of Elton John's Tiny Dancer. Excellent, since many people (myself included) think that one of the people that Ian is reminiscent of is Elton John!). Just when you think he's going to play the entire song, he morphs back in to finish off Rockstar (including the big finish I described above).
In my post about the show that Zach was in last week, I wrote the following about him:
The link from his name above is to a group he is in with Emily Long called The Stone Lonesome. They have an album out that Zach sings a bunch on as well and I am really impressed with his voice (listen to the second song, Bridge to Nowhere). I'm sure we'll be hearing about him a lot and hopefully seeing him a lot as well.
I mention his voice above because he got to use it once last night. Pacific Sun is the only song that Ian played ukulele on last night (but not the only song he performs on the uke). When we first saw Ian play it, it was almost always a solo effort. He then worked Chad into it, including having Chad sing the second verse solo. On tour, he often plays it as a trio (with Mike Campbell, Julia Nunes, etc.)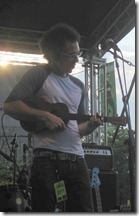 Last night, it was back to a duo with Chad, mostly. Zach got up from the drums and joined Chris Anderson at his microphone. Chris put down his bass. During the chorus, they sang four-part harmony. More, please?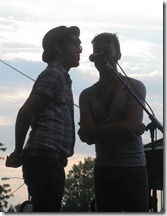 What can I say? It was totally worth sitting in the insane traffic on I95 to get to Stamford. In a word, awesome!
Ian was the middle act. Before moving to the first act, I'll deliver on explaining how I know that newcomers were enamored by Ian.
We stood for all three acts (nearly four hours including the breaks). Standing and sitting near us was an extended family. Grandparents, their children and grandchildren. The grandchildren ranged from two to upper teens. The oldest is an aspiring musician (his grandfather told me he's recorded a number of songs already).
All of them raved about Ian after the set. The Grandfather said to me "He has clear sailing ahead of him!". The aspiring musician really wanted to meet Ian. Lois took him over and introduced him. He bought Ian's CD (you should too!). Remember, above I said that the artists are accessible at these shows. Ian certainly met a ton of people last night. He here is meeting a young fan: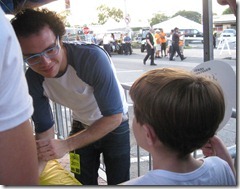 Blip Blip Bleep opened the show. I hadn't heard of them before, even though they're Brooklyn-based. I guess I don't get out enough.

(that former comment was meant to entertain the people who wonder how we don't collapse from all of our music outings.)
I've heard the term Electronica Dance/Pop many times. When I heard Blip Blip Bleep start playing, I instantly felt that this is what that must mean. Turns out, I was correct. Here's their own description, straight from their bio:
Founded by New York native Sean Han (guitar/synth/vocals/Ableton Live), Brooklyn-based electro-pop outfit Blip Blip Bleep (BBB) has made a name for itself by consistently delivering catchy hooks, intelligent songwriting and for making audiences dance. Over time the group has grown to include Kayce McGehee (synth/vocals) and Jojo Schwarz (drums) who contribute immense talent and intensify all aspects of the project.
Sure, they call it electro-pop, but add making audiences dance, so I declare myself correct.
Sean Han sings well, plays synth/keyboards and wailed on the electric guitar on roughly 1/2 the songs. He was self-deprecating in his stage presence and made me chuckle a number of times.
Kayce McGehee on electronic keyboards, synth and vocals. Kayce did an excellent job. She sang harmony with Sean on most numbers and provided the primary keyboard play. She switched positions with Sean on one number, coming to center stage to play the synth and sing lead. Sean took over the keyboards.
On that number, a cover of Michael Jackson's Beat It, she absolutely nailed it. Since covers are more familiar to a crowd that doesn't know your band, this was a great way to highlight Kayce, since everyone instantly tuned into the song.
Jojo Schwarz on drums (and I think vocal background on one song). Dance/Pop (or is it Dance-Pop?) drumming is quite demanding. This is all about fast beats, constantly. Jojo was working it throughout the set. I was impressed. That said, I'll point back to my comparison between Zach and Adam above. For a few seconds here and there, Jojo seemed to get a bit sloppy (lost focus), but quickly recovered. The last few numbers were his best, so he has stamina and skills.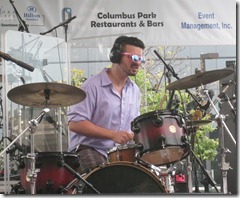 I thoroughly enjoyed their entire set, but this is the type of music that I would more likely listen to while exercising (I don't dance) than for pure musical pleasure. At a live show, it was engaging.
OK, one last bit before we get to the main act. The MC for the night was a very entertaining guy. I didn't catch his name, but I'm guessing he's from the local TV station (probably an NBC affiliate, since NBC Universal was one of the many sponsors). He was joined by someone from the local FM Radio station (another sponsor).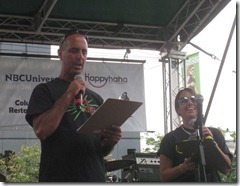 After Ian's set, he came out with a box full of T-Shirts and Hats. They were mostly Jerry Springer merch, but there were a few Maury Povich ones as well (making for some groaner quality jokes). They tossed T-Shirts and Hats into the crowd. People scrambled to get them.
Who doesn't like free stuff? Well, I'll tell you who!
On the left-hand (facing the stage) there was a gated VIP section without roughly 20 people in it. One of the Jerry Springer hats was tossed into that section. It was caught by a boy. Without hesitation, he turned and tossed the hat into the large crowd behind him. The cheers were deafening, which seemed to catch him by surprise. He turned bright red and couldn't stop laughing. The MC on stage remarked: "Obviously, not a Jerry Springer fan."

I only found out half-way through the Five For Fighting set that the boy was John Odrasik's son, somewhere between 11 and 12-years-old. The VIP section included his wife, parents, mother-in-law and the Brooklyn-based family of his bass player (perhaps others as well).
Finally, the headliner. The reason I'm covering them last is a policy decision of this blog. It's one that rarely needs to be enforced! When a headliner doesn't even acknowledge, let alone mention the opener(s), I relegate them to the bottom of the post, trying to reverse the injustice. At some point, you (mister superstar, whoever you are) were an opener, and hungered for recognition from the headliner.
Why is it important? Because many people don't show up until the headliner is on stage. They have no idea who was on earlier. A shout-out from their idol, no matter how off-hand (though, how great is it when it appears to be heartfelt?), might stick with the crowd and they might check out the opener later on.
Phone it in if you have to. Say something as trite as "How about those openers?" or "Let's have another hand for the openers." Crank it up a notch and jot their names down, even if you didn't listen to them.
Now you know. Onward.
Lois often needs to hear a single song to know that she loves an artist (sometimes, a single verse!). She's rarely wrong, meaning, that artist will usually make it big (or already is and we didn't know them). Such was the case with her first hearing of Five For Fighting (over 10 years ago). She came home and told me that I had to listen to them!
Of course, I instantly fell in love with their (really his) music. That said, over the years, I stopped listening to them other than the three biggies: Superman, 100 Years and America Town. We own both albums (America Town and The Battle for Everything). We also own the album Two Lights. I'd be lying if I said I listened to it more than once or twice.
I think John Ondrasik is a great songwriter. I think he's a great vocalist. I think he's excellent on piano and very good on acoustic guitar. But, his songwriting has two levels. Awesome to the point of super-human skills, and really good. More of his stuff falls into the really good category (for my taste) and there's enough stuff I enjoy more than I don't gravitate to it.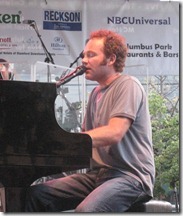 He has thrilled us in many ways beyond his own CDs. Check out his mind-bogglingly long list of accomplishments as a songwriter for film and TV.
We hadn't seen him live, so we were quite excited, independent of our desire to see Ian and regardless of my comments about his catalog above.
John is an exceptional performer and his band is top-notch. The experience was very entertaining. The craft of the performance was worth watching and studying. The very large crowd seemed totally mesmerized by him/them (as it should be with true fans).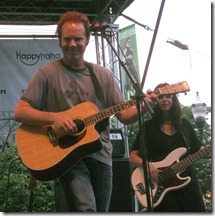 For me, while I enjoyed it, I wasn't mesmerized, with the exception of 100 Years (which he closed the show with, before returning for an encore). I felt a bit detached, which is why I described it as studying the performance.
I'd be hard-pressed to defend my feelings, especially given the professional level of their performance. He was passionate (not phoning it in). He talked to the crowd a lot (he's excellent in his story delivery!). In other words, he seemed to really connect and care about the fans. I'll bet they felt that he was perfect (which is great!).
For me, I felt that he was somewhat floating above it all, not really connecting. To repeat, I couldn't give you an example even if I was forced to.
He gave a three-song encore, replete with long, entertaining introductions. Again, he wasn't phoning it in.
John played the entire show barefoot. For the last number in the encore, he announced that the thought it was about time that the crowd have something to dance to. It's the only song that he didn't play an instrument on. At first, he pranced on the stage with a microphone (with a very long cord).
At one point, he jumped off the stage. There were gates between him and all audience members, so while he was only a few feet from the crowd (Lois was roughly one foot from him!), the security people panicked. Literally. They obviously had no idea he was going to do that. So, four huge guys surrounded him, and as he tried to move left, right or forward, they moved in unison with him.
It only took him 20 seconds or so to realize that his idea wasn't going to work. He climbed back on stage and finished up the number, at one point standing on the piano bench to the roar of the crowd.
One last comment before moving on to his band. Many big bands get tired of playing their hits over-and-over. They want to grow artistically. Conceptually, I understand it. Unfortunately, music is also a business. Fans pay to buy the music, they pay to attend shows, they pay for merch. Many (I would bet most), want to hear the song played the way they know it (fell in love with it), even if it bores you.
It's worse when you factor in songs that the artist invites the crowd to sing along to (or knows they will, invited or not). When you choose to jazz-it-up by dropping instead of going up on a famous line (not because you're harmonizing with the crowd, but because you're trying to keep it interesting for yourself), you're doing no one any favors. Keep your art to new songs, or change everything in the hit (creating a unique cover). Monkeying with parts of the song but keeping the rest the same feels wrong to me. John did that on Superman…
Greg Suran on electric guitar and vocals. Greg was excellent on both. On a few numbers he got very long and tasty leads. One of them employed a slide. His harmony with John was spot on. I kept thinking to myself that he looks exactly like someone, but who? Then as John was introducing him, it hit me, Brad Pitt!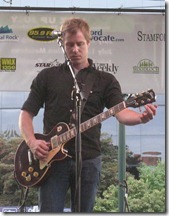 After the show, I mentioned to a friend that he looked exactly like Brad Pitt (from my vantage point). She didn't see it. An hour later, driving home, Lois says to me "Didn't you think Greg looked exactly like Brad Pitt?". Ha, great minds think alike!
So, above I said that John introduced Greg. Well, he didn't. He started to, telling the crowd that his guitarist was excellent, single, into the Chicago Cubs, etc. But, when he mentioned the Cubs, he (John) distracted himself and started polling the audience as to whether they were Red Sox, Mets or Yankees fans (overwhelmingly Yankees, if you care). He never mentioned Greg's name!
What's worse, I had such a hard time finding it. It doesn't appear on the Five For Fighting website, and very few links in Google mention him either. That's another pet peeve of mine, when stars don't make it easy to discover the hard-working, super talented people who support them (known as "sidemen" and I suppose "sidewomen" or "sidepeople").
Randy Cooke on drums (and vocals on one song I think). Randy was perched on a tall platform way at the back of the stage, in a typical Rock Star drum setup (glass cage included). He did a superb job throughout the set, including acrobatics with the drumsticks quite a number of times (finger twirls and tosses). Obscured all night, and super dark in this photo, sorry: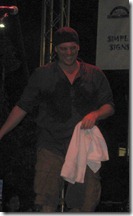 Jenn Oberle on electric bass. John introduced Jenn as the newest member of Five For Fighting. She did an excellent job on every number. It was an extremely solid (if unflashy) performance. Her family (she was born and raised in Brooklyn) was in the VIP section with John's, and they were cheering their hearts out for her.