Send to Kindle
I seem to be saying this a lot lately: Musicians tend to play on or near their birthday, throwing a party for their fans, even though it's work for them. That trend continued last night.
John Schmitt celebrated his birthday (and noted that two members of his band/guests had birthdays one day on either side of the show) by playing at The Living Room. He had a full band and some special guests.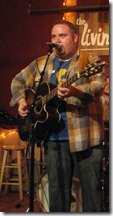 We don't need an excuse (like a mere birthday) to come see John Schmitt. If we can make it, we'll be there. In fact, during the show, he announced that he's playing Rockwood Music Hall Stage 2, this coming Thursday, at 7pm (also a full-band show). It's his first time at Rockwood 2, and we're already committed to being there (you should come too!).
Let's review why we go see John as often as we can:
fantastic voice
excellent guitar player
terrific band (though he's superb solo)
wonderful songwriter
as nice a human being as you could want to meet!
All of the above were there in spades last night.
One of the major differences was no paper set list. John splurged on a new iPad. He had it sitting on a music stand. Since we couldn't walk away with a set list (I was a little offended that John wouldn't hand over his iPad for us to take home!),

we insisted on taking a picture of the iPad with the set list open: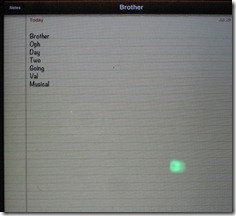 That's not the complete list, it's the songs the band played on. John played at least two songs solo, mid-set, one of them being Ave Regina (more on that later). The other was about his grandfather, called Me and the Chief.
Since all of the song titles above are abbreviated (except the last one), you'll have to work a bit (or already be a John Schmitt fan!) to figure out the full titles.
I'll spare you the trouble on the second to last one, listed as Val. That's actually a song called Valerie. Amy Winehouse covered that song, apparently one of her more famous covers. John wanted to play it as a tribute to Amy, trying to be true to her version.
Let's mention the band first, then the special guests. Left-to-right on the stage:
Mike Sutton on drums. Here's what I wrote the only other time I've seen Mike play:
Mike Sutton on drums (sorry, couldn't find a good individual link to Mike). Recall what I said above, that I was expecting Stephen Chopek on drums. I was impressed with Mike's play, but I need to hear more to form a better opinion.
OK, now that I've seen him twice, I can safely say he's a very good drummer. Toward the end of the set John highlighted him a bit, calling: "Mike, take them to Church!".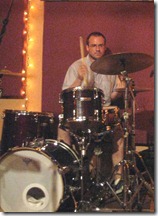 Pasquale Chieffalo on electric bass. Excellent all around bass play (both times that we've seen him).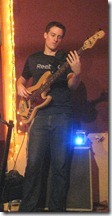 John's regular keyboard player is Greg Barbone. I really like him. He was out-of-town, and recommended a friend of his who recently moved here from LA (or was just visiting, if I misunderstood).
Eddie Wiernik on grand piano. He was superb throughout the set (I bet he had very little rehearsal time, he's clearly a pro!). John highlighted him a number of times (showing a lot of faith in the new guy). Even when he wasn't highlighted, he was solidly supporting and enhancing the sound.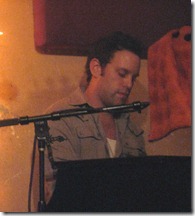 John sings a few of his songs with fabulous harmonies, often supplied by a number of female vocalists. Last night he brought up someone who was new to us.
Jessica Norland is a singer, actress and dancer (Lois got her business card after the performance, that's how I know about her other talents). She has an excellent voice and equally impressive stage presence. She sang harmony and lead on Two Souls. We're both looking forward to seeing/hearing Jessica again.
Barnaby Bright is an incredible group (duo), comprised of a married couple. We've seen them once before, at Jammin' Java, in a show that also featured John Schmitt, headlined by Chris Ayer. I have been kicking myself ever since that our schedule has collided with the many times that Barnaby Bright have performed.
Becky Bliss (1/2 of Barnaby Bright) came up to sing Going Back. She sang lead on one verse and harmony throughout. I already told you how badly I want to see Barnaby Bright again, so I shouldn't have to tell you how good Becky sounded, but I will. She was great.

Speaking of Going Back, John is raising money to professionally record that song. He needs your help. If you're already a fan, donating $5 will get you a digital copy of the new song when it's released. But, if you don't own John's CD, Ophelia, you should consider donating $15, which will get you downloads of that CD plus the new song when it's recorded. Just do it!
Nathan Bliss (the other 1/2 of Barnaby Bright) joined on that song as well. He played the banjo and was given a couple of leads. Nathan is an outstanding musician (with an excellent voice, that he didn't use last night), but I admit that the banjo (an instrument I love) felt out of place on that song. I'm publicly voting that John not employ it on his recording of Going Back.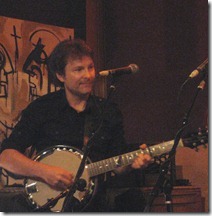 Later, John invited Nathan back on stage to play the saxophone (I believe on the final number, Musical). Nathan blew everyone away. I told you he's an outstanding musician. He played sax with John at Jammin' Java, but it was only the two of them on stage. He was great then, but with the full band behind him he could really open it up (without overwhelming John alone). I loved catching the looks on the faces of those around me. Priceless!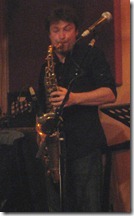 An incredible set, thanks John.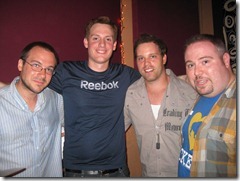 Above, I mentioned that I would have more to say about Ave Regina. At Jammin' Java, Becky joined John to sing harmony on that song. It was extraordinary. I fell in love with the song on the spot (and I love it even when John sings it solo, like he did last night). But, since Becky was obviously there, I couldn't help asking John why she didn't sing it with him.
He said that they didn't have time to rehearse it (it's been a while since the Jammin' Java show). Man, I can't believe that these artists are such perfectionists and feel the need to rehearse before playing for us.

Oh well, next time!

If you already forgot my calls-to-action above, you have two tasks:
Donate to John's Going Back project
Come see John perform this Thursday (8/4/2011) at Rockwood Music Hall Stage 2, 7pm
Now go enjoy the rest of your day. If you want to enjoy it even more, come join us tonight at 7pm at The Bitter End, to see the wonderful Jesse Terry, supported by the extraordinary Greg Mayo.