Send to Kindle
Rebecca Haviland at Rockwood Music Hall? Count us in, whenever it's physically possible. Last night it was and we were there.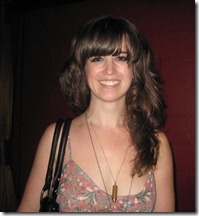 Rebecca has a spectacular voice. She writes great songs. She has an amazing band. Everything else I write will be mere details. You now know what you need to know!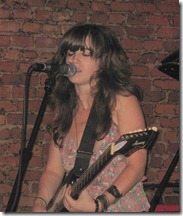 Rebecca loves Led Zeppelin. No small irony then that her voice would be perfect for singing lead with them. When they reconstitute the band, especially if Robert Plant won't participate, they should consider replacing him with her. They might even want to consider working in her opening number from last night.
While Rebecca writes wonderful original material (more on that shortly), she does a cover of Led Zeppelin's Black Dog that shares lyrics, but little else with the original. It's a slow, bluesy rock number, that gets under your skin and refuses to leave (in the good sense). Led Zeppelin could open with that, and close the show with their version (also perfect), creating fitting bookends to their world-wide tour, featuring Rebecca Haviland.

The rest of Rebecca's set were originals, a number of them co-written with her bass player, Chris Anderson (one of our favorites!). Chris sings harmony on many of the new songs.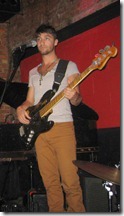 Later in the set Rebecca introduced a brand new song (written a week ago), Vultures. We were drawn in instantly!
I love all her new material, but lately, I'm particularly obsessed with If You. I can't help singing the chorus (Wo, wo oh oh oh) out loud, it just feels so right. Thankfully, Rebecca isn't averse to the audience doing that. In fact, last night she asked the band not to play on that number, so that we (the audience) could hear ourselves sing. How cool was that? Totally cool, because I (and a lot of other people) sang our little hearts out.

Greg Mayo plays the piano and electronic keyboards in Rebecca's band. He sings harmony on some of the numbers too. On How Can I, Rebecca called out Greg's vocals in advance and the two of them harmonized beautifully throughout the song. Of course, the keyboard play was terrific on all the numbers.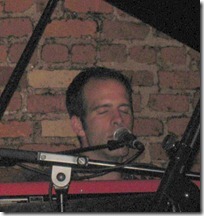 Kenny Shaw played the drums, wonderfully. He didn't blow me out, even though I was less than two feet from the kit. Thanks Kenny!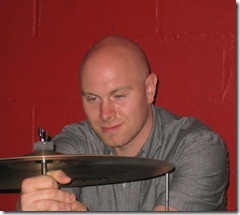 Most (all?) of the songs from last night's set will be on an upcoming full-length CD. Rebecca is currently in the beginning stages of a Kickstarter campaign. She's just over 50% raised (with only a single tweet that I recall seeing). Let's get her over the top quickly, and even beyond her goal. I need to have this CD in my hands, so if you're not going to do it for Rebecca, do it for me, please?

The only positive outcome of a delay is that instead of being in the studio, Rebecca found the time to write Vultures. Now to ensure that it makes it onto the CD…
Here is the set list from last night: