Send to Kindle
Last night was the fourth time we've seen The Spring Standards (third time for a full set). I've enjoyed all of them, but for me, last night was the best. That's one of the reasons I chose to split last night's show into three separate posts. Each act was so good that they deserve not be to buried under another.
If you want an hour's worth of reading, you can check out my last post about them, which also took place at Bowery Ballroom and also included a set by Ian Axel (the next post after this one). I'll repeat my first paragraph from that post (for the lazy among you).

The Spring Standards were co-billed with Ian and appeared right before him. There's something very fresh about The Spring Standards that isn't just about their excellent music. They are inventive, passionate, talented people who blend together really well. It's near impossible not to get sucked into their energy (not that I noticed anyone in the crowd trying to avoid being pulled in!).
I feel like repeating 90% of the last post (I won't). I will repeat the highlights (about the band, not this particular show):
All three sing lead, beautifully
All three sing harmony, with their voices blending perfectly
All three are very good on all of their instruments (all are multi-instrumentalists, at times too many to count)
Noah Goldman matches their energy and musicianship
They write wide-ranging song-styles keeping it fresh throughout the set
They are excellent songwriters (lyrics as well as music)
Standing left-to-right on stage (for the most part):
James Cleare on acoustic and electric guitars, drums, electric bass, vocals. Excellent on everything.
Heather Robb on electronic keyboards, drums, percussion, glockenspiel and vocals. She is a bundle of energy and sings more of the leads than the boys do. I am reasonably sure that she was sick when we saw them at Webster Hall, and on occasion her voice was strained the last time we saw them. Her voice last night was great, largely the reason for me saying this was their best set yet.
James Smith (no good link) on acoustic guitar, electric bass, drums, trumpet and vocals. Like the other James, this one was excellent on everything he played and sang. He and Cleare switch places a few times. On one of the switches, when Smith was on the left side of the stage, he sang lead on a hillbilly country style song. So much energy, so much fun. He seemed to be having a blast with it. I certainly was!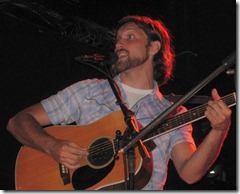 On the song that James played trumpet, Heather announced that he borrowed it from Chad Vaccarino (who played it in the next set). Of course, in addition to playing trumpet, James played the drums throughout and sang whenever the trumpet wasn't at his lips. Awesome.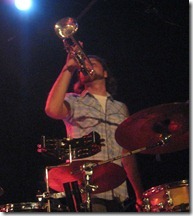 Noah Goldman stands, sits and runs around behind the three members of The Spring Standards. He played pedal steel guitar, electric guitar, electric bass and drums. He too was excellent on everything. I believe he played on all but one song (possibly two).
If you've read my previous posts on The Spring Standards, then you know that I always felt they were special, but somehow, didn't fulfill that promise in those shows (for reasons I hope I articulated specifically). Last night they delivered. What a delight!
I mentioned above that they write good lyrics. I want to share one example. When they sang Unravel Unwind, I was struck by the chorus, lyrically and their powerful delivery. The imagery is amazing:
Say it
Say the words I see behind your eyes
If it's not hard to say
Then it's a lie
I know you think we can not heal
But we can try
If you have Spotify, you can listen to it. Search for Unravel Unwind. Currently, that returns two items, with The Spring Standards first. The song was delivered with way more power live than on the CD version, but the recorded version is still great and will give you a sense of what I mean.
As I was leaving after the show was over, I bumped into Ian Axel. Unprompted, he said: Can you believe how amazing The Spring Standards were? Did you catch "Say the words I see behind your eyes, If it's not hard to say, Then it's a lie". Ha, he was struck by the exact same words and delivery that I was.
In addition to playing their hits (people around me were singing along to nearly every song), they broke out some new ones that will be on their upcoming CD (they're working on it). The new songs were excellent, so their creativity continues to flow. Here is last night's set list: