Send to Kindle
Last night was Bess Rogers CD Release Party for Out of the Ocean. It was a three-hour, three-act show. I'm going to post about each act separately.
Allie Moss opened the show. Rockwood Music Hall Stage 2 was jammed. When Allie took the stage, people were still socializing, loudly (it's a bar, after all). It took a very few super mellow notes of Late Bloomer (the title track of Allie's fantastic CD) to create a whisper-quiet stillness. It was a thing of beauty, given the general noise level in most Rockwood 2 shows, even paid ones.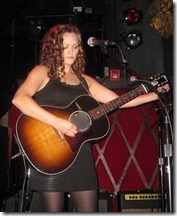 After Allie's solo beginning of Late Bloomer, she was joined mid-song by Ian Axel who accompanied her throughout her set on the grand piano. Ian also sang a bit of harmony with Allie on a number of songs.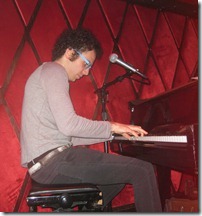 Allie has a gorgeous voice. We've seen her perform three full sets in the past month when she toured with Bess and Ian on their Intergalactic Tour of the Universe and Beyond Tour. During that tour when Allie had someone singing harmony with her it was Bess (absolutely beautifully). Since this was Bess' show, Allie chose to sing her harmonies with a special guest, saving Bess for her own set.
Becky Bliss (of Barnaby Bright) joined Allie on Melancholy Astronautic Man and sang harmony on most of the remaining numbers. Becky has an amazing voice as well and the two sounded great together.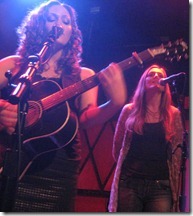 Allie told us that in the spirit of the CD Release she was going to play some new songs. Both Tiny Shards and Broken Lines were excellent, but I think Broken Lines particularly got to our little group of four.
Chris Kuffner joined on Corner, playing electric bass and singing. It's so rare that I get to see Chris play bass, so even though it was a purposefully mellow line, it was a treat for me. That I happen to love the song didn't hurt either.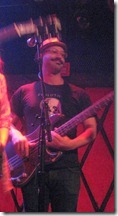 Sitting to my left was our friend Kevin (one of the many friends we've made through this vibrant indie music scene in NYC). He's a major Allie Moss fan and he sang along to Corner (quite loudly) in my left ear. I turned to him afterward and told him that he did an awesome job and therefore would be called out for it in the blog, whether he liked it or not.

Allie closed her set with a fantastic rendition of Dig With Me, getting the majority of the audience to sing along at the end.
That the crowd was so respectful throughout is a tribute to Allie's hold over us, with her voice, songwriting and performance.
I've seen Ian Axel perform so many times I can no longer count. I've also seen him support others on keyboards on occasion (including on the Intergalactic tour). Still, last night was a real eye-opener for me to see him in a pure sideman role.
Playing the grand piano for Allie's entire set, with a lighter touch and superb timing (usually coming in part of the way into each song) was a delight. He was a perfect complement to Allie's voice and guitar.
Here's the set list: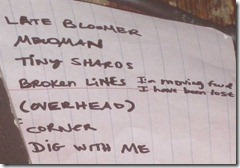 When Allie walked off the stage, Ian started his set with no break whatsoever. If you're interested in my opinion of it, you'll have to read the next post.