Send to Kindle
We had plans to be at Rockwood Music Hall last night for two sets, 5pm and 7pm. Under normal circumstances, we'd have stayed for the set in between no matter who it was, or at the very least checked them out in advance. That wasn't our original plan. Considering the early set time, my thought was to have dinner from 6-7pm and return.
A few hours before heading down for the early set, I decided to click through from the Rockwood site to at least know who/what I was missing. Needless to say, our plans changed once I did.
Owen Danoff is a singer/songwriter (last night he accompanied himself on acoustic guitar). The site linked to his name is not what Rockwood linked to. They linked to an event page promoting the show on Facebook, where I then clicked through to Owen's band page and listened to everything on there.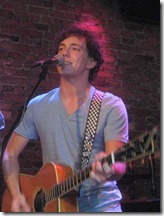 It had a country feel to it, with a nice full-band sound.
Instead of appearing with a full band, Owen had one other person on stage, playing guitar and singing some harmony with him. It worked very well, but the sound/feel last night was noticeably different from what I was expecting.
It was completely captivating, on every song, so Owen can hold his own with or without a full band.
Owen is all of 21-years-old (at least for another month). His songwriting is fantastic (which never ceases to amaze me in someone so young). His lyrics flow so naturally. To me, that means that he either works incredibly hard to make it sound/feel so effortless, or he's one of those rare people who is a vessel to some very deep well of ideas and their better expressions.
He has an excellent voice. He played the acoustic guitar very well, mixing rhythm with finger picking, with a few licks thrown in for good measure.
I'm following him on Twitter now and I've "Liked" his band page on Facebook, so we'll be sure to catch him when he's next in town. He's currently based in Washington, DC, and this was his second show in NYC.
Own was accompanied on acoustic guitar by someone who is no longer a musician and requested to be removed from this post. He sang some harmony and did a fine job, occasionally pulling off very nice leads on the acoustic guitar. He sounded very good singing with Owen at times.
That said, I felt that his real abilities were held back by either nerves, or the desire to not step on Owen's performance (which if I'm correct, was an error in judgment). He often sang too softly, or seemed to give up on a line. When he sang, he sang well and the two sounded really good together.
Only after the show did we find out that Owen's talents have deep roots. We chatted very briefly with his cousin and she told us that Owen's dad is Bill Danoff. Whether it's genetics, or growing up around a musical great (or more likely a combination of the two), it's likely that Owen is well on his way to a successful career following in his father's footsteps.
We will certainly be tracking him over the years.