Send to Kindle
The Milk Carton Kids (MKC) headlined their first ever NYC show last night, at Rockwood Music Hall Stage 2. MKC is comprised of two individual stars, Joey Ryan and Kenneth Pattengale.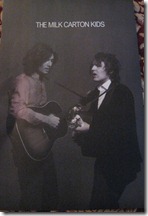 Before MKC was formed, we were huge fans of Joey's work and attended as many shows as we could. A few of those shows had Kenneth as a guest. The two created magic. Thankfully, they recognized it too (the audiences knew it instantly) and they decided to combine their efforts and talents as MKC.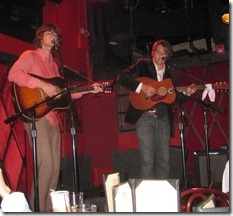 They both:
are excellent songwriters
have wonderful voices (each sings really high when they harmonize with the other)
play the guitar wonderfully, in complementary styles
are self-effacing
hysterical (though Joey speaks more than Kenneth on stage)
Before MKC, they played mostly Joey songs, with a couple of Kenneth songs thrown in the mix. Now they play a couple of each individual's numbers, but they have written a lot of new music together. All are a delight to listen to.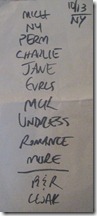 They each sang lead on roughly half the numbers, with the other always harmonizing quite a bit. Joey finger picks his acoustic guitar beautifully, occasionally switching to rhythm.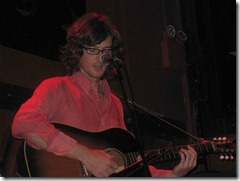 Kenneth Pattengale is one of my favorite guitarists. It's ironic that I caught him on a night when I just saw back-to-back exceptional guitar players (Greg Mayo and Adam Levy). Kenneth's style is different than both of them (though Adam on occasion comes closer to Kenneth's style).
Kenneth is wicked fast, buttery smooth and most important, extraordinarily interesting. Those are facts (indisputable, I command you to stop reading this now if you disagree!). What's as impressive to me is that his brain is creating these sounds (concepts) and then directing his fingers (which never fail him). I am at a loss for words (now that I've written the ones before these).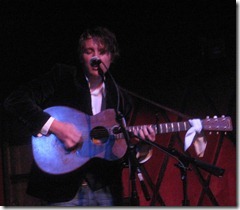 While Joey is finger picking, Kenneth is dancing in an around it, creating a mesmerizing sound.
That you could hear a pin drop in a crowded Rockwood 2, a place hardly known for it's quiet, is a testament to the fact that I am not alone in my reaction to their set last night. Thunderous applause (at times during the songs, when Kenneth completed a lead), mixed with utter silence while they were singing. Exactly as it should be.
The only thing I know about the economics of the Music Industry is that for 99.9% of all musicians, it sucks. The only thing worse than how hard it is to make money, is how hard it is to get noticed. How nice it is that if you finally get noticed, you likely will continue to struggle financially.

Joey is one of a number of artists who decided to experiment with breaking out of the cycle (even before MKC was formed). After creating some amazing CDs and EPs, he started giving away all of his music for free. There were zero catches. You didn't even have to give your email address. You want his music, you get it.
MKC has continued that model. They've put out two albums already (one live, one studio). Both are available at their site for free download (Prologue and Retrospect, down the left-hand column). If you want to support the band, you can purchase them on iTunes. You can buy physical copies at shows. But clearly, they don't expect to sell too many copies (please prove me wrong!).
This model requires them tour like crazy, which is exactly what they do. Recall that I said that getting noticed is the biggest problem. You can be crazy talented and tour like a fiend, and still play many shows in front of tiny audiences. Their concept is to try and get their music distributed (and discovered) as far and wide as possible, so that when they show up in your town, you'll be excited to go see them play (and you should be excited!).
Another way to make money in the music business is through licensing. It's difficult to get noticed in that arena too. Perhaps giving away your music will get it on the radar of people who place music in TV shows, commercials, movies, etc.
A year ago, we took our godson and his now-wife to see Joey in Birmingham, AL at Workplay. They really liked him a lot. I later told David that Joey made his albums available for free download and David grabbed them and listened and loved them (as I do). A few weeks ago David called to say that he was pretty sure he heard Joey's voice in a Nature Valley commercial. Sure enough, he was right. Recognition, that's what it's all about!
Every couple of weeks, Kenneth tweets his road statistics (proving just how committed they are to the grueling life of a traveling musician). This is his most recent one:
kpattengale Kenneth Pattengale

Away = 202 Home = 76 #NightsInMyOwnBed2011
Ouch! On the other hand, I think it's required, in particular with the model that they have chosen.
Go grab their music, go see them in your town (they're all over the place, all the time) and judge for yourself.