Send to Kindle
This is CMJ week in NYC. Think of it as our SXSW (since I've never to been to the real SXSW, I won't compare them). That means that there are a ton of choices to see amazing music all day and night, for 7+ days. That makes it even more difficult than it sometimes is to just pick one.
Last night we had to choose from three shows that we would have loved to attend (next Monday, there are four can't-miss shows, three of which we'll obviously miss…). Matt Simons and Chris Ayer performed in Brooklyn back-to-back last night. We missed that. There were nine singer/songwriters performing at City Winery ("The 9 Songwriter Series"), which included a number of our favorites (that was brutal to pass on).
There are a number of criteria that we use to break these impossible ties. Last night we chose based on the venue.
Ian Axel, Chad Vaccarino and Mike Campbell were the opening act in the penthouse at the Cooper Square Hotel. The penthouse is home to the Annie O. Music Series, run by Annie Ohayon of Annie O. Media. Here's the description of the series:
The Annie O. Music Series is a monthly showcase for musicians around the city and the world. Curated by former music publicist Annie Ohayon, the series is open to the public and attendance is first-come, first-served.  Drinks are available for purchase at the bar.  The concerts take place in The Cooper Square Hotel's scenic 21st floor penthouse, which provides a breathtaking backdrop and 360-degree views of New York.
Let me paraphrase why we went: "Blah blah blah… breathtaking backdrop and 360-degree views of New York." Calm down folks, the "blah blah blah" part was a joke. I just wanted to highlight the purported views.
Purport no longer, the views are stunning. Some feeble shots from a compact camera (no justice to the actual views).
You can also see the other direction in two of the darker shots below during the intro and performance.
We arrived around 7pm. The show was supposed to begin around 7:30pm. The best laid plans…
The headlining group is from France, The Two. If I understood correctly (I wasn't there, so I might have this very wrong), when Ian plugged in his electronic keyboard, he plugged it into a power strip that the French group had put out. Somehow, this was connected to a Euro power supply (must be 220v). Ian's keyboard fuses melted.
Ian scrambled and rented a keyboard for the night from The Guitar Center. He was back by 7:30, but not ready to play. So, we got to hear a bit of the sound check for the temporary keyboard and Ian's vocals. Let's turn to the Judges on the sound check: 6.5. Uh oh. There was a sound guy there, and he did end up at the floor near Ian's monitor, but who knows what kind of adjustment he made.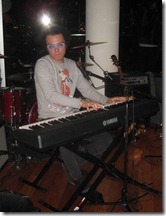 The show began at 8pm, with Annie O. introducing the evening and Ian Axel specifically. She invited people to sit on the floor if they wanted (it was very crowded by then, inside and on the mind-bogglingly incredible wrap-around deck). Two rows of people spontaneously sat down (as if Annie had a Svengali-like hold on them). Perfect, since I was in the third row and now had a dead-center unobstructed view.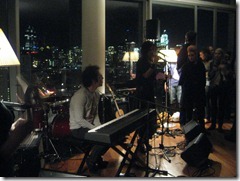 Ian opened solo with Waltz. It was a CMJ miracle. The sound was flawless. I don't know what magic this sound guy invoked, but he nailed it. Considering that the show was built around The Two, I was shocked to see that nearly everyone in the room was not only familiar with Ian's music, but knew Waltz really well.
3/4's of the way into the song, Ian abruptly stops singing and playing. In early shows (and still in a number of out-of-town ones), quite a number of people start applauding (naturally, the song definitely feels like it's over). Not a single person clapped. Ian seems to feed on that silence, so he often stretches it out, almost daring someone in the room to clap. No one took his bait.
When he really finished the song, the place erupted. You had to be there to appreciate the beauty of dead silence in a crowded room, followed by deafening applause.
Ian invited Chad Vaccarino up and they sang one of their newer songs, Rockstar. Such a great song, such a great performance of it. Another crushing round of applause.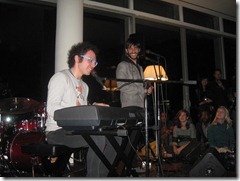 I may have the order of the next two songs wrong (flip them in your mind if you were there).
You'll Be OK was next, another winner.
They followed that with their newest song (only played in public for the first time 10/6/2011). I call it "The More We Love". They won't call it that, so at some point (when they name it), these posts will seem silly or quaint.

When this song is recorded properly, if it doesn't hit the charts, it will be because of a vast name-your-paranoid-delusion conspiracy. It's the real deal. Unless everyone had been at Bess Rogers CD Release Show (where Ian debuted the song), I'm betting it was new to most of the people in the room. You couldn't tell by the reaction, since the reaction to every song was thunderous.
Ian invited Mike Campbell to join them. They performed Shorty. One of my favorite songs, done in my favorite way, with Chad singing all of the verses (the choruses are three-part harmony). Mike always take a short but very sweet lead after one of the verses. Last night he went for broke and pulled off a really hard (and fast) lead. Awesome! Well done Mike!
Mike was totally obscured from the camera while he was playing, so you'll have to settle for this great shot of him (unfortunately ruined by having me in the photo) from before the show: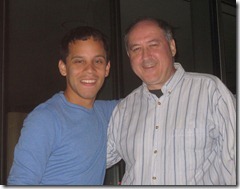 Ian announced that the next song would be their last. They played their signature, This is the New Year. Another incredible performance.
The crowd was so loud that Annie O. stepped in and asked Ian to play one more (thanks Annie!). A few people called out for Amory (which would have been awesome), but Ian decided to depress all of us instead.

He closed the set solo with Say Something. I've seen it many times and loved it every time. I have to say that last night was perhaps the most emotionally charged delivery. What a way to end a set that was equally matched by the setting.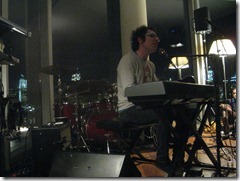 Most unfortunately, we had to run when the set was over (it started later than expected and went over by a song as well), so we had to miss The Two. Given Annie's taste, I'm sure they were amazing as well. Hopefully we'll catch them some other time.