Send to Kindle
Another Monday, another excruciatingly difficult choice of shows to see. There were four can't miss ones all going on at the same time. This week's calculus was radically different than last, but after crunching the numbers, we ended up selecting the same group of performers.
Ian Axel appeared on Rock Talk, hosted by ABC's Phil Lipof. The event (it's not just a show) was held at Feinstein's at the Loews Regency Hotel. We selected this over the other shows because of the format. Rock Talk is a mix of interviews and performance. Phil Lipof interviews the performers about the specific songs, their writing process, motivations, experiences, etc.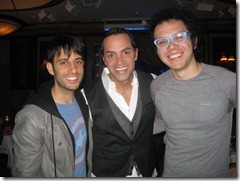 Given that Phil is an award winning Anchor and Reporter, the concept intrigued us. Phil was masterful (no surprise).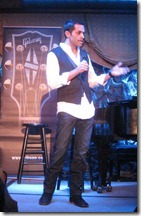 Phil started by introducing Ian and asking a few questions. Then Ian played Waltz. The evening was sponsored by Gibson Guitar Corp., makers of Gibson Guitars and Baldwin Pianos. Ian sat behind a gorgeous looking and sounding Baldwin Grand Piano.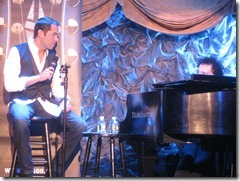 My guess is that most of the people in the room were familiar with Ian's music. Some may never have seen him perform live before. Phil was among the latter, familiar with the music, watched the videos, but was finally experiencing it first hand. Waltz, on a grand piano, with a good sound system, in an intimate room, is a perfect way to be introduced to Ian.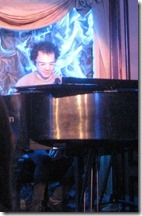 The expression on Phil's face when Ian's hands were flying up and down the keyboard was priceless. When the song was over, Phil told us that he wished there was an overhead camera so that we could all see what he was seeing. Typically, the piano is turned sideways (parallel to the stage) so half the audience can see the keyboard. Last night, it was perpendicular, so only Phil could see the keyboard.
That made for a number of amusing moments (to me). When Ian plays solos (meaning, when he's not singing), he often tilts his head to one side or the other, getting lost in the music. Last night, given the angle of the piano, that meant that Ian completely disappeared from view, creating the impression that we were watching a player piano. At those moments, watching Phil's face gave you a sense of the magic happening just out of sight.
Phil continued interviewing Ian, telling us that we were about to hear a song that was very different from Waltz. He was right, Say Something is different in every way. Ian talked about the inspiration for the song, how long it took to write, how and why it was started on piano (the writing) but finished on the ukulele.
He then played it for us. Phil summed it up by saying that even though he hadn't gone through the same experience Ian did, his heart was breaking nonetheless while listening to Ian sing. I agree (though I have experienced exactly what Ian was singing about, long ago).
He then switched gears again, introducing Gone and explaining what he (Phil) found out during his research watching YouTube videos and reading the comments. He mentioned he had heard Ian's Mom didn't particularly care for that song. He then called out to ask whether she still felt that way. A second later Ian's Mom called back "It's not my favorite!". That got a huge chuckle.
Ian's family was well represented, including his Grandfather and Grandmother who drove up from Florida. I so enjoyed meeting them before the show and getting to chat a bit.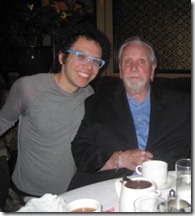 Switching gears again, Phil talked about the fact that many people compare Ian to a young Elton John. After asking Ian some questions about that, he mentioned that Elton John has had a lifelong writing partner in Bernie Taupin. Phil asked Ian a lot of questions about his writing partner, Chad Vaccarino.
He asked him how they met and Ian told a funny story, which culminated in Chad buying Ian a singing lesson, starting Ian down the road that we're all lucky to be a part of. When Phil brought Chad up on stage, the first thing he asked was whether Chad remembers it the same way Ian does. Chad burst out laughing saying "Yes, that's exactly how it happened, even though it sounds unbelievable."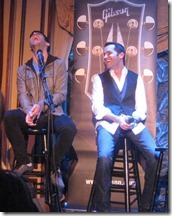 Musically, the gears shifted again, dramatically. Ian and Chad performed Rockstar. Such an awesome song, performed to perfection.
More interviewing (you get the format by now, right?), with both Ian and Chad. Followed by more gear shifting. During this round of interviews, they talked about another friend/singer/songwriter who they met in college (NYU), Mike Campbell. Chad was in a band with Mike before either of them met Ian.
Chad has written a number of great songs with Mike. Lately, Mike has been joining Ian and Chad from some writing sessions. They've already played a couple of those on stage (most recently, Amory), proving that this triumvirate will continue writing great songs.
Mike was called up to play a song with them. Given that this event was sponsored by Gibson, Mike didn't have to provide his own guitar (though I'm pretty sure he had it there just in case). Gibson had a guitar all tuned and ready to go for Mike.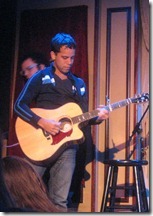 They played Shorty Don't Wait (a song that Mike didn't co-write with them, but plays often, always creating an extra bit of magic when he does). This is the only song that Ian left the Baldwin for, picking up us ukulele. Something was wrong with the electronics and Ian couldn't get the uke to be amplified.
Rather than waste time figuring it out, he asked Chad and Mike, and the rest of us, if we'd be OK doing it completely acoustic. Everyone agreed. Mike unplugged the Gibson, and they pushed the microphones out of the way so that the vocals were acoustic as well.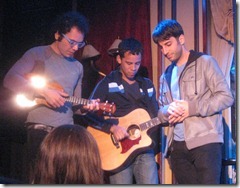 The result? Awesome.
When Mike left the stage, the house lights signaled Phil that the show was nearing an end. He asked whether we wanted one more song before shutting down. Ha! Ian selected You'll Be OK, and he and Chad killed it. It took a long time for the applause to die down (that was true after every song).
It was also clear that people wanted at least one more song. Phil seemed willing to push the venue for one more and no one in the audience wanted to leave. With some reluctance (I'm not sure why), Ian agreed to sing their newest song (as yet untitled, I continue to lobby for The More We Love). Who did Ian agree with? Let's just say someone called it out repeatedly, enthusiastically, from the audience, using a different working title: Homeward Bound (no, not the Simon and Garfunkel one).
What a spectacular way to end an incredible evening. The applause lasted even longer, because even many of Ian's die-hard fans haven't seen this song yet (Ian joked that it was still being written while they were performing it!). I should mention that this last round of applause came in the form of a long standing ovation.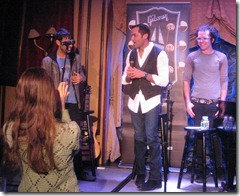 Many people milled about for quite a while after the show was over, the glow was still too warm to want to let go. Right before we headed out we went over to say a quick goodbye to Ian. He was standing with a good friend of his, Philip Ettinger.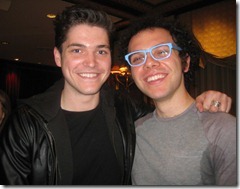 Lois got there before I did. When I made my way there, I burst out with: "I bet Lois just told you that we saw you on TV!". Indeed, that's what Lois had just done.

Just this week we watched Phil as the special guest star on CBS' Blue Bloods (we love that show). Phil was outstanding in a very dark role as the evil perp (oops, too late to say spoiler alert). I teased Ian that this blog would likely be all about Phil.

After the show, Mike told me that the Gibson guitar was great. Lois tracked down their representative (Suzanne) to tell her how much we appreciated their sponsorship.
I'm sure we missed three other amazing shows, but at least we didn't regret the choice we made!
In addition to the great show/interviews, we got there really early to enjoy a meal with many of our friends. For anyone considering going to Feinstein's for a meal (whether that includes a show or not), let me say that the food was fantastic, as was the service. It's not cheap (OK, it's actually on the expensive side), but the quality was so good that I don't have any complaint, just letting you know what to expect.
We got there a few minutes after the doors opened at 6pm. The show wasn't scheduled to begin until 8:30. I admit to being a little worried about lingering over a meal for 2.5 hours, including wondering whether our friends would show up early or late.
Nearly everyone showed up early and more than 10 of us enjoyed the meal, drinks and non-stop conversations until the second the show started (right on time). The evening would have been a phenomenal success if we had stopped after the meal. Thankfully, it only got better from there.
(Apologies for the grainy photos, which were taken without flash)