Send to Kindle
Melissa Tong and Jim Johnston told us that a friend of theirs was playing the flute in an all Mozart program. That's all I needed to hear, especially given what I wrote two weeks ago in a post about a rock set:
On one number she also played the flute, beautifully, an instrument that is sorely lacking at Rockwood.
The concert was held at The Morgan Library, which is very close to our apartment. It's a stunning place, highly recommended for the museum experience, independent of the musical events.
I love classical music, but rarely get to see it live (at least compared to all the other genres we attend regularly).
The program was split into four pieces. The first was performed by 16 members of the New York Chamber Soloists. Actually, all four pieces were performed by them, but the first had no soloist featured.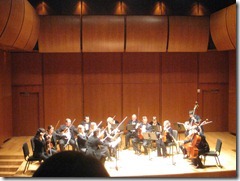 Here is the set list (otherwise known as the Program).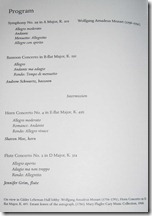 The symphony was performed beautifully. Here's the bio for the orchestra and their members: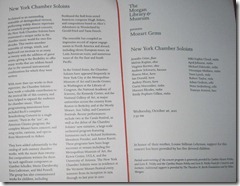 Andrew Schwartz joined the company on bassoon. He was wonderful and the audience let him know it. He ended up sitting immediately behind Lois for the second half and she told him how much she enjoyed his performance.
After the intermission, one of the two horn players from the first half, Sharon Moe sat front-and-center to solo on the horn. She was replaced with another horn player to maintain the 16 chamber orchestra members supporting her.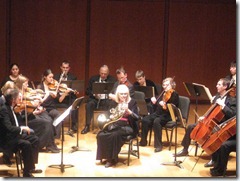 The horn is a very difficult instrument to play. While Sharon did a nice job in general, it wasn't the most impressive performance of the night. That said, the piece itself was lovely.
Jennifer Grim then came to center stage with her flute. She was the reason for our attendance. To my ears she was great and I really liked the piece. We got to tell Jennifer how wonderful she was after the program.
Melissa is friendly with (and has played with) a number of the other members of the New York Chamber Soloists. Lois snapped some additional photos of them as we headed out.
I didn't realize that there is a Season of music held at The Morgan. I doubt we'll get a subscription, but I imagine that we'll be back for specific shows in the future. The Gilder Lehrman Hall is beautiful and the acoustics were fantastic.
Thanks to Melissa and Jim for telling us about the show!