Send to Kindle
Julia Haltigan headlined a set at Rockwood Music Hall. She was sandwiched in between two sets we were planning on seeing, making it very easy for us to check her music out.
Mostly Rock, with a number of twists (Trumpet, Harmonica, Electric Mandolin), with nuance among the numbers even within the Rock genre.
Julia has a wonderful voice. She played acoustic guitar (rhythm) on most songs. On two (or three?) she sang without playing the guitar. Given the size of the band, it was a bit hard for me to follow a lot of the lyrics, so I won't comment other than to say that nothing struck me as poorly done.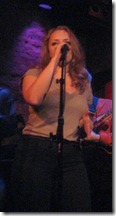 While there were a few slow songs (one a bluesy rock number, another a jazz one), most were energetic up-beat toe-tappers.
Julia was supported by five people, left-to-right on stage:
Sam Feldman on electric and acoustic guitar (no good individual link). Sam did a very nice job on electric (mostly). A number of times (in particular in the first number), his play felt a bit sloppy to me. Unfortunately, that made me notice other nits throughout his play. At times, he was really good too, so I'm not sure if last night was anomalous.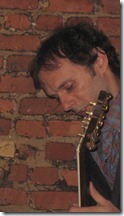 The shame is that the electric guitar is a centerpiece of Julia's sound. In my opinion, she would have benefitted from a more solid performance, even if that person didn't flash as much as Sam did occasionally.
That said, Julia closed the show with a duet, she sang and Sam played her acoustic guitar (the only number he played acoustic on). It was a cover of Richard Thompson's 1952 Vincent Black Lightning.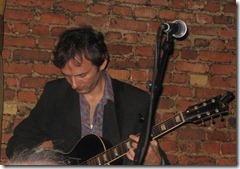 He was superb on that number, a very difficult one. Here's a YouTube video of them doing it in June, next door at Rockwood 2:
Julia Haltigan and Sam Feldman performing Richard Thompson's 1952 Vincent Black Lightning
Joe Ancowitz on trumpet and vocals (no good individual link). Joe was great on the trumpet, a couple of times taking long tasty leads. He was also the primary backup singer with Julia, doing a very nice job.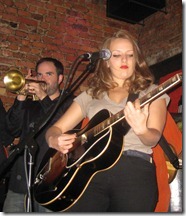 Emmet Haltigan on electric mandolin and harmonica. Emmet stood behind Julia, so I only got glimpses of him when Julia stepped to the side. Yes, he's her dad. He played roughly 1/2 the numbers on electric mandolin and the rest on harmonica. I couldn't hear a single note of the mandolin over the other instruments so I can't judge whether he's good. I can simply judge that the mandolin doesn't add to Julia's sound, because I enjoyed the set without hearing a note of it.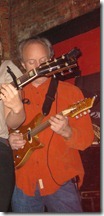 Emmet was very good on the harmonica, which while not loud, was at least noticeable. Like the trumpet, it added color to Julia's songs, making them not straight up rock.
Bennett Miller on electric bass and vocals. Bennett was excellent on bass and did a nice job on vocals. He sang alone with Julia on at least one number, but for the most part, he joined Joe to give more oomph to the background vocals while Julia belted out the leads.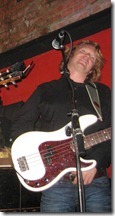 Steve Williams on drums. Steve was fantastic on the drums, which were also a critical piece of Julia's sound. Smooth as butter, never too loud, fast when appropriate, but mostly, just the right sensibility.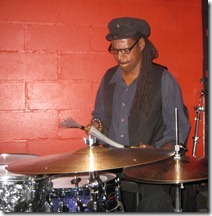 So, even though I had a (minor) complaint about the electric guitar, this band does an excellent job in backing up a talented singer. A very nice way to spend a completely unexpected hour.