Send to Kindle
Rebecca Haviland at Rockwood Music Hall? We're there. We'd go even if we knew it would be identical to the last show, but this time I knew there would be at least a small twist. One of her band members, Greg Mayo, was playing in Washington, DC, so something would be different. It turns out that her drummer Kenny Shaw wasn't there either.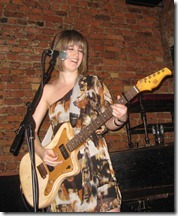 Rebecca didn't replace Greg at the keyboards, nor his vocals, so the set was a bit more stripped down and raw. While I will welcome Greg back with open arms, I have to admit that there was a grittiness to having Rebecca's electric guitar be the primary sound (along with her stunning voice) that was an interesting change of pace.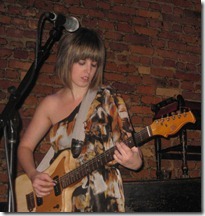 Rebecca just finished tracking (perhaps even mixing) a new CD, after a successful Kickstarter campaign. I believe that most of last night's set will be on the CD. Another thing to look forward to in the coming months! Here's the set list: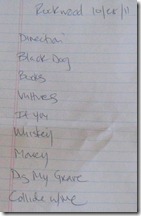 Rebecca got the crowd singing (pretty loudly) on If You (I never need an invitation for that one! In fact, it hurts me not to also sing on the lead-in, "If you want me to", but I muzzle myself.).
She was supported by two outstanding musicians, with a very special surprise guest on one number.
Chris Anderson on electric bass and vocals. Chris co-wrote many of the songs with Rebecca. Their collaboration works perfectly in my opinion. Chris always sings a bunch on Rebecca's sets, but with Greg Mayo out last night, it was always the two of them, rather than the occasional three-part harmony.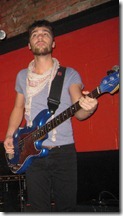 Another effect of having Greg out was the lack of keyboard solos. Chris made up for one by kicking a** and taking numbers on a long and terrific bass solo. Even when Greg returns, I hope they keep that in the set!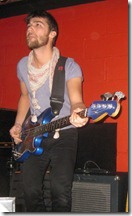 Dave Burnett on drums. Dave did a fantastic job throughout the set. I admit to be a little worried during the first number (Direction). Dave was great on that too, but a bit more hyper at times than Kenny Shaw's style and it felt a little out of place to me. I never had that feeling again on the rest of the numbers. Dave is just flat out excellent.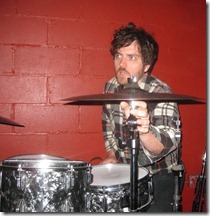 Evan Watson came up to sing and play harmonica on Whiskey. His harmonica play was great. He took a verse on the lead and was absolutely wonderful.
Update: almost every time I second guess my memory, I put in incorrect information in the blog. it happened again this time. Because they joked about Whiskey, I said that Evan played on Whiskey, even though I was pretty sure he didn't. Today, Manish Gosalia posted a video of the song Evan played on, Dig My Grave. Sorry folks, that's what I remembered, but I overruled myself… 🙁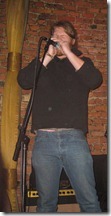 In a fitting moment, Rebecca called for him to come up and she didn't spot him right away. When she asked if he was still in the room, he called out that he was just getting a Whiskey at the bar.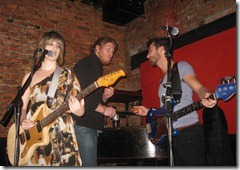 Rebecca announced that she'd be back at Rockwood sometime in November and then again in December, though the specific dates haven't been booked yet. If we're in town, we'll be there, no question about it.
Manish Gosalia is an exceptional photographer. As important, he has superb taste in music, as I find myself at many of the same shows he's at. He has always put up a photo or two of each show, but lately I feel like he's sharing more of them (which is a very good thing). He put up a slideshow of last night's set. Enjoy!