Send to Kindle
Girlyman played Joe's Pub last night. Let's the get the statistics portion of the post out of the way. This was our 21st time seeing Girlyman perform (give or take some arbitrary number, likely zero). We hadn't seen Girlyman at Joe's Pub since April 2009 (31 months!). We hadn't seen any show at Joe's Pub since March 2010! Joe's Pub was completely renovated over the summer, re-opening roughly six weeks ago.
It seemed fitting that our return to Joe's Pub (post renovation and long absence) would be to see Girlyman. Our original, accidental discovery of Girlyman occurred August 21st, 2007, at Joe's Pub, purely because Joe's Pub was our favorite venue. Before describing the evening, let me just say Bravo to the new Joe's Pub. The exterior is still a full-on construction zone, but inside, they have built a gorgeous listening room.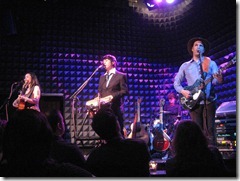 We saw Girlyman just 10 days earlier in VA, at The Barns at Wolf Trap. How things change in 10 days. The most striking difference? Nate was clean shaven after having a beard (for the first time) at The Barns. Man, you just never know what you'll experience at a live show.

Seriously, there were qualitative differences and even some musical surprises. First, no two venues are (exactly) alike and The Barns and Joe's couldn't be more different. Second, while Girlyman calls Atlanta home, they were formed in NYC (first scheduled rehearsal was on 9/11/2001, obviously canceled). Their NYC shows (not just at Joe's, but for us, particularly at Joe's) have an extra sprinkling of magic dust.
It comes somewhat from within them (NYC is still home, even though they no longer have to pay local income taxes), but mostly from the indescribable bond that the NYC audiences have with Girlyman (if you were there last night, you're nodding your head in recognition/agreement right now).
What makes Girlyman special? Phenomenal songwriting, delivered in luscious three-part harmony. Completely independent, non-stop laughter between numbers, seamlessly gluing the songs into a fun-filled event. In other words, never a dull moment. You're either listening to a great song, or a funny bit, often created on the spot based on something that just happened or was mentioned on stage. A few examples below.
Girlyman is producing a new CD. It will be out sometime next year (hopefully in Q1, unless they want their fans to get the shakes). That means that shows on this tour (last night was the last show) have been filled with spanking brand new songs. Of course, no Girlyman show leaves their long-time fans without multiple tastes of their favorites, going all the way back to album #1 (Remember Who I Am).
The new CD is called Supernova, and you can pre-order it now (do it). Buy multiple pre-orders, get a couple of bonuses.
The show last night was magical, as most Girlyman shows are. Everything flowed, musically and comically. While Girlyman often has wonderful openers in other venues, they never have an opener at Joe's because the set time is constrained (Joe's had another show after this one). I prefer the purity of a Girlyman-only show, even though one could argue that the value in having a high-quality opener is better.
They played roughly six songs from the new CD (including the opener). One of them (later in the set) was a song they had never played in public, a very personal song by Doris about her year-long battle with Leukemia (thankfully, now in full remission!). A gorgeous song. They said that the live arrangement is different than the one on the upcoming CD. I really look forward to hearing the fully produced version!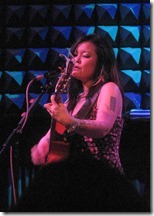 For those who can't wait any longer, here's the set list:
I mentioned above that there were musical surprises in saying that there were differences from just a week earlier. In my previous post I noted that Everything's Easy, performed with Coyote Grace, was spectacular, as each (normally) solo part was sung in harmony with a paired member of Coyote Grace.
Girlyman decided to reproduce that feeling without any outside help. For the first time in my experience, rather than each of them singing their verse solo, Nate's verse had Ty singing harmony with him. Ty's verse had Doris singing harmony with her and Doris' verse had Nate singing harmony. Then they of course all sang their separate verses simultaneously, which was the only time they couldn't fully reproduce the magic that Coyote Grace added. Awesome!
There were two requests and two encores not listed that I'll add momentarily. Joe's has always had black acoustical padding lining the walls of the stage. The renovated Joe's has that too, but the design is slightly different (even more prominent). JJ Jones is a very active drummer. Nate pointed out that Joe's is perfect for JJ as the padding protects her from injuring herself as she bounces off the walls. A number of times during the show, JJ did indeed show off that technique.

This is just JJ sitting at the drums, not showing off the technique (which would have looked like a blur, even if Lois had captured it):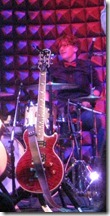 Speaking of JJ, since she was wearing black and sitting way back on stage, she blended with the padded walls. Some of the shots Lois took last night make JJ appear to be a projection. Here's one example: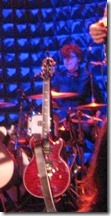 While Doris and Ty were tuning, a young girl walked up to the stage (accompanied by her mother, don't worry folks) and handed Nate a note. He read it and noted that it was a specific request. He told them that there was an upcoming request section so he would have to ignore it for now.
But, the ladies continued to tune and Nate decided that he probably had enough time to sneak in this request. Before I tell you what it is, let me say that often, Girlyman asks the audience to vote for one of three (or four) songs, by simply describing each with a single word. Long-time fans know which song is tied to which word, but newcomers have no idea. That has never happened at a Joe's Pub performance in all the times we've seen them there (meaning, they never offer this particular choice).
One of those four words is German. I always scream my head off for that choice. While I've seen them perform it three or four times, usually, I lose (at least in the past two years). It turns out that the note that was passed to Nate specifically asked for that song, Rock Me Amadeus by Falco. I would embarrass myself if I told you how excited I was (and that I paid that kid a lot of money to pass that note).

We all get to sing along (not to the German lyrics, which Nate nails).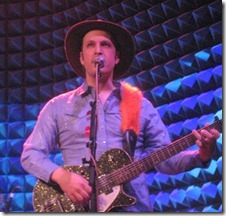 For the formal request section, they settled on Reva (a song about Nate's grandmother). Settling is always difficult, since nearly every song Girlyman ever wrote is called for at every show during the request section. People brought hand-written signs to hold up because they knew they were too far from the stage to be heard.
For the first encore, they played Stayin' Alive by the Bee Gees, to honor Doris' journey. After leaving the stage for the second time, they were forced back out for a second encore. They knew what they were going to play, but someone called out for Doris to play the banjo (Ty had played it, but Doris hadn't touched it as yet). Doris pointed to it (standing quietly next to her) and said "There it is".

Ty and Nate encouraged her to pick it up, changing whatever they intended to play. They performed Kittery Tide (at a much faster clip than usual), but still nailed the tricky guitar and banjo leads. Well done ladies!
Coming back to one last humorous example. At one point Nate said "Who needs therapy?". There was dead silence. Nate followed with "We're in NYC, everyone in the audience is probably a therapist!". Then he added that they lived in Atlanta. He said that if the show were in Atlanta, the equivalent question would have been "Who has a chicken?", to which the answer would have been "Most of the audience.".
After a few more cracks about NY Times articles on many 30-somethings now buying/raising chickens, Nate started up a classic Girlyman Tuning Song about therapists and chickens. As they often do, the girls chimed in with harmony along the way, only this time, they clucked the harmony (literally, it was hysterical).
At the end of the song, Nate finished with a line "Six of one, half a dozen of the other". Other hadn't been rhymed yet, but he was clearly done. Without missing a beat, surprising Nate (and the rest of us completely), Ty finished it off with something like (this is a complete paraphrase, I can't remember her truly clever words!):
What issues did you have with your mother?
Bringing it all back to the therapist line that started everything out. It was (yet another) hysterical moment, showing how clever and quick all of them are.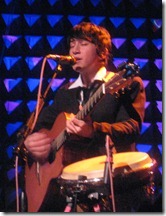 We shared the evening (and a table) with two friends who were new to Girlyman. We continued our 4+ year streak of constantly introducing as many new fans as we can. Last night's mission: accomplished. Mirroring our seats on the other side of the stage were Kevin and Edith. They were very sneaky. We can't thank them enough, but they better start worrying about our escalating retaliation.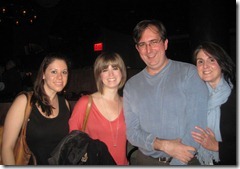 We were the first two people on line (in line for the Brits amongst my readership). Shock, surprise, mock horror.

We got to say hi to Genevieve, Girlyman's manager, both before and after the show. Here she is pictured with Ty, and Ty's dad, Ron Greenstein (a wonderful musician in his own right, currently performing with The Chad Mitchell Trio!).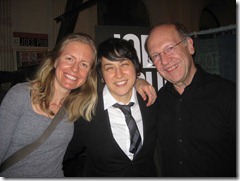 One of Girlyman's songs, Easy Bake Ovens (co-written by Ty and Nate), is a conglomeration of Ty's earliest childhood memories. It ends with:
Dad took a picture on August the nine
Of us with the newspaper and the headline
'Ford Steps Up; Nixon Resigns'
It turns out, this is literal. Here's a blog post by Ty that shows her as a baby, with that newspaper headline! Last night, Ron Greenstein showed me the same photo on his little flip phone. So cool. It's historic(al) on a number of levels.

I'll finish with a photo that Lois accidentally hijacked (don't worry, they got plenty of other good ones). She noticed that Girlyman was lined up nicely for a shot with some fans. She was willing to get an off angle shot of them. JJ noticed Lois and pointed to her, which made Doris turn as well.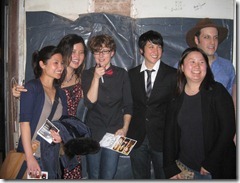 Already counting the days until we see them again!