Send to Kindle
I can't tell you how happy I was to see Sierra Noble at Rockwood Music Hall Stage 2 last night. We try to plan our musical calendar out at least a month in advance. While things come up occasionally, causing us to shift plans (not including health issues), we try hard to stick to our schedule.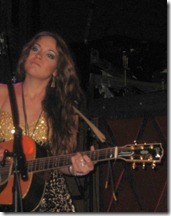 We returned to the city last Thursday with plans to have dinner with a couple we see often (at these shows), but had never had any quiet time with. Then I found out that Sierra had a show at The Living Room. I felt badly that I would miss it, but I wasn't willing/interested in moving our dinner. Knowing that we already had the Rockwood show on the calendar for one week later made the decision a bit easier.
Yes, it's true that we just saw Sierra three weeks ago at The Bitter End. Yes it's true that we saw her two additional times in October before that. So I'll allow myself to voice a question many of you may have? Why do we see some artists as often as we can?
Believe it or not, some artists actually ask me that directly, showing their humility (and normal insecurities). Let me begin answering with a set of related questions: are there CD's that you play more than once? often? on repeat?
If you answered yes to the above (in particular to the last one), then I probably don't need to explain anything to you. If you answer no, especially to the first, then you probably don't go to live music much either.
If you do listen to CDs multiple times, as much pleasure as you derive from it, the music is identical, each and every time. Obviously, your mood might be different, other circumstances/ambience as well, making the experience different, but for the most part, you're looking to enjoy something again, that you already know you enjoy.
In a live show, even with identical set lists and performers, no two shows are ever identical. Many aren't even really similar (though reading about them and looking at the set list might make it seem so).
Here's last night's set list (note: Sierra didn't get to the last song):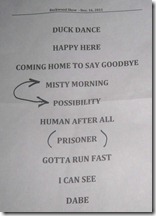 The overlap is significant with other recent shows (that's not unusual). First, given how much we love the songs, that's welcome. Second, even the addition of one song changes the flow. In this case, that song was Misty Morning, a Louisiana Fiddle Tune. Sierra's play was wonderful, but the song also highlighted the rest of the band.
We attend live shows to connect with the artists on a level deeper than just the music. As many times as we've seen Sierra perform Possibility (a mere fraction of the times I hope/expect to see her play it!), and as many times as she's introduced it (often with a slight addition/variation), last night Sierra told an even deeper truth about how the song came to be. I won't repeat it, so you better come to a show if you want to know. Suffice it to say that I would have been happy to come to the show just for the additional background.

Sierra also fiddled from a sitting position for the first time in our experience, during the first song: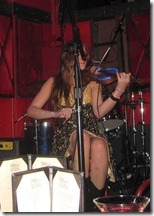 Supporting Sierra, left-to-right on stage:
Greg Mayo on acoustic and electric guitar and harmony. Another stellar performance by the ever-wonderful Mr. Mayo. Greg and Sierra shared a single acoustic guitar (when she played it, Greg played electric, when she fiddled, he played the acoustic). Sierra mentioned that they usually have three acoustics on stage between them.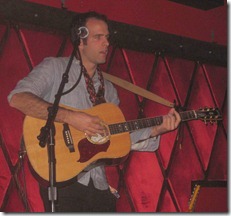 I asked whether the guitar that broke at the Bitter End was still broken. It turns out that it is. What I learned was that it was Bob Mayo's guitar (Greg's dad). Noting that, Sierra said that it could take all the time it needs to heal. True, but let's hope it has a speedy recovery and Greg continues to make magic with it asap.
Seth Faulk on drums, percussion and harmony. We've seen Seth drum at a few of Sam Teichman's benefit concerts. We've heard him sing on stage on one number with Alex Wong (recently) and I've heard him sing harmony from the audience a couple of times. So, I know how talented he is.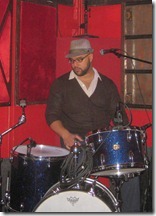 That said, last night was the first time I've actually seen Seth play an entire set. He was excellent, playing the drums with sticks, brushes, mallets and adding shakers on the softer numbers. On a couple of songs, he was nearly whisper quiet with the brushes and mallets (totally appropriate). I already knew he has a wonderful voice and he proved that again on two numbers.
Chris Anderson on upright bass and harmony. I mentioned above that Sierra highlighted the band on Misty Morning. That applied the most to Chris, who lit up the upright during this number. He sang a lot, in particular on Human After All.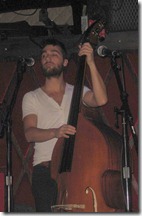 Rebecca Haviland on vocals. Rebecca came up as a special guest on three or four songs, singing harmony with Sierra, and often at least with one of the three guys (sometimes two of them). Rebecca is a star on her own and the ladies sing wonderfully together.
Another reason we love going out is getting to share these experiences with the many friends we've made who enjoy the music as much as we do. We got to sit with a couple of them last night.
We won't be seeing Sierra again until 2012, hopefully that means January!