Send to Kindle
I need no extra incentives to attend a Bri Arden show, especially at Rockwood Music Hall. But, if you're going to entice me, I'm paying attention. Here are a few tweets that Bri unleashed in the past few days (in order):
BriArden Bri Arden

Guys— show this Sat, 9pm at Rockwood. Super excited. Playing BRAND new songs… & I'm playing guitar (& piano) This will be a FUN one 😉

Tomorrow night: 9pm— bringing some very awesome, talented boys to play with me. Come on out! XO B http://fb.me/QPl7iraG

I can count the amount of hours I've slept this week on my fingers.

So very excited for a VERY special show tonight 🙂 SURPRISES!!! 9pm Rockwood 1! Come early for @JeffJacobsMusic! XO B
Let's summarize: New songs, Bri on guitar and piano, talented boys, Bri sleepwalking, and SURPRISES! Come on, who doesn't want to experience all of those things?
One of those surprises? Bri's hair was straight. The last show, it was extremely curly. You just never know what to expect.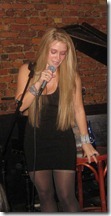 So, even though we had some last-minute monkey wrench thrown into our schedule, we still made it down to Rockwood for this show. We ended up missing two other shows, one of which I badly wanted to see (The Stone Lonesome at midnight), but monkey wrenches will have their way with you at times.
So, let's back up and review what's special about Bri, independent of this show. Phenomenal voice. Great songwriter. Amazing band (when she has one!). Excellent stage presence. Nice (never discount nice!). I could go on, but if that's not enough to get you to check her music out, or come to a show, then anything I add won't help.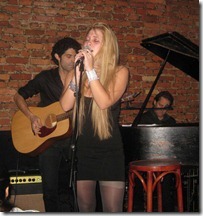 I've seen Bri perform in a number of configurations, and I've enjoyed every one of them and fully appreciated the differences. Full band with backup singers, check. Practically solo, accompanied by a single acoustic guitarist, check. Full band without backup singers (except, psych, the band sang backup to make up for the loss of the backup singers!).
Tonight was different again, on a number of levels. The first was a psych of the psych. Full band (very different though!), with none of them singing backup. The only vocals were Bri's and she was absolutely incredible. In fact, a couple of times in the past I complained that picking out some of her lyrics was difficult given how much sound (power) was coming from the stage. Tonight, every word was crystal clear. Perfect!
In the times that I've seen Bri, she's never played guitar on stage. Tonight, the band took a break on one song and Bri played the guitar. Afterward, she said she'd never do it again. While the guitar playing wasn't perfect, Bri was way too hard on herself about it.
But, the song, wait, not enough emphasis: the song! I'm Fine, is a real winner, whether she accompanies herself in the future or not. Her introduction was emotional and authentic and the song lived up to the intro.
A little later, Bri gave the band another break and played a solo on the piano, The Other Man. The only intro to that song was her telling us that she gets requests for it often enough that she decided to play it. Thank you all you requesters!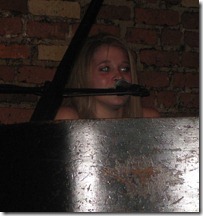 Every number was special. Not every band member played on every song. There are few notes on the set list to guide you, but it's not exact. Also, Bri had to cut out one number due to time constraints.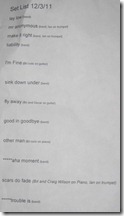 The band, left-to-right on stage:
Oscar Bautista on acoustic guitar. I've seen Oscar play electric many times (most often with Bri, but not exclusively). He's masterful. This was my first time seeing him on the acoustic, and his play was equally terrific. On Fly Away (a cover), Oscar played the guitar and Bri sang, without the rest of the band.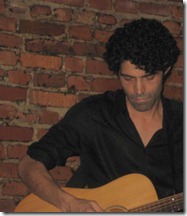 Craig Wilson on piano. Craig has co-written a number of songs with Bri. He played on three numbers, the opener and closer (both full band) and Scars Do Fade, where most of the band took a break. Folks, Scars Do Fade is incredible. Bri and Craig are a very good team, and Craig did a wonderful job accompanying her on the piano.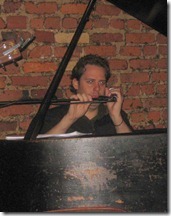 Ian Schaefer on trumpet. Ian played on three or four numbers, all with a muting cup. He was as good as he always is lending a character to the songs that works really well.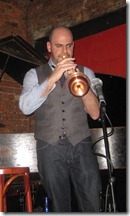 Jeremiah Birnbaum on electric bass. This was one of the aforementioned surprises, and was also covered by the talented boys tweet. It wasn't a surprise to me, since Jeremiah himself tweeted:
jeremiahmusic jeremiahbirnbaum

Very excited to play bass for the fabulously talented @BriArden tonight at Rockwood Music Hall, 9pm!
I've seen Jeremiah on electric guitar and singing lead vocals, a number of times (most specially with his group The Ramblers). This was the first time I saw him on bass. He was replacing Bri's regular bass player, Justin Goldner (who is excellent), and Jeremiah acquitted himself well.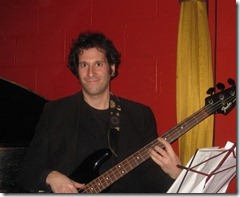 Bruno Esrubilsky on cajon, shaker and percussion. Bruno was a sub for Bri's regular drummer/percussionist, Jake Cohen. That said, Jake has played drums every time I've seen him, so Bruno playing the cajon (extremely well) created an entirely different sound.
Rather than butchering Bruno's last name, Bri gave him the opportunity to pronounce it himself. He quickly retorted: "So, you'll let me butcher it myself?".

I have enjoyed every one of Bri's shows. That said, I think I can say with little hesitation that I enjoyed this one the most.
After the show, Bri wanted to introduce us to her mom. Unfortunately, I got separated from Lois and Bri as the crowd divided us and pushed me further away. Lois got to say hi, but my introduction will have to wait for another time.
For the astute among you, you may have noticed that this post is about 12-15 hours earlier than normal. Tomorrow (by now actually today), is a crazy and somewhat unpredictable day for us. I didn't want to take the chance on not posting until Monday, so I stayed up late to get it out now. Time for bed!