Send to Kindle
We've seen Ximena Sarinana perform a number of times. We're big fans. Considering that she lives in LA, we decided to cut a business trip short to return to NYC to catch her show at Rockwood Music Hall Stage 2 last night (who knows when the opportunities will present themselves!).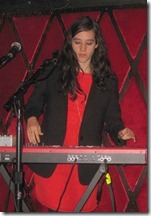 Ximena has two CDs under her belt. The first is all Spanish, produced when Ximena was living in Mexico (where she is a superstar). The new one (self-titled) is in English, except for track 10, Tu Y Yo (You and I). Both are excellent.
So if we own both CDs, and they're excellent, why run back to NYC to catch Ximena live? Because the CDs don't actually do justice to the two things that make Ximena such a special live act:
She has a stunning voice which comes across more powerfully/vibrantly live
She is delightful/effervescent/charming/funny/natural/cute and any number of other adjectives (all positive)
Did we make the right decision? Of course! Ximena's voice was in full bloom last night, charming and mesmerizing. She played a mix of songs from both CDs (can't let your original fans down by ignoring the old stuff!).
On Normal (a Spanish song from the first CD), Ximena looped her voice at least six times (I'd guess it was closer to eight), each time adding a new harmonizing track. It's mindboggling how beautiful it was and how creative she is for being able to come up with that many different melodies that blend together so well.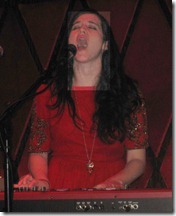 Ximena was supported by two fantastic musicians, left-to-right on stage:
Aaron Steele on drums. I've seen Aaron once before (this past January). He was very impressive, but I was sitting inches away from the drums in the much-smaller Rockwood 1, and Aaron's hard-hitting style overwhelmed me a bit. Last night was an even more impressive performance, with zero negatives.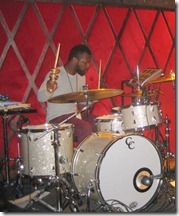 Aaron is fast, steady as a machine, doesn't over-drum, and delivers a perfectly matched beat to Ximena's power-pop style. On the jazzier numbers, he can be subtle as well.
Pete Lalish  on guitar. I've seen Pete a number of times (with Lucius as well as Ximena) and he's impressed every time. Last night I noticed some things I hadn't before. Ximena's new music has quite a bit of electronica in it. I tend to think that most of that is generated on a keyboard (and much of it is, by Ximena herself).
Last night I saw that Pete actually produces more of it than Ximena. He spent a fair amount of time on his knees furiously working his pedal board with both hands (with the guitar just hanging on the strap, unattended), making the electronica sounds.
I'm not the biggest fan of electronica in general (having nothing to do with Ximena), but that doesn't mean that I'm not impressed at seeing it performed/produced live, giving fans of the CD a real taste of the same sound in a live setting.
Here's the set list, which was a big hit. We attended the early show, but Ximena was on again for a second show, after a short break!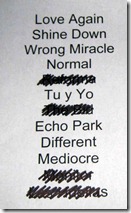 Gaffiti6 opened the show (both shows). We knew nothing about them, other than the many tweets that I saw, including one from another musician that we both really like, Valerie Mize:
ValerieMIZE Valerie MIZE

Hey, NEW YORKERS! Catch UK Harmonic Awesomeness@Graffiti6 at #ROCKWOODmusicHall w @ximenamusicTONIGHT! 2 Shows! @TommyDD @JamieScottG6
OK, so instead of me making up a new description, pay attention to Valerie's: "UK Harmonic Awesomeness".
I would describe them as power folk. Two acoustic guitars (the duo that formed Graffiti6) and an electric bass.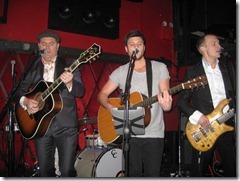 Jamie Scott sings the majority of the leads, with Tommy Danvers (TommyD) joining for a lot of very powerful harmonies. The bass player (Pete Cherry) was excellent and added three-part harmony to many of the numbers.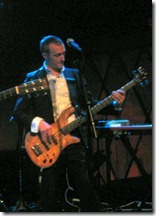 The crowd was extremely enthusiastic in their support for Graffiti6. I thoroughly enjoyed their sound, but I'd have to listen again to have a better sense of whether the lyrics will grab me if I give them another shot.
As we were leaving, we ran into one of our favorite musicians/people, Alex Berger. Come to Rockwood 2 on Tuesday (12/20) to see him play at 9pm. Stay for Alex Wong immediately thereafter. That's where we'll be.