Send to Kindle
Have I mentioned how much we love Rebecca Haviland before? If you don't know the answer to that question, then welcome to this space, clearly you're a first-timer.

It's been roughly six weeks since we've seen Rebecca perform. That's bad enough, but she had a few shows in between that we couldn't attend, including one co-bill with Sierra Noble. The last time we saw Rebecca was also at Arlene's Grocery (the site of last night's show). Given how good Howard (the sound engineer at Arlene's) is and how hard he works to balance their sound, I was happy to return there.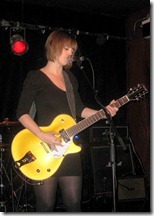 Rebecca and the band were awesome and Howard played his part in it as well. They performed most (all?) of the songs off of her upcoming CD (Rebecca announced that it was currently being mixed, so we're getting closer folks). Here's the set list: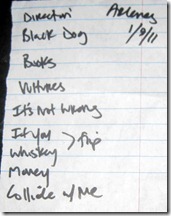 We attend shows by the same artist many times for a number of reasons, some of which I recently articulated. One of the reasons is also the serendipitous surprises that occur on occasion (more often than you might guess, if you're open to spotting them).
We both feel blessed that in addition to loving a lot of the music currently being played by many of the NYC indie artists, we genuinely love many of the people themselves (headliners, side-people, fans, venue staff, videographers, producers, significant others, etc.). I can't say I expected that bonus when we first immersed ourselves in the scene here, in April 2009.
We love them, because they're wonderful people independent of their involvement in music. That sometimes happens in a vacuum, but rarely. Usually, there are some pretty amazing parents behind them, having figured out some magic to turn out these young adults (young by our standards, for sure).
Last night we got to meet two sets of those parents, Rebecca's (including her brother and his girlfriend) and Kenny Shaw's. It didn't take 30 seconds to see why Rebecca and Kenny turned out the way they did. Good job Havilands and Shaws!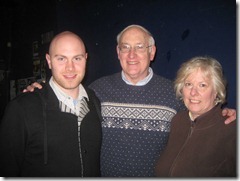 Rebecca was accompanied by the same band she had last time out at Arlene's, which (technically) had one fill-in for her more typical setup. For two reasons, I'm going to cover them from right-to-left, rather my usual left-to-right order:
Chris Anderson on electric bass (two actually, though not at the same time) and vocals. Chris is Rebecca's primary writing partner on most of the numbers on the new CD (hence my desire to cover him first). He also sings harmony on every number. Independent of that, he's a great bass player and that's evident at every show (including last night).
Kenny Shaw on drums. While Rebecca is considered a Rock person, most of her numbers are very soulful, bluesy ones, which call for less than straight-up drumming. But, she's also an all-out rocker on occasion, calling for highly energetic and fast drumming. Kenny delivers both styles, equally well, seamlessly switching between them whenever appropriate. For a specific example, on It's Not Wrong, Kenny really tore it up, switching into high gear.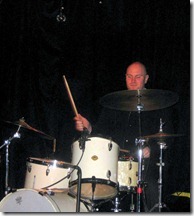 Todd Caldwell on electronic keyboards and vocals. Last time at Arlene's was our first time hearing Todd. He impressed then, but was even better last night (he's probably just getting more comfy with the material). He plays keyboards for Stephen Stills and Crosby, Stills and Nash, so you don't need me to tell you how good he is (other than to tell you how well he fits with Rebecca's music and band).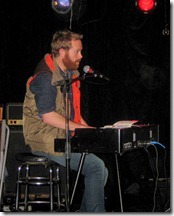 While Todd was excellent on every number, the last two included a number of leads on his part, all absolutely terrific. He sang harmony (making it 3-part) on a few songs as well.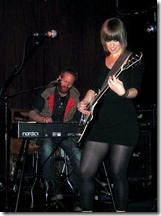 Another winning performance from Rebecca and her band.
You can catch her this coming Saturday (Jan 14th) at Rockwood Music Hall, 9pm. If our dinner ends early enough, we'll be there, but whether we make it or not, you should go!