Send to Kindle
The title that sprang to mind was Season of the Witch(es). While clever (at least to me), given our recent cluster of attendances, I couldn't bring myself to drop Wicked from the title.
Yes, we seem to be knee deep in Wicked Season. Yesterday we went for our 13th time. If only we could have pulled that off last week, on Friday the 13th, who knows what magic/wickedness would have occurred.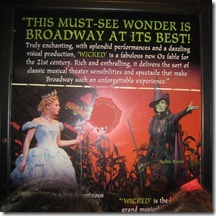 There are two reasons for us to see Wicked over-and-over:
It's that awesome, and we enjoy it as much (truth be told, more) each time
The shared experience of going with friends on their first time is joyous to us
#2 is the reason that gets us to the theater, as the opportunity to share it with friends makes us schedule it. But, #1 is what makes it the easiest decision in the world when our friends make their availability known to us.

Such was the case yesterday, when two friends who are nearly impossible to schedule time with together both said "Let's do it!".
There was a real first for us. In the 12 previous times, Elphaba's father was played by the same actor (pretty incredible, since our first time was in 2006!). Yesterday, someone else played that role (I think he was an understudy, and our guy will be back). The sub (Brian Munn) was excellent, but we both missed Michael DeVries.
The two leads were the same as the last few performances, Chandra Lee Schwartz and Jackie Burns as the witches. We love them, so that was great. I have been able to nitpick tiny parts of each of their performances in the past (more the singing than the acting) and that was true again. Their awesomeness so far outweighs the nits that I highly encourage everyone to see Wicked while they're still in it, before the dice get rolled again.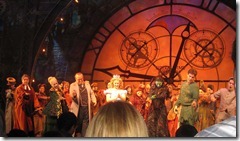 If you can watch Chandra's performance and not laugh out loud, multiple times, then I fear that your soul was crushed at some point in your life and is badly in need of some loving and healing.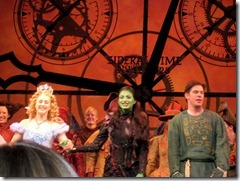 We both continue to be charmed by Tom McGowan as The Wizard.
Another wonderfully successful outing to the Gershwin Theatre. Do I hear 14?!?
Not that we need signs to validate our decision to keep seeing Wicked, but we walked right by this place on way home from the theater.