Send to Kindle
Barnaby Bright played Rockwood Music Hall Stage 2 last night. We've only seen Barnaby Bright (BB) once (just over a year ago), though we've seen Nathan and Becky Bliss (the husband and wife team that comprise BB) individually support John Schmitt and Allie Moss.
Nathan and Becky are each so talented on their own. Together, their talent is multiplied, not added.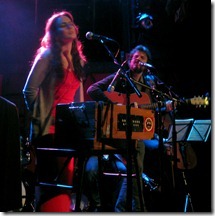 Becky sings the leads. Last night she played the harmonium, grand piano and baritone ukulele, all very well. She also writes (or co-writes) a number of their songs. But if I have to highlight one thing, it's Becky's voice. Here's what I wrote about her the first time we saw them:
Becky Bliss sang. Hmmm, that doesn't do it justice either. Let me embarrass myself by sharing with you how I fumbled for words when I spoke to Becky after the show. Instead of saying something coherent, I said: "Your voice is frighteningly beautiful!". Huh? Come on Hadar, you weren't frightened even for a second, you were completely enveloped and mesmerized. Yeah, that's what I should have said…
Let me say it correctly now, by repeating that last bit: Becky's voice completely enveloped and mesmerized me, on every single number.
Nathan's talent is almost other-worldly. He's an amazing guitarist, playing many styles. I don't mean "genres" (of music), but rather guitar styles. He opened the show with a super-fast picking style that was very flamenco like, but the song wasn't even close to flamenco. His fingers kept up the pace throughout, while Becky enchanted with her vocals and piano play.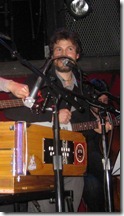 On others, he played the two-hands-on-the-frets style (like Kaki King, Andy McKee and many others have perfected). He also plays more traditional styles, wonderfully. He's the first person I ever noticed playing a Porchboard (last year) and he played it again last night.
He didn't touch them last night, but he's masterful on the sax and clarinet as well. I'm sure he plays other instruments that I haven't seen him on just yet.
He also sings very well, in particular when he harmonizes with Becky. Oh yeah, he writes most of their songs too. Sheesh, watching Nathan makes me feel both untalented and unproductive. I'm not bitter, just awed.
They are a few months from releasing their next CD. We are proud to have been a part of their successful Kickstarter project and can't wait to hear the new material produced (they played a number of the new songs last night!).
Either one of them could captivate us on their own. As I said above, their whole is greater than the sum of their parts. They chose to sprinkle even more fairy dust on top of their goodness, by inviting a talented band to join them (they were bandless when we first saw them).
Joining them, left-to-right on stage:
Sean Dixon on drums. It's easy to find mentions of Sean Dixon on Google, but this is the third time we've seen him, and therefore the third time I've searched, and I've yet to find a good individual link to him, apologies. We first saw Sean supporting Andy Mac. Then we saw him supporting Abby Ahmad and now Barnaby Bright. He was excellent in all three performances, no two of which were similar.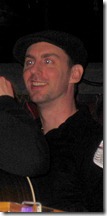 Craig Akin on acoustic bass. Craig did a wonderful job of filling in the bottom. I didn't have a good view of him, so I'm guessing when I say that he played on roughly half of the numbers.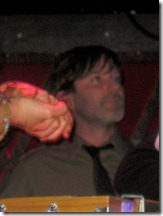 Brian Sanders on cello. Brian played on roughly 2/3's of the numbers, all exceptionally. He was highlighted a few times, in particular on a number that was mostly just Becky (vocals and piano) and Brian. He was spectacular in that number. Becky introduced another song saying that they rarely play it, because it really needs the strings. Brian to the rescue, allowing them to perform it last night!
Here's the set list. They had troubles parking the van and started a few minutes late, so there's at least one song toward the bottom that didn't get played: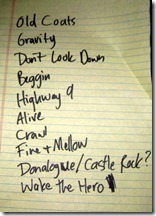 Now the backstory on how we nearly missed this amazing set!
The minute I heard about the show (over a month ago) it went on the calendar. I thought it would be immutable. Then our friends from Thailand called to say they'd be in town and could we do dinner at 8pm on Thursday. Exactly the time that Barnaby Bright was scheduled. I've been friends with the husband for nearly 50 years (later this year!), so I had no hesitation saying yes (though I did have regrets to miss BB yet again).
Late in the afternoon I spoke to my friend and found out that they could also get together on Saturday (I had assumed Thursday was their only free spot). We moved dinner and freed up our evening to drench ourselves in music, starting with BB.

When I say drench, I mean it. We overdosed, staying at Rockwood (both stages) for five consecutive sets, getting home just before 1:30am. Each set will have its own post. Each set was amazing in its own way. Still basking…