Send to Kindle
Carley Tanchon headlined Rockwood Music Hall last night. We've seen Carley perform three full sets, plus two shows as a background vocalist. Two of the full sets were solo acoustic and one was a full band CD Release show. Last night was a full band show, giving me an even chance to rate Carley both ways.
The voting is in (the wait wasn't that long, right?). Carley handles herself extremely well solo. She can easily hold my attention for the entire set. Still, I have to say that she really comes alive when she's channeling her Rocker Chick, supported by a full band. She's such a natural rocker.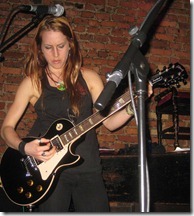 Carley has a stunning voice (true in her acoustic sets as well), but you can feel her need to belt it out, which just feels so much more right when supported by a band. She plays the guitar well (both acoustic and electric, opting for the electric with the full band). She writes catchy songs.
If we're having fun being in the audience, I can only imagine how much fun it is to play with her on stage. That's why she doesn't seem to have any problem attracting top talent to join her. That included a new face for us as well.
Left-to-right on stage:
Andrea Longato on electric guitar. Andrea took quite a number of incredible leads. He's a major talent. Carley's music (including her cover of Fleetwood Mac's Rihanna) lends itself to spicy rock guitar leads and Andrea delivered. We hadn't heard of him before, but we'll be on the lookout going forward.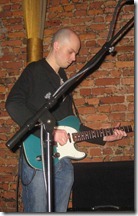 Ethan Mentzer on electric bass and light vocals (can't find a good individual link, but Ethan is all over every mention of The Click Five). We've seen Ethan play bass twice before, once at the previous Carley Tanchon CD Release. So, I knew I'd enjoy his bass play, and I was correct. He also sang some harmony, the only band member who did.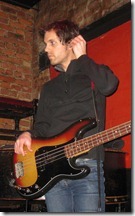 Nicky D'Agostino on drums. We've seen Nicky play drums twice before, with Carley and with Jesse Ruben. He was excellent at both of those shows, but I was more impressed last night, perhaps because we were up so close and personal. The only issue (I won't say complaint) is a general Rockwood 1 thing, Nicky was quite loud (I did say we were really close to the drums, right?). In any event, he was really interesting and kept the energy at maximum level for everyone else to live up to!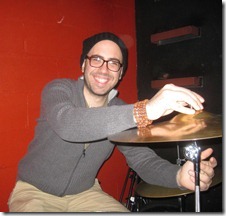 We found out after the set that Carley was sick. Amazing performance for someone who wasn't at the top of her game. What a trooper for powering through!
To continue my theme from the previous two posts, I'll mention that we nearly missed this show. I only found out that Carley was playing last night earlier in the week. By then, we already had dinner plans that weren't going to end until nearly 11pm. Because of that, I didn't put Carley in the calendar.
When we successfully moved our dinner plans, I had forgotten that Carley was playing. When I checked the Rockwood site to see who was on at 9pm (to determine whether we'd stay after Barnaby Bright, before returning for Patryk Larney at 11pm), no one was listed at 10pm at Rockwood, so I had no reminder about Carley. This was a potential disaster in the making.
Then, while I was checking out the two acts at 9pm at both stages, I liked Rebecca Pidgeon enough to decide to stick around Rockwood 1. By the time I double-checked the Rockwood site, Carley was once again listed at 10pm, which cemented my decision to catch Rebecca at 9pm.
All's well that ends well!