Send to Kindle
Patryk Larney was on at 11pm last night at Rockwood Music Hall. A bit later than we like to be out, but there are a number of people who we'd make the effort for and Patryk is most definitely on that list. Add every single one of his band members and the decision becomes a no-brainer.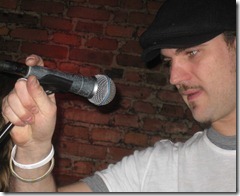 Before telling you how great the set was (it was, so I just blew the big surprise), let me tell you a bit about Patryk and what he's currently up to.
He's been making music for a while and doing a fine job of it. He's also been managing (he manages the amazing The Vanity Belles, perhaps others). He also produces (he was co-producer on the upcoming Belles CD). He's also held a very cool job at Apple for the past six years.
Very recently he decided to take the plunge and become a full time musician (I'm going to count managing other musicians as part of doing this "full time").
The first thing he's doing is putting out a CD called Circus of Idols. You can help him make it by pledging money (and getting rewards!) at his PledgeMusic Page. We did. If you trust my taste in music (and seriously, have I ever given you a reason not to?), then you should too.

OK, now that we got the e-Commerce out of the way, let's get down to the show. Oh yeah, I already told you, it was great!
Patryk put together a great set list. Delivered his vocals crisply and passionately. Played the guitar beautifully and added the ukulele on one song. He topped it off by putting together a band comprised of people we love to listen to, no matter who they're backing.
Carrie Welling (1/2 of The Vanity Belles) joined as a special guest on all but the first number. If you haven't read my posts exclaiming how awesome her voice is, then you better already know it from first hand knowledge or another source. Otherwise, you're simply missing out on the experience!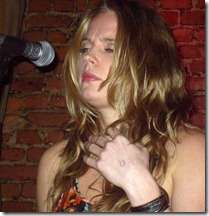 Carrie was absolutely wonderful in singing harmony (and a bit of lead) with Patryk. I've said it before, but I'm always impressed when someone who is used to belting it out as a bona-fide headliner, understands how to shift gears when they're supporting someone else. Carrie was flawless in supporting Patryk.
Ben Morgan on grand piano and vocals. We saw Ben earlier this week supporting The Vanity Belles. As impressive as he was then (and always is), I am partial to the sound of a grand piano over electronic keyboards, so last night was a real treat. Patryk gave him a couple of long-ish leads, which Ben nailed!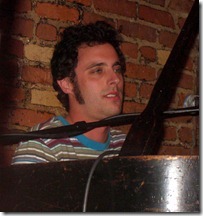 Patryk announced that Ben will have his own show sometime soon. I'll need to look out for it, or hope that Ben/Patryk/Anyone makes sure I know about it as far in advance as possible.
Chris Anderson on electric bass. Is there anything I can say about Chris that I haven't said before? Probably so. I don't think I've used the term Buttery Smooth about Chris before (not that he hasn't been). But, when I ran into Rebecca Haviland at Rockwood 2 after this set was over, that's exactly how I described Chris' play. Absolutely delightful!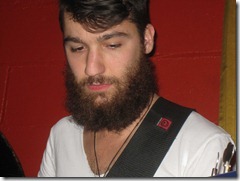 Kenny Shaw on drums. Another person who I have probably heaped as much praise upon as is possible. Add last night to the list of reasons I do that. He plays with a number of bands who are so different from each other you can't imagine, and Kenny fits in perfectly with every one of them. We've had a longer than usual drought of seeing Kenny play, so it was good to correct that.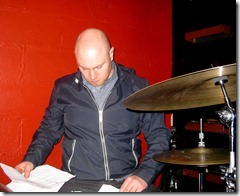 On a number of songs, Patryk took advantage of the fact that Seth Faulk was in the house (in fact, sitting right behind me). Patryk asked Seth to lead the rest of us in different clapping patterns (none vanilla). Of course, Seth keeps perfect time. I was close enough to be able to follow his lead easily.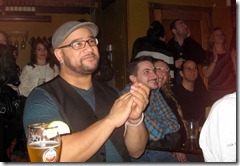 Here's the set list: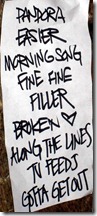 This was our fourth set in a row. Even though I was tired, everything was so good that I didn't notice that and just lost myself in the music. The three previous sets were all incredible and this one fit right in with that feeling.