Send to Kindle
The Stone Lonesome headlined a set at Rockwood Music Hall last night. I had it on the calendar for a while, but I was sure we couldn't make it. In fact, last Monday, I saw Zach Jones (1/2 of The Stone Lonesome) when he drummed for The Vanity Belles and I told him we wouldn't be able to make this show. Read to the bottom to see what changed.
I've been aware of The Stone Lonesome for a while, entirely due to our love of Zach Jones.  The first time we saw Zach was July 2011, and here's one of the things I wrote about him that night:
The link from his name above is to a group he is in with Emily Long called The Stone Lonesome. They have an album out that Zach sings a bunch on as well and I am really impressed with his voice (listen to the second song, Bridge to Nowhere). I'm sure we'll be hearing about him a lot and hopefully seeing him a lot as well.
Notice the link on "They have an album". You can stream it for free to judge for yourself, or buy it for a whopping $5 (or more!).
I would describe them as sometimes traditional country, sometimes new country (more of a rock-tinged country), sometimes closer to just rock. To cover that in a bigger umbrella, let's just call it Alt-Country. Yup, that feels right to me. Lois and I both really love Country music (go ahead, judge, you're wrong). There's not much of it in NYC, so The Stone Lonesome is a wonderful breath of fresh air (as are The Vanity Belles).
Emily Long is the other half of The Stone Lonesome. She has a number of projects, including the one linked to her name, which is her Rock persona. She has a wonderful voice that takes on a number of qualities/character, depending on what emotion she's sharing with the audience. On roughly half of the numbers she reminded us of classic Cyndi Lauper. She's also quite theatrical in her delivery, projecting her emotions, taking you on a visual journey.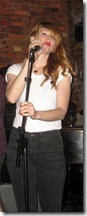 Zach sings with a purity that I would describe as sweet (and I don't mean that in a unmanly way). On a number of songs (in particular the above-noted Bridge to Nowhere), he reminds me of John Denver at his best. In The Stone Lonesome Zach plays rhythm acoustic guitar, quite nicely. In other bands, he's typically the drummer, one of the best we've ever seen.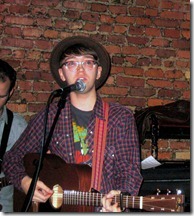 I don't know what proportion they each write of the songs (or whether every one is a co-write), so I'll give them equal credit here. The songs are great (verify the claim, please). Each of them sings lead (typically on different songs, rather than handing it off from verse to verse). In all songs, they blend fantastically for enough harmony to satisfy us.
Last night, they were supported by three of our favorite musicians, left-to-right on stage:
Greg Mayo on electric guitar and background vocals. Two nights after fake-complaining that I didn't get to see Greg play guitar, I got my wish fulfilled. Greg is awesome no matter what genre he's playing and he was totally true to the Alt-Country sound yesterday. He was highlighted a number of times. Thanks Zach and Emily for that!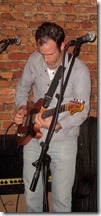 Tony Maceli on electric bass. We love Tony and it was a complete surprise to see him there. He stopped tweeting last September (apparently, 114 lifetime tweets was the perfect number). Of course Tony did a terrific job.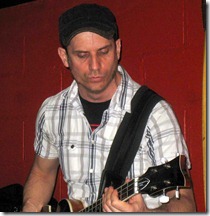 Ryan Vaughn on drums, cajon, percussion and washboard. Yes, washboard. It's been a while since I've seen someone break out the washboard. By the crowd's reaction, I'd say it had been a while for most of them as well and they seemed as pleased as I was to get another taste.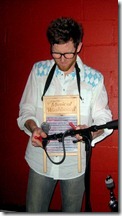 More importantly, Ryan is always a creative drummer/percussionist. He removed one of the toms and replaced the seat with his signature (amazingly beat up) cajon. He's one of the best cajon players you'll see, but rather than restrict himself to the cajon, he paired it with the floor tom and cymbal and occasionally the snare as well. When he wasn't playing the cajon, he used the kick drum instead. A superb job all around.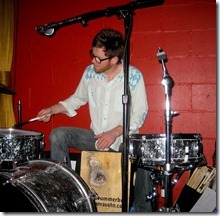 Here's a shot of everyone (except for Ryan):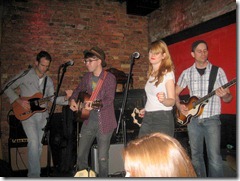 They closed the show by giving the band a break. Zach unplugged his guitar and they each stepped away from their mic. In a 100% unplugged manner, they blew us away and brought a hush to the full house at Rockwood. Awesome job and quite a shift from the rest of the set.
We bought this giant CD at the show. It was black (unusual) and didn't fit in our CD player, so perhaps they ripped us off. They called it a vinyl edition, perhaps that's code for doesn't work.

(OK, that was a really bad attempt at a joke, sorry.)
The records are numbered, so perhaps one day we'll be rich off this collector's piece! Zach's father hand-drew each cover (I don't know how well it will come across in the photo, but it looks great in real life). We think that each numbered record comes with a unique story in the included liner notes. Basically, a loving, thoughtful way to package an album that is good enough not to require these (much appreciated!) adornments.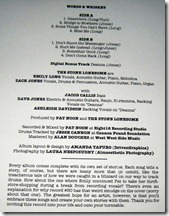 I have a turntable, but I never use it. I have a USB-turntable that I bought specifically to rip my ancient, large record collection. Unfortunately, I was wholly unsatisfied with the fidelity (and process) and stopped after one album. So, I knew I wouldn't rip this either. We bought it to support them (and force them to sign it). I also bought the digital version so that I wouldn't have think about ripping this.

Now, how did we attend a show we were sure we couldn't? On Monday, our schedule for the week seemed set in stone. Starting on Thursday, everything went into a tailspin (but in the best possible way) and we got to reevaluate. We still feel badly about not attending the shows we were originally planning to on Saturday, but both of us were buzzing the whole way home thinking about how happy we were that we ended up seeing The Stone Lonesome.
Thanks Zach, Emily (and Greg, Tony and Ryan) for making it a very special set!