Send to Kindle
Abby Payne headlined a set at Rockwood Music Hall last night. I've been waiting a while to catch Abby again (schedules didn't overlap). I've only seen one full set and while I enjoyed it, I had a few complaints about the technical side of the show (mostly volume).
I am so glad that I trusted my instinct that Abby is a talent that I should follow, because I was right!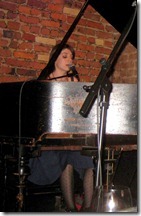 Last night Abby had only a trio (including herself) and that made all the difference. Let me repeat the three things I knew about Abby before yesterday:
She's a superb keyboard player
She has a lovely voice
She writes catchy songs
What I didn't know were whether the lyrics would grab me. They did! Abby has a really good flair for story telling. The volume in the last show made it hard to listen, last night, no issues!
Abby played only the grand piano, whereas the last time she was exclusively on electronic keyboards. For every keyboard player, I typically prefer the sound of the grand, when they are good at it, and Abby is very good!
Abby dismissed the band for two songs which she played back-to-back (taking no break between). She did a terrific job. While her band enhances her sound a lot, she can easily handle a solo show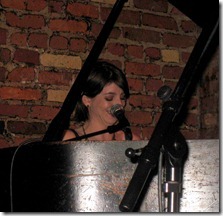 .
Supporting Abby, left-to-right:
Rob Pawlings on electric bass. Rob was absolutely incredible. I've seen Rob once before, as part of The Thang Band, where I also had only superlatives for his performance. Given that this was a trio, Rob carried a lot of weight and he never spilled a drop of water all the way up the hill. He sang a bit, but mostly too far from the mic to really be heard. I heard him sing with The Thang Band and praised him that night, so he should bother to step up to the mic next time he sings with Abby as well.
Kenny Shaw on drums. Once again, Kenny delivered a thrilling performance (not that he ever misses). Like with Rob above, the drums were such a critical part of the sound of the trio. Even the slower numbers had very driving beats which Kenny nailed.
We happened to sit at the same table with Kenny's parents who made a long trek to see Kenny play in back-to-back shows (we had plans and couldn't head over to see Hurrah a Bolt of Light at Mercury Lounge). I don't think Kenny elevates his game just because his folks are there, because he's always playing above the rim.  (Can I get a rim shot for that one?)

I will happily continue to track Abby and look forward to catching another set soon!
Here's the set list: