Send to Kindle
Jesse Terry headlined Rockwood Music Hall last night. Amazingly, it's been just over seven months since we've seen Jesse perform. I was sick the last time he played Rockwood.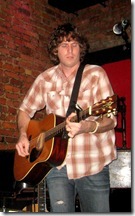 Since that time, Jesse has completed a new CD called Empty Seat on a Plane. It's not officially released yet, but we have a digital copy, because we were smart enough to contribute to his successful PledgeMusic campaign (if you want the goodies early, you gotta help get them made!). According to Twitter, Jesse is in his car as I type, driving in NJ, to pick up the physical copies of the CD, so we're getting closer.
In the eight previous times that we've seen Jesse, all but one have basically been solo shows (occasionally having someone sing harmony with him). He's never disappointed as a solo artist, because his voice is fantastic (very pure) and he accompanies himself beautifully on the acoustic guitar (I particularly love his finger picking).
The exception occurred last time, when he paired up with Greg Mayo who accompanied him on both the piano and acoustic guitar for most of Jesse's set at The Bitter End.
This time, Jesse had a core trio, adding percussion. He also had a guest vocalist on two numbers. While I will be very happy to see him solo any time, it's clear that Jesse has created a very nice blend with this trio (perhaps inspired by recording the new CD with many studio musicians). The most important thing to note is that Jesse has remained 100% true to his personal sound. The trio supports and enhances him (subtly), it doesn't change the core beauty of his music.
Jesse performed songs off the new CD, some off his debut CD (The Runner) and one of our favorites, Natural (which he finger-picked, solo). Jesse is a superb songwriter, but there are many great songwriters who will never write a song as good as Natural. Jesse has another one that's in that league, Noise. I expect more of that caliber from him, since he continues to write at a furious pace.
The other members of the trio, left-to-right:
Jeremy Goldsmith on acoustic guitar and harmony. We just discovered Jeremy the night before, at the Full Vinyl mega-show next door at Rockwood 2. That night, Jeremy was on electric guitar. It turns out he's equally good on the acoustic. He complemented Jesse with sweet leads throughout the set, and even harmonized on the guitar with some of Jesse vocals!
Jeremy also sang some harmony, absolutely beautifully. More would have been just fine as well.

James Williams on cajon and percussion. On his Facebook page, he lists his name as James Dwntwn Williams. Extremely impressive play on the cajon, shakers, tambourines (plural, he even switched between two of them in the middle of a song), bells strapped to his ankle, etc.
He had something that looked like a giant firecracker on stage. I don't think he used it. At least I'm still here to tell the tale, if he did…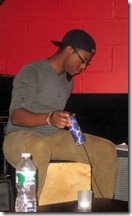 There were a couple of hysterical impromptu moments between James and the guest singer, and James and Jesse. It would lose everything in translation, so I'll leave it there. Basically, one of the reasons to go to live shows is to experience these types of moments. You laugh hard and naturally, and it cleanses many of the ills of being human.
Michele Riganese sang harmony on two numbers. Wonderful voice that blended with Jesse perfectly. She is a singer/songwriter on her own and plays around town, so we'll likely get to see her perform her own material in the not-too-distant future.
Here's the set list. Jesse noted that he rarely has one, and I believe him. He seemed to get uncomfortable having to stick to it, so don't rely on this as the gospel order of what was played.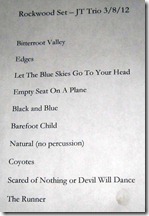 Jesse's back at Rockwood 1 on April 19th, at 6pm. Come on down and discover him for yourself. It turns out that both Jeremy and James are touring that week, so it will be a complete surprise to see who Jesse taps to join him that night. Whoever it is, I'm excited to hear them, because I know it will be special.

You might think the following photo is of Jesse's younger sister. You'd be wrong, it's his mom!
Bryan Dunn was in the audience and we got to buy his new (still unreleased) CD. His CD Release show is at Rockwood 2, 7pm on April 6th. We'll be there. Lois already listened to the CD and was blown away. I'll be getting to it over the weekend.