Send to Kindle
The Callen Sisters opened the Next Charity Concert Series show last night at Paulies in Pleasantville, NY. I'll start with the sisters, then talk about Next and Paulies.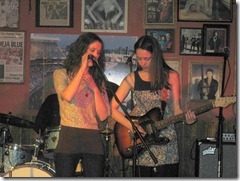 We went to see the headliner (covered in my next post), so The Callen Sisters were a pleasant surprise on a few levels.
It's not often that you walk into a bar and see a harp sitting on stage (hmmm, could be the start of a good joke!). If you do, you might think you're about to hear classical music, or perhaps you think you're about to have your interview at the Pearly Gates.

Either way, I expected a very mellow opening set. Instead, the majority of the songs actually had a rock feel to them, with the harp blending in as an interesting sound. Each of the sisters sing lead and a lot of lovely harmonies together.
Beth Callen was center stage, singing and playing rhythm electric guitar.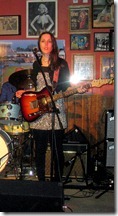 Jessa Callen sang and played the harp. For all but one song, she sang at the harp (duh), which meant that she was invisible to me. On one song, she stepped to center stage, took Beth's mic in hand (leaving the stand behind) and sang lead. That was the only song with no harmony.
I enjoyed their set, but it wasn't particularly special. That said, when I visited their site today, I streamed their current CD and enjoyed it. So, I encourage you to do the same and decide for yourself whether this is a group you want to follow, they may very well tickle your fancy.
They were supported by a great band, which accounted for some of the surprises mentioned up top. Left-to-right on stage:
Dan Castellani on electronic keyboards. In addition to being excellent on the keyboards, Dan arranged and produced their current CD, which as I mentioned above, is quite good. He's clearly a very talented guy. We hadn't heard about Dan before, but we know him now. In addition to the profile linked to his name, he owns Galactic Music and Audio.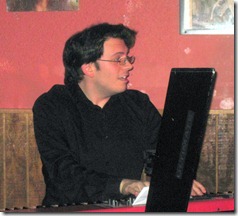 Kenny Shaw on drums. This was the biggest surprise for us. Having never heard of The Callen Sisters, we didn't know who their band is. We see (and love) Kenny all the time. We just saw him last Sunday (with Abby Payne) and Monday (with Rebecca Haviland), so even when we're not purposely stalking him, we end up stalking him (or was it purposeful? … mwuahaha). I already mentioned that it was mostly a rock-style set, so Kenny's drums were driving the beat, perfectly.
Chris Anderson on electric bass and light background vocals. The only reason we were at Paulies was due to Chris. He has been raving to me about the headliners for a long time (patience, the next post will be about them), and this was going to be our first opportunity to see them. I had no idea that Chris also played with The Callen Sisters. Score! All Chris all the time is just fine with us.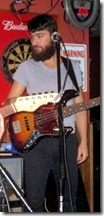 Here's the set list: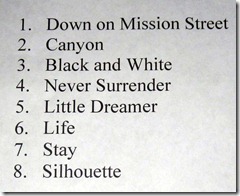 The entire evening was brought to us by Chris Bro. Chris hosts a twice-weekly radio show called NEXT on The Peak, a radio station based in White Plains, NY. He also runs the All Things Next site, which includes a regular podcast. Last night's show was part of a series called the Next Charity Concerts.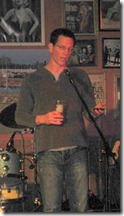 The show took place at Paulies. We've never been there before, even though we live five miles away (how convenient!). It's a very nice local bar. The sound system was huge (I've never seen gear like this at a local bar), bigger than many full-time music clubs we attend. I don't know if it's a permanent fixture at Paulies or whether it's brought in specifically for this series.
In addition to a top sound system, the sound engineer had a sophisticated sound board, that he controlled remotely on his iPad. That made the overly long sound check (each group separately) at least entertaining to watch. Apparently, while it wasn't used yesterday, the system is capable of enabling a musician's iPhone to control their own monitor, so that they can set the sound levels without having to holler to the sound engineer. Pretty darn cool!
I'm sure we'll be back to Paulies to see more shows, both Next Charity Concerts and others.
Update: Aaron Kershaw, a professional photographer, volunteers his time (and equipment) to shoot all of the Next Charity Concert shows. You can view the photos of all shows (watermarks included). You can republish the photos as long you don't modify them in any way, including touching the watermarks. Here are The Callen Sisters photos.
P.S. We sat with some great folks who insisted on buying us drinks (thank you very much). I shocked them when I asked for a Chocolate Martini (perhaps my second favorite drink behind a well-done Frozen Margarita). I had to give a backup order in case the bartender didn't know how to make one. Not to worry, the bartender at Paulies made me a perfect Chocolate Martini. Just another reason to return there.