Send to Kindle
Jeff Litman headlined a set at Rockwood Music Hall on St. Patrick's Day. That's one of the few things that could get us to brave the crazy streets in NYC yesterday.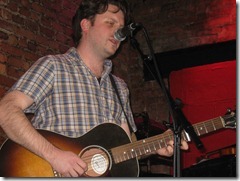 Jeff recently released a new CD, Outside, and we sadly missed the Release Show due to an unmovable trip. We then missed an acoustic set, so we weren't going to miss this one. We bought Outside the day it went up for sale at Bandcamp. Stream it for yourself and buy it if you like it. His previous CD, Postscript is fantastic as well.
We've seen Jeff perform three full sets before, all with a full band setup. We've also seen him perform a number of benefits plus a Backscratch. So, seeing him play a 100% acoustic set was going to be a change of pace.
The test came right away. Jeff opened the show with my favorite song of his, Maine. Let me digress and define what I consider to be a perfect song. If I can put a song on 24×7 repeat, for a year, and honestly not beg for mercy to hear something else, then it's a perfect song, even if it's not technically perfect in all respects. Maine is a perfect song. Got it?
I'll have to defer for another minute before telling you how I liked this version of Maine (and the rest of the set), because that would require me to introduce Jeff's special guest, a drop earlier than I'm ready to. I have a few more words to say about Jeff.
He's a smart songwriter (lyrics and melodies) and he sings with a rockers passion. He's an excellent guitarist (and bassist as well, which is how I discovered him). He takes care to put out really well-produced, excellent albums.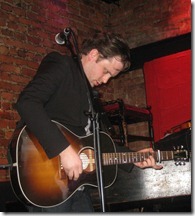 All of that came across in the acoustic set as well, but it's an entirely different feel. I thoroughly enjoyed it, independent of my love of many of the songs or Jeff, because I'm also a lover of acoustic guitar-playing singer/songwriters. Still, I think Jeff's bigger strength is delivering a fuller sound, so buy the CDs and come to a full band show if it will be your first Jeff Litman Experience.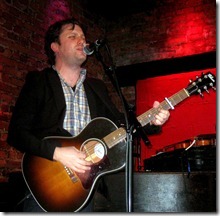 OK, now that I've praised Jeff (just enough), let's get on to what gave this set it's real character.
Joe Brent played mandolin, violin and sang harmony. I'm embarrassed to admit (publicly) that I never heard of Joe before. Not just because he's reasonably famous. Not just because he's local and extraordinarily talented. Mostly because he has been reasonably active in playing with a number of people who I do pay attention to, and somehow, I've still never heard his name, so apparently I've missed some pretty cool shows.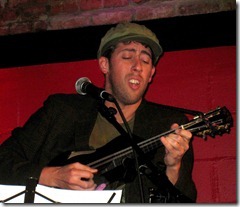 I listed the mandolin first, for two reasons. Joe played significantly more mandolin than violin and he also lists only the mandolin in his bio/title on his site. But, on Maine, he opened the show on the violin.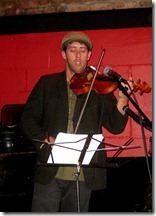 One of the (many) aspects that makes Maine a perfect song is the fast, crisp, tasty guitar leads that are sprinkled throughout. Yesterday, those guitar leads were replaced by the violin, beautifully. I listened again this morning, and there are definitely strings on the CD (or at least one violin), but they are not playing the part that Joe played yesterday.
So, even though the song was way more mellow than on the CD, the violin gave it the truly authentic sound that differentiated it from a purely acoustic guitar version if Jeff had performed solo. I think Joe only played the violin on one additional number (two, max). He was exceptional on it, so he either doesn't list it because he's modest, or because it's his secret weapon.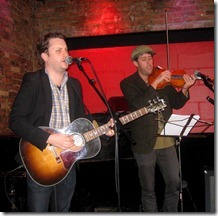 On every other number, Joe played his signature mandolin. He's amazing, but don't take my word for it. If you visit his site (linked to his name), there's a YouTube clip that starts playing immediately (something I typically disdain) and the first tidbit is from Joe's EP, a mandolin piece that will have your head reeling.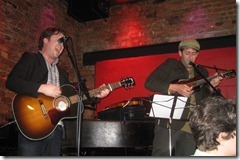 Joe also sang a reasonable amount of harmony, quite well. It wasn't what we would have gotten if Maddy Wyatt was there (unfortunately for us, but fortunately for her, she was at SXSW), but it was well done nonetheless.
Speaking of Maddy Wyatt, Jeff has another perfect song on the new CD: What Hasn't Happened Yet. Maddy sings on that, but she also plays a gorgeous flute lead. Joe replaced that flute lead with the mandolin (unless I'm misremembering now, and that was perhaps the other violin song).
Suffice it to say that Joe spiced up the set nicely.
When it was over, Lois bought two T-Shirts from Jeff's friend Melissa, who was selling merch for him. I got the navy blue one and she got the white one. You too can be just like us and own one of these T-Shirts. They're available for purchase at the same Bandcamp site linked to above for the Outside CD.
We also had the pleasure of sharing the experience with a few of our friends:
Here's the set list: