Send to Kindle
Rebecca Haviland headlined a set at Watercolor Café. She also joined the openers, The Vanity Belles, playing piano to open and close their set.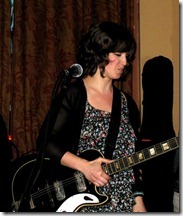 As with the set before, this was a test of how well a group we love sounds stripped down. In this case, stripped down even further than The Vanity Belles were.
Rebecca dropped the keyboards and drums (and occasional lead electric guitar). She played rhythm electric guitar and switched to finger-picking the electric for a song or two. She was accompanied by an electric bass and nothing else.
I can't say that I didn't miss the drums, which really enrich the haunting beats in most of Rebecca's songs, but otherwise, Rebecca and Chris knocked it out of the park all by themselves.
Rebecca is getting really close to releasing a new CD, one that we can't wait to get our hands on. That she and Chris can faithfully reproduce the richness of the feel of this music, with just the two of them, is a testament to the songs themselves, not requiring the masking of a large and loud band.
Of course Rebecca's voice had all of the rocker-chick goodness happening throughout, and the sound system at Watercooler is perfectly suited to such an intimate venue.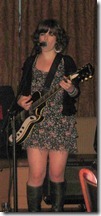 Chris Anderson is Rebecca's writing partner on most of the songs (all?) and played electric bass and sang a ton of harmony as well. Because Rebecca was mostly playing rhythm guitar, Chris was really driving the melodic part of the instruments, and he was more than up to the task.
Both Chris and Rebecca played on the earlier set. I held this photo back for this post, of the Belles with Rebecca and Chris: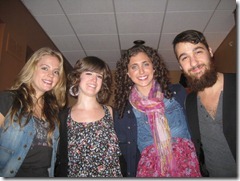 In case you didn't read my previous post, I'll repeat my observation about Watercooler Café here:
As if amazing music delivered by incredible musicians wouldn't have been enough, this was our first trip to Watercooler Café and there's no way it will be our last. The food was fantastic. I had the Baked Eggplant with a Three Cheese Spinach and Mushroom stuffing for an appetizer (OMG) and Wasabi-Sesame Crusted Tuna for the main dish (holy moly).
That we also got to spend it with two other couples, that we weren't sure would be there, turned it into a festive and interesting evening, independent of the music.
One of those couples was Chris Anderson's parents, who we really look forward to seeing at these shows. Rebecca's parents were there too (though we didn't sit with them). Here are the moms: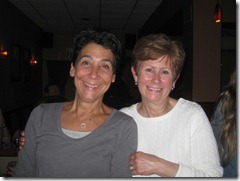 And Chris with his Dad: