Send to Kindle
Gabrielle Sterbenz headlined a set at Rockwood Music Hall last night. We hadn't heard of Gabrielle prior to the show and weren't planning on attending. We decided to show up to her set to try to get seats for the next set. Luckily, we did, because it was quite crowded with Gabrielle's fans.
More importantly, we enjoyed the entire set, so we're notching this discovery in the serendipity column.
Gabrielle accompanied herself on the acoustic guitar on every number, occasionally finger picking, mostly rhythm. She has a wonderful voice. Her songs were mostly folk, mixed with some jazz and other genres as well. The songs ranged from serious, to seriously playful. One of the songs, The Breakup, had me chuckling throughout.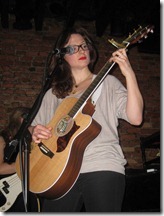 She stood for all but one song.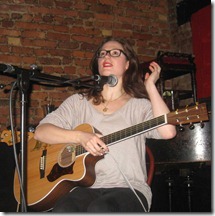 Elizabeth Brown (I couldn't find a good link) accompanied Gabrielle on all but one number. She played electric bass on the majority and sang harmony whether she was playing the bass or not.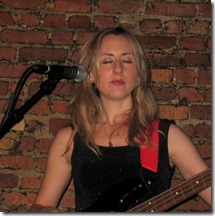 She was fine on the bass (very straightforward bass lines), but really shone on the vocals. The two of them sounded great together on every song.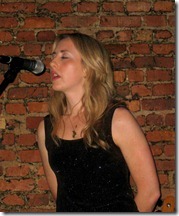 One of the songs that Gabrielle sang lead on was written by Elizabeth (Gabrielle called her Liz, and on Twitter she calls herself Lizzie, so I say it's OK to call her anything you want, other than late to dinner).

I liked the sound of the lone bass with the acoustic guitar. The volumes were set just right so that the bass never overpowered the guitar or the vocals.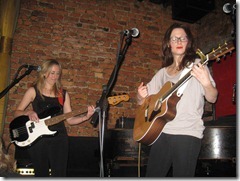 I notice on Gabrielle's Facebook page that she also plays in a larger band configuration on occasion. That larger band includes Rich Hinman, a top guitar and pedal steel player. We'll have to look out for one of those shows as well.
To close out the show (or so she thought), Gabrielle called up a special guest.
Dani Elliott came up to sing with Gabrielle and Elizabeth (creating gorgeous three-part harmony). They sang Those Memories, made famous by a different set of females, Emmylou Harris, Dolly Parton and Linda Rondstadt. These ladies did those ladies proud.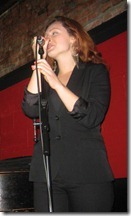 They were trying to get off the stage when the majority of the room started calling out for one more song!
Gabrielle finger-picked and Elizabeth sang harmony (no bass) to Simon and Garfunkel's Kathy's Song. Absolutely beautiful.
Here's the set list, which doesn't include the unplanned encore: