Send to Kindle
Jay Stolar headlined a set at Rockwood Music Hall. That, in itself, is not news. Jay headlines there every Thursday, but, at 1am, which we have yet to keep ourselves awake for. Yesterday, he kicked off the evening with the first set, at 6pm. For us, that's as good as it gets.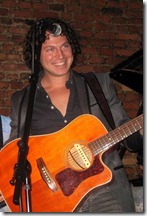 For most people it's not. Typically, even when someone awesome plays a 6pm show, the place is relatively empty. Not so for Jay. It was the best (biggest) crowd we've seen for an early show.
This was our first full set seeing Jay. Now that we've experienced it, I want to hit rewind and catch every one of his previous sets (including staying up for the 1am ones!). I don't mean to sound surprised by Jay's performance. We've seen him sing (at least one song) five times before, either at a benefit or as a guest. The longest stretch was at a Backscratch, where he sang three songs.
Here's what I wrote when I saw him for the first time, in January 2011:
Jay Stolar (lead singer for Julius C) was up next, and he shared the stage with Chrissi Poland. He was also incredible. What a voice and what passion and energy on stage (very theatrical, in the best sense). I shouldn't be surprised. For the past month, every time I ask a question of a friend in an audience (like: "Who's that guitar player"?), the answer often comes back: "Oh, he's in Julius C, you really need to check them out!". Indeed, I do!
Ignore the Julius C part, they no longer exist. Since then, Jay was known as Jay and the Birds. I no longer see him use that moniker either. Now it's just Jay Stolar, or Jay Stolar and Friends (for the 1am shows). No matter, Jay has enough talent to shorten it even further, to just J.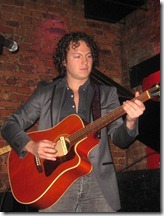 So, it's obvious that I knew before last night that Jay has an incredible voice. That's been evident at every show. We also got a few tastes of his guitar play, so that wasn't a surprise. Last night we found out two additional things. 1) He writes great songs and 2) he plays the piano quite nicely.
I have absolutely no doubt that we would have loved the set if Jay came out solo, accompanying himself on the guitar and piano. Jay had more epicness in mind though. He had more than a full band supporting him, left-to-right on stage:
Catherine Brookman on vocals. She was fantastic on every number. Very powerful and crisp voice. She never sang lead on a full verse, but she took the lead on a number of bridges/choruses, where Jay was playing around (amazing us) with his voice, dancing around Catherine (and the others). Catherine has been on Broadway in the revival of Hair (and possible some others). I can definitely see her in that kind of role.
Paul Maddison on electric guitar. I've always been impressed by Paul, but most of the times that I've seen him, the guitar hasn't been highlighted (The Thang Band was one exception). Last night, Jay let Paul rip it a few times, and even when he wasn't soloing, the lead guitar was an integral part of the sound. Excellent!
Jason Wexler on grand piano, accordion and vocals. Wow. I've only had glowing praise for Jason on every show we've seen him (which is eight times including last night). Toward the end of the set, Jay stepped aside to let Jason take a long lead on the piano. Holy moly, it was so fast, so clean, so interesting. Basically, mind-boggling. When Jay took to the piano, Jason came center stage and played the accordion. He also sang harmony on practically every number. An all-around wow (to repeat myself).
Rob Pawlings on electric bass. This was my third time seeing Rob. Last night's performance was super solid, but not flashy. Obviously, he plays what's most appropriate to the specific set. Here's what I said about him the last time I saw him, when he supported Abby Payne:
Rob Pawlings on electric bass. Rob was absolutely incredible. I've seen Rob once before, as part of The Thang Band, where I also had only superlatives for his performance. Given that this was a trio, Rob carried a lot of weight and he never spilled a drop of water all the way up the hill. He sang a bit, but mostly too far from the mic to really be heard. I heard him sing with The Thang Band and praised him that night, so he should bother to step up to the mic next time he sings with Abby as well.
Seth Faulk on partial drum kit, cajon, percussion and vocals. Of course Seth was great on the drums, percussion and cajon, but I'll admit publicly, that the biggest thrill was getting to hear him sing harmony on every song. I've written many times about how good Seth's voice is, but it's usually a taste here, a sip there. Last night it was every single song. It was almost always 4-part harmony (Jay, Catherine, Jason and Seth), but Seth's voice was so easy to pick out and enjoy.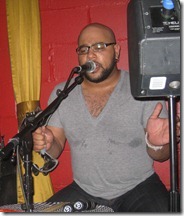 That Jay, who is such a great vocalist, shares the vocals with three others, is a thing to behold. Kudos to all four of them. In fact, there were a number of a cappella moments (or very near a cappella, with a very soft guitar, or extremely light touch drums) where the singing was a nearly religious experience.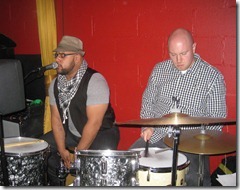 Kenny Shaw on drums. One of Kenny's floor toms was split off for Seth, who sat to Kenny's right. On Monday, I noted that it was unusual that we had gone two weeks without seeing Kenny play. Last night was only two days later, so things were back to normal. Whew.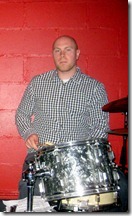 I often write about my fantasy of having multiple drummers on stage at Rockwood. It's happened occasionally (closer to rarely), so last night (in particular at Rockwood 1), it was a surprise and a major treat. Even though we were so close to the drum kit, even with two them hitting at the same time, not a single strike was too loud. Fantastic.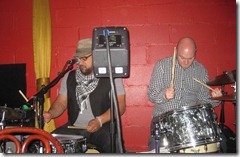 Jay's songs vary in feel and genre, keeping the set interesting throughout. Rock/Pop/Soul/R&B, even a bit of Gospel feel. Quiet, loud, full band, a cappella and everything in between.
When he was done, the crowd would have none of it. Practically everyone in the place was chanting for more. It wasn't obvious to me that he would give in, but eventually he did. He gave the audience a choice of a new song, or a favorite that a number of people called out. The overwhelming response was for the new song.
Wow, what a finish and what a great song. It's obviously not on the set list, since he really didn't expect to be forced to sing it.