Send to Kindle
The Grascals headlined a show at Emelin Theatre in Mamaroneck, NY last night. When they introduced the band, it turned out they weren't simply headlining a random show. Emelin had been hosting a Bluegrass series and The Grascals were the final act of this year's series. I'm sorry we were unaware of the rest of the series, but we only found out about this show because we're big fans of The Grascals.
This was our fourth time seeing The Grascals live. Each show has been great, so without a doubt, there will be a fifth show in our future. It's been 15 months since the last one, so they're spaced out long enough to have some withdrawal going on. It also gives them time to write (or cover) some new material as well (how nice of us).

Before I tell you a bit about the show (and it will be less than I typically do), I'll point you to the post about the last show. Aside from the fact that I think I accurately describe the nature of most (all?) Grascals shows (their setup, etc.), Emelin allowed zero photography last night. So, I don't have a single shot of any of them. If you want to see what they look like in concert, click on the link to the Highline show.
We did get one shot of the Set List as we walked to our seats. You'll see it says Kokomo, IN. This wasn't the exact script they followed, but of the four sheets on stage, it was really close, so there you go. I'm throwing in the cover of the Program as a bonus.

They followed their usual format (thankfully!), of basically being two separate groups that share a stage (and songs) perfectly. Three wonderful vocalists who also hold up the rhythm section. Three extraordinary instrumentalists who thrill individually and complement each other.
The crowd at Emelin was filled with Bluegrass lovers (obviously, as most were probably subscribers to the entire series, not just there for The Grascals). Totally appreciative of every nuance on the banjo (Kristin Scott Benson), fiddle (Jeremy Abshire) and mandolin (Danny Roberts). In fact, while I too have the instinct to applaud after every individual burst, I would ding this crowd for doing it too much (meaning, every time), because The Grascals rotate the leads in rapid succession, so while you're applauding a mandolin lead, you're missing the first part of the equally amazing banjo one, etc.
There was one unannounced guest that seemed somewhat ill-fitting to me (though he got a ton of applause, so either I missed the point, or people are way too polite). I couldn't easily find him online, so I'll use that as an excuse to say no more about it/him.
Including a one-song encore, they were on stage for exactly 90 minutes. A wonderful set, filled with humor, great singing and mind-boggling virtuosity on the banjo, fiddle and mandolin.
You can tune out now if you're only interested in The Grascals. If you're friends of ours, keep reading about our evening leading up to the show.

I had never heard of the Emelin Theatre before (they claim to be the oldest continuously operating Performing Arts Center in Westchester). When I saw The Grascals announcement to play there, I was even more excited, because we have friends that moved to Mamaroneck last summer. We hadn't gotten to see their place yet, so we were hoping that we'd get them to join us for the show.
The plan couldn't have worked out better. They have a 6-month-old (who we have seen, just not at their place), and the grandparents were visiting for the weekend. We got to spend time with the extended family in their home, then all of us had dinner together. So great to catch up with everyone and get a dose of wonderful kids (no better way to lift your heart).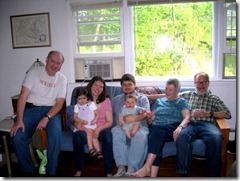 The grandparents then babysat for the kids while the four of us got to enjoy the show.