Send to Kindle
Greg Mayo Band headlined a set at Lagond Music School last night. This is one of three posts from last night. I'll spend more time talking about Lagond Music School (LMS) in the final one.
Greg is a teacher at LMS (lucky kids!). LMS puts on shows on a regular basis. I don't know if this was a special one, but this is the tenth anniversary year of LMS. Any show that Greg is part of is special to us.

This was a classic Greg Mayo Band (GMB) show, with one exception and one substitution. The exception was that Rebecca Haviland (who normally sings harmony and some lead vocals) had a previous commitment and couldn't attend. We'll get to the substitution below.
Otherwise, the sound was perfectly faithful as was the extraordinary energy that is present at every GMB show. Greg played with the opener as well (covered in the third post, not yet written) so he was fully warmed up vocally and digits (fingers).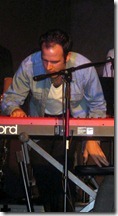 If this was your first GMB show, you might have thought that Greg was particularly loose and connected with the audience, because a number of his students were there. You'd be wrong. He's equally comfy on any stage (large or small) and always has a connection with the audience. He feels the music (or rather he exudes the music) and as a result, so do you.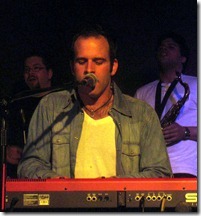 Martin Rivas had a gig earlier in the day up in Westchester and he headed over after that to enjoy the show in the audience with the rest of us. Greg probably would have called Martin up to sing anyway, but with Rebecca unavailable, that became mandatory. Martin sang on one song during the set and was called up again for the encore (the only cover song). What a nice treat (and surprise) for us.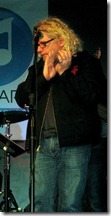 The rest of the exceptional band, left-to-right on stage:
John Liotta on baritone saxophone (once again, no good individual link). John regularly brings up the bottom of the brass section, doing a great job last night.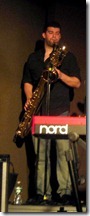 Josh Reed on trumpet. Josh also teaches at Lagond and is a regular member of GMB. He took a mind-blowing solo during one song and was excellent on the rest.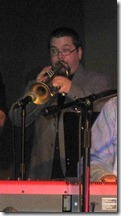 Steven Salcedo on tenor saxophone. Steven also teaches at Lagond (and if I have my facts straight, was previously a student there!). He's one of a number of sax players who rotates with GMB and I promise to be thrilled any time that he's in the lineup. He's a very special person and musician.
Here's a shot of the brass section, behind Greg at the keyboards: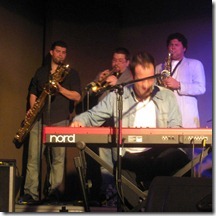 Kenny Shaw on drums. Kenny is such an integral part of the GMB sound and is so intimate/familiar with it. Great job. I'll heap even more praise on him in the next post though.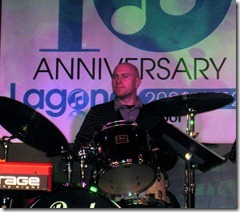 Rob Pawlings on electric bass. Rob was the one substitution. Chris Anderson normally plays bass for GMB. While I will never be happy about Chris Anderson being replaced, ever, if it has to happen, feel free to make it Rob Pawlings any time! The biggest difference in their performances with GMB is that Chris sings a lot and Rob (who sings well!) doesn't know the numbers well enough to sing along. Otherwise, his bass play was spectacular. Stay tuned for more on Rob in the next post.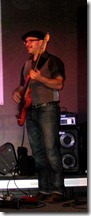 Paul Maddison on electric guitar and vocals as well as being a teacher at LMS. Paul was excellent on guitar (much more on him in the next post). He always sings with GMB, but had to carry a bit more of the weight last night, actually taking one of Rebecca's parts in one song. He's always a blast to watch on stage as well.
Greg called up a very special guest late in the set.
Charlie Lagond joined the great brass section on two numbers, playing his saxophone. What a treat (more on him in the final post about the school and the students).
Here's the set list: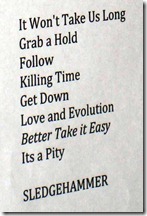 Greg and Martin had to scoot once the set was over. A little over an hour after they were done here, they were on stage at Rockwood Music Hall Stage 2, supporting Robbie Gil in a set devoted to some of the greatest The Who songs. My heart ached to miss that, but there was no way we were walking out on the next set at LMS, covered in the next post.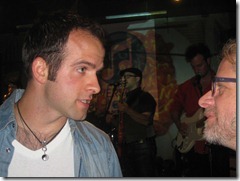 I've been sick for two weeks, finally nearly back to normal. This was our first musical event in over two weeks. We missed quite a number of shows that were tough to pass on, but this was a very nice way to break the ice.