Send to Kindle
Jeff Litman headlined a set at Rockwood Music Hall last night. It was an early set, which we always appreciate and prefer. On the other hand, it coincided with a near-monsoon, so we got soaked coming and going.
It's hard to believe that this was only our second night of music in May. Breaking the ice with a Jeff Litman show is a good way to go.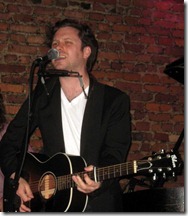 Jeff played the majority of the show on the acoustic guitar (obviously, he sang on every number as well). He kicked it off with the harmonica as well, on my favorite song of his, Maine. In fact, I think he's caught on that if he puts Maine first on the set list, it will guarantee that I will have to be there on time (we were!).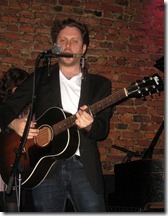 In the middle of the set, Jeff took over the piano duties for two numbers, the second of which he performed solo.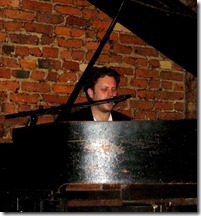 Prior to the show, Jeff announced that he would be joined by two guests. We would have gone to see Jeff solo, but he wasn't taking any chances.

Maddy Wyatt sang harmony, played the flute (beautifully, on What Hasn't Happened Yet) and the tambourine. Great job on all!
Joe Brent on fiddle and mandolin. Joe has been great every time we've seen him. That he can replace the awesome guitar solo on Maine with his fiddle play, and keep me just as mesmerized, is a testament to his skills. Joe has a show in Brooklyn next Thursday (which we can't make), then he hits the road with GangstaGrass for a while.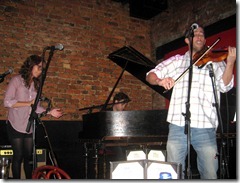 When we walked in, we both spotted Jason Wexler at the bar. We asked if he was just an audience member, or whether he was an unannounced guest performer. Jeff felt that it would be a waste to have Jason sitting in the audience, so he called him up on three numbers to play the grand piano.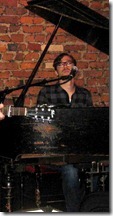 Of course, he didn't have those three songs consecutively on the set list, so Jason had to expend a bunch of energy going up and coming down from the stage before/after each song. Thankfully, his fingers weren't affected and his piano play was as good as it always is.

Speaking of set lists, here's the one from last night, though I'm not sure Jeff got through every one.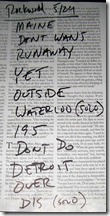 Jeff closed the show solo on the guitar. He started with a long instrumental solo of Some Day My Prince Will Come which he morphed into his closing number. His guitar play was gorgeous. Nice way to end the set.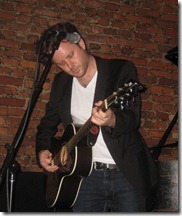 Be careful making any jokes at these shows. Right before the set started I noted (out loud) that there was an iPhone case attached to a small tripod. There was no phone inside the case. I joked that it must be a special case that could film the show without the camera inside.
Jeff thanked me for reminding him and popped his iPhone into the case. I then felt compelled to operate the camera, making sure that everyone on stage got at least some screen time. So, if Jeff posts any video from the set, I am 100% to blame (I wasn't very smooth in my transitions) for any issues in the quality.
We'll be out again tonight for a number of sets, but then it will more than a week before we get to see another show. Perhaps our lives are changing more than expected, I guess we'll see how it evolves…