Send to Kindle
Hurrah! A Bolt of Light! headlined a set at Rockwood Music Hall Stage 2 last night. It was their final residency show. They've played every Friday in May 2012 at 10pm on Stage 2. I've heard about them for quite a while now but this was my first time seeing them play.
I'd describe them as non-stop, hard-charging, loud (but balanced) rock. A number of people broke out dancing during many numbers and those that didn't were certainly bobbing, swaying, tapping, stomping and generally unable to simply stand still.
Wil Farr is the front-man, singing on every number and playing electric guitar. He has a very good voice, but in classic hard rock fashion, it often feels like he's screaming at the audience. He played mostly rhythm guitar last night (Hurrah also has a lead guitarist) but he did take one sweet lead.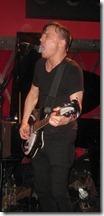 I've seen Wil perform with Abby Payne as well. He's also producing her upcoming CD. This is the first time I've seen him front and center.
Rebecca Haviland on vocals. If anyone is responsible for us going out to see Hurrah (yes, I've shortened it), it's Rebecca. Basically, we'll go see anything she's in. Her voice is always great. She and Wil really get into each song and display a passion that is also classically rock.
Jacob Pleakis on grand piano, electronic keyboards and vocals. Jacob is one of two people in Hurrah that I've never seen before. He was quite good on the keys and quite passionate on the vocals as well.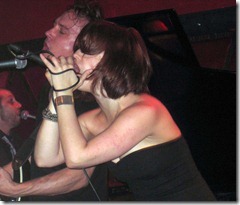 Kenny Shaw on drums. If you've read this space before, you don't have any questions as to my opinion of Kenny. Hurrah's music is particularly hard-charging and Kenny was working equally hard (but making it look and sound easy!). Absolutely fantastic drumming. The fact that he was in constant motion the entire set before made it all the more impressive.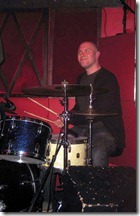 Doug Drewes on electric bass. Doug is the other member who I've never seen before. He too was quite good on the bass (no surprise given the rest of the talent in the band).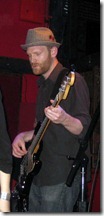 Dave Freedman on electric guitar. I just heaped a lot of praise on Dave a few weeks back when we saw him perform with The Thang Band at Lagond Music School. He was even better last night in this set, where he takes more frequent leads. He even spoke a bit into the mic and I think he sang a bit as well. I wasn't sure before that he ever opened his mouth. It seemed he was satisfied to let his guitar do the talking.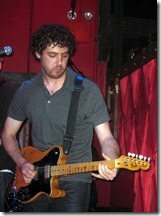 Hurrah themed each of the weekly residency shows, mixing their originals with those of a specific band. Last night was The Pixies.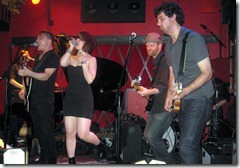 Jay Stolar headlined the set before them and toward the end of their set they called him up to sing with them. After the song was over, they invited anyone who appeared in Jay's to join. Kenny was already on stage, but four more members stepped up to the plate.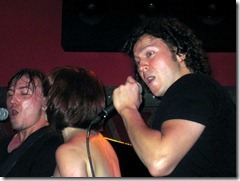 Jay Stolar stayed on stage to sing. Jason Wexler joined Jacob at the keyboards. Rob Pawlings played the cowbell. I still can't believe that I could actually hear every strike of the cowbell with 11 people on stage all making some kind of noise, but I could, and I liked it!
Seth Faulk and Jim Perry each grabbed tambourines and help keep the lively beat. It was controlled mayhem.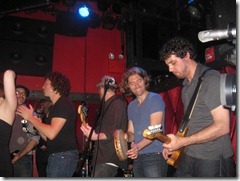 Here's the set list: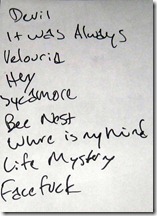 Summary: the crowd loved it, and I appreciated the driving rhythm and individual talents. It just isn't the type of music that I want to listen to for long stretches, so I'm not sure I'll be catching future shows. They won't miss me, they have quite a following!