Send to Kindle
Matt Simons headlined a set at Rockwood Music Hall Stage 2 last night. It was a last-minute surprise and such a lovely one at that. We were planning on attending the 8:30 set (the subject of the next post) which was originally scheduled to be the first one of the night. Once we heard that they added a set at 7:30 for Matt, our entire evening was set.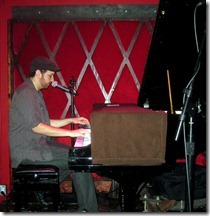 It's a rare treat to see Matt solo at Rockwood 2. The grand piano there is fantastic and Matt tickled those ivories to perfection. His voice was spot on as well, as was his set selection (including 2.5 covers, which complemented his originals wonderfully).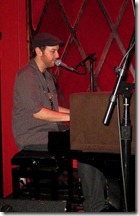 I was surprised to catch myself toe-tapping (and even quietly foot-stomping) a number of times. The point is that even though it was understated, Matt's piano play had a rich rhythm to it that filled the room and made me move (apparently involuntarily). Beautifully done.
Here's the set list:
Miss You More
Fire and Rain
Emotionally Involved
Jolene
Let Me Go On
Already Over You/Rolling In The Deep
With You
Gone
I'm not going to try and stretch this out to my typically long post because I've already said all you need to know, which is that if you weren't there, you missed a chance to hear a solo singer/songwriter captivate his audience completely.
Matt was also a special guest on one song in the following set so we got an extra dose of goodness from him a bit later on.
On June 9th at 10pm, Matt Simons is having a CD Release show at Rockwood 1. It's doubtful that this will be a solo show (though I bet there's at least one solo number). If you miss that one, I might have to refer you for some professional help.