Send to Kindle
Once again, Twitter delivers. I've mentioned it before, I'll mention it again, follow the artists that you like on Twitter, you never know when you'll find out about something that you might otherwise never hear about.
For a few months now, Melissa Tong has been telling me that I need to see Michael Daves perform. Beginning a few weeks back, he has a residency at Rockwood Music Hall every Tuesday night at 10pm. We had an aborted attempt to see him last Tuesday, but were finally able to commit to going last night.
We were sitting around watching TV, resting up for what was going to be a later night than usual (it ended up being even later than we had imagined). I was catching up on Twitter, when I saw a tweet from Rachel Platten (if you read this space, you know she's one of our current obsessions!):
Whatever. Get it together Platten. Oh and come to Rockwood Music Hall tonight! My new band is playing at 9 ~ it's free!
Say what? The set immediately before the set we're already going to be there for is Rachel Platten? How could I have missed this? I didn't! I went back to check the website and the band listed at the 9pm slot was called Chasing Violet. If you've learned anything in these posts, it's that many (most?) of these NYC-based musicians have at least one side project, some have a dozen!
Listen to the five songs available on the Chasing Violet link above and if you don't love them, I'll immediately refund the money you spent on my advice here!
We happily accelerated our plans and showed up at Rockwood exactly at 9pm. The place was crazy mobbed as Ed Romanoff was packing up his equipment from an obviously very successful set. As people left we got to squeeze in and even (luckily) grab two seats.
Chasing Violet is Rachel Platten and Nick Howard. Nick is a Brit (we won't hold that against him).
In a small world story, I was introduced to Nick by Alex Berger on December 7th, 2010, when we all attended an Ian Axel show at Mercury Lounge. Nick was charming and funny and we had some good laughs (all at Berger's expense, in front of him).
So, I was now even more intrigued to hear Chasing Violet (though Rachel was draw enough).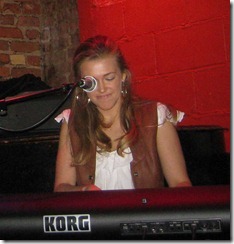 This was their first-ever public show. The songs are great, their voices amazing. For a first show, considerably polished. The flubs (of course there were flubs) were turned into very light-hearted moments that enhanced the show. Each is charming in their own right and together even more so.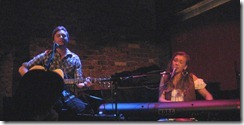 One big surprise was hearing Nick sing after hearing him talk (even at the show, not just when I met him in December). With one exception, Nick sang in an alto register, often taking the higher harmonies and Rachel does not have a deep voice. He hits the high notes so crisply, but when he speaks, it's a more normal male baritone. Quite interesting.
They joked a number of times about how this would likely be their last show as well. That's not true, as they're already listed at Rockwood on March 8th at 9pm (once again followed by Michael Daves). Of course they'll get better with each show, but they might lose some opportunities to make us laugh along the way.
I'm so glad that I found out about this show and that we were able to make it in time. I would not have been happy to hear about it after the fact.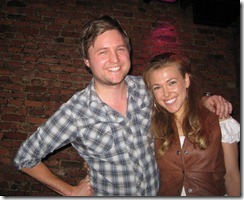 Back to why we were originally going to Rockwood to begin with, Michael Daves!
Michael played acoustic guitar and sang solo (with the exception of one surprise guest). He had his own microphone with him (the kind you see in a studio, with a shock mount). I've never seen anyone have that kind of mic at Rockwood before. Amazingly, I'll bet $1.75 that for whatever reason, the mic was not playing through the PA. In other words, it didn't matter that he brought (or even had) a mic at all. His guitar wasn't plugged into an amp either, he was raising it to the mic to play.
Did it make a difference? Not in the least! He sings so powerfully, and with a serious bite in his voice, that it carried cleanly throughout the room. His guitar was a bit softer, but since it wasn't competing with any other instruments or voices, it was easy to hear as well.
He's a superb guitar player. I had no doubt of that going in, since I became aware that he regularly plays with Chris Thile. Chris wouldn't play with a musical slouch.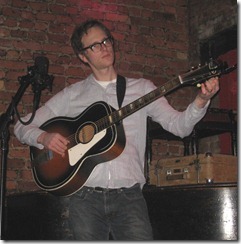 Michael's set consisted of traditional Appalachian-style bluegrass/roots music (since I'm not familiar with him, I don't know if all of his sets are this style or not). I'm mildly surprised that a place like Rockwood gave him a long every-Tuesday residency, since this isn't the most popular music in NYC.
We like most kinds of music, in particular bluegrass (though typically, the more full-band bluegrass sounds). So, it was definitely a treat to see his particular picking style. He was capable of mixing a flat-picking lead with a strumming rhythm, at the same time. Sort of accompanying his own leads. Sweet.
Toward the end of his set, in a complete surprise to everyone (including her), Michael called up Melissa Tong (our reason for being there to begin with!) to sing a song with him. It was the best song in his set (IMHO). Melissa has a lovely voice (though she doesn't sing often enough). Because the mic was off (no one has proven to me that I am wrong yet, so my $1.75 goes unclaimed) Melissa had to sing louder than she normally does. Bravo, more Melissa!

When the set was over we bumped into Rebecca Haviland and got to tell her in person how amazing she was on Monday night at the Soul Revue Benefit.
Lois and I probably could have just fallen asleep right there at Rockwood. Melissa gently twisted our arms to extend the evening a bit longer and head over to Mona's for their amazing Tuesday night jams. We had no idea what we were in for, but we agreed.
Continue reading about our experience at Mona's, which was amazing enough for me to want to make it a separate post.