Send to Kindle
On March 1st, we saw the Dan Tyminski Band (DTB) at the Birchmere Theater. I wrote a long post about that which you can read here if you wish.
After we saw them (and bought lots of their music), we continued to be energized by their amazing performance. I noticed that they were going to be in Albany, NY, at The Egg, on April 20th.
That's roughly 2.5 hours north of our house, not exactly a place we frequent regularly. On the other hand, it seems that no matter where we are, Dan and the boys seem to be roughly two hours north of us. 😉 When they played at the Birchmere, we spent the previous night in Richmond, VA, roughly two hours south of there. So, it seemed fitting to grab tickets and plan our road trip.
We left the house at 4pm and arrived in the underground parking lot at The Egg at around 6:25pm. I ate my dinner in the car, underground. Exactly the way I like it. 😉
We got to the elevator in the lobby and both immediately noticed that Dan Tyminski himself was waiting to go up in the same elevator as we were! Lois excitedly pulled out her CD (the one we bought at the Birchmere and had signed by Dan) and asked him to sign it. He immediately spotted his own signature, and told her it was signed. She told him where it was signed originally, and that she wanted a memento from The Egg as well. He was kind enough to oblige and ended up signing it again in the elevator on the way up.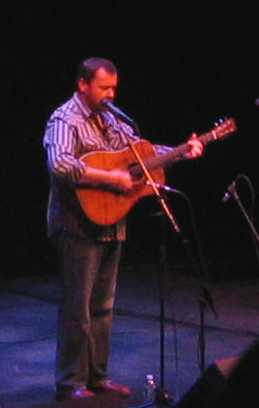 He's extremely tall (I had no idea). Skipping ahead for a minute, Barry Bales is significantly taller, and from our vantage, even Adam Steffey appeared to be a drop taller than Dan, making them a bunch of giants. 😉
When we got off the elevator we were in another lobby waiting for the theater doors to open. They opened at roughly 6:50pm for a 7pm show. The Egg has two theaters in it. We were in the Lewis A. Sawyer theater, which seats 450 people and is arranged in an amphitheater style. There is a nice height differential between the rows so that essentially, even the worst seat in the house, isn't all that bad. We were in the 10th row (second from last), but not too far left of center. We were a tad nervous in advance, but they were excellent seats.
The band came on the stage a 7:07pm. It appeared that they were only using microphones for their instruments (unless they all had wireless jacks to their amps). Definitely no electronic tuners. I mention this mostly because within 15 seconds of walking on stage, they were already playing a fast upbeat number. Tight and wonderful, as expected.
The crowd was clearly in love with Dan and the band. Dan joked that people in the south aren't aware of all of the Bluegrass lovers in the north. Clearly, there are many! 🙂
The band's bios can be read here.
Appearing left-to-right (same order as at the Birchmere) were Ron Stewart, Adam Steffey, Barry Bales, Dan Tyminski and Justin Moses.
They were all brilliant last night. Ron Stewart played mostly banjo, but also was awesome on the two numbers where he played fiddle. Adam played the mandolin exclusively, and was mind-boggling. The crowd begged Dan to turn Adam loose, and he did, and Adam blew us all away! Barry was amazing on the bass (as he always is), and sang harmonies with Dan and Justin.
Dan was great all night. My one semi-complaint at the Birchmere was that Dan didn't take enough guitar leads (he's superb!). I don't know if he read my blog for that show, but last night he took considerably more leads (thanks Dan!), but they were still all short. He's very generous with the rest of the guys, and I think he feels guilty that his name is on the door and that he's singing non-stop.
Finally, Justin Moses. This guy is simply killer! He played fiddle most of the night. Dobro on one song, and banjo on another (those are the two songs that Ron played the fiddle on). He also is the primary harmonizer with Dan (even on songs that Barry doesn't sing), and he's terrific on every instrument and singing as well.
I really like his solo CD which we bought at Birchmere.
When they wrapped it up they received one of the fastest (and complete) standing ovations I have ever seen. It was almost like there was a spring in each of our chairs, propelling us out to show our appreciation for their talent. They left the stage briefly and came back for a one-song encore. In total, 93 minutes on stage. A little on the short side, but thoroughly satisfying in every way.
One of the fascinating things was the entirely different feel of a theater like environment vs a dinner-theater venue. We like the dinner theater ones (Joe's Pub, BB King, Blue Note, Birchmere, Highline Ballroom, etc.), but, having fixed seats, that all face the stage has it's plusses as well. Last night, with the steep height differential between the rows, we also had another change in perception. We were looking down on the band (by quite a bit), whereas at Birchmere, we were looking up at them from a remote table.
The perspective was interesting.
We were extremely glad we made the drive. We were home at 11pm, so not all that bad!
We've already pre-ordered the new CD (Wheels) expected to be shipped in late June. First 500 people get a signed copy, so we're hoping we ordered early enough.
At the Birchmere, Dan broke a string during one number. I am reasonably sure he replaced the string off stage. Last night, Dan broke a string in the middle of a number. He waited until Ron started a banjo solo, and while Ron played, followed by Adam taking a solo, Dan actually replaced the string on stage, while singing, and ended up playing the guitar during the end of the song. Bravo! 🙂
One final thing. These guys clearly love playing together, and being together. They banter hysterically on the stage, with Adam handling more of the duties than Dan, but they all partake (except for Justin, who is the target of some of the banter). Here is a shot that captures some of that mood. 🙂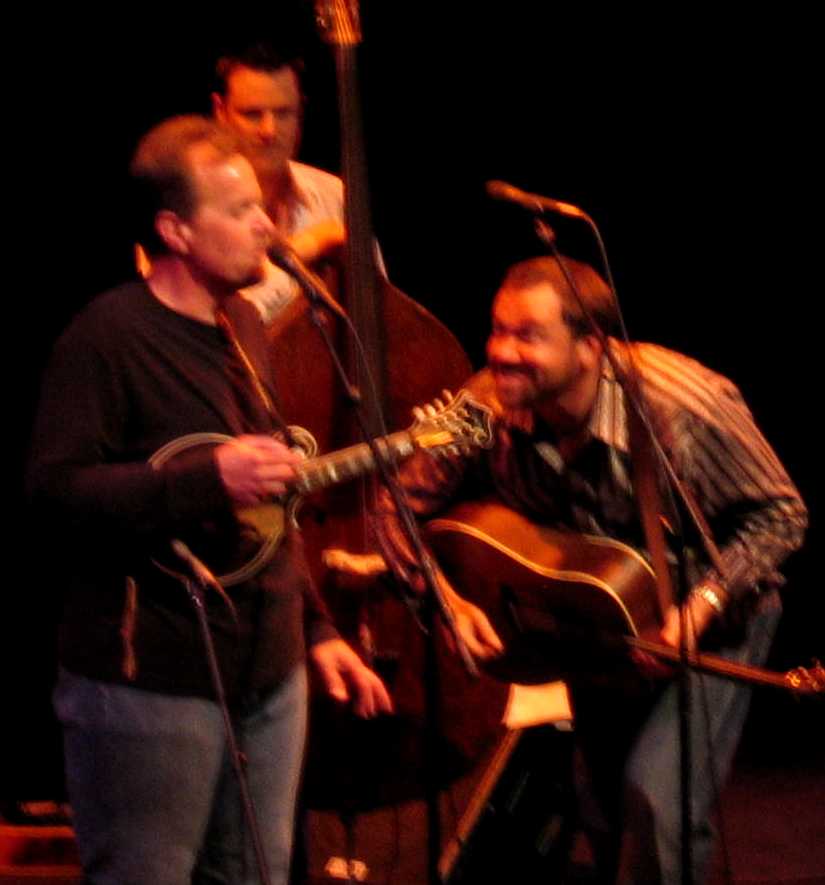 Almost forgot, but at least I didn't, to remind the rest of you to get your entries in to the Girlyman Live CD Contest. Only 9 days left to win a signed copy of Girlyman's new Live CD. Enter now!!!