Send to Kindle
A few months ago, I saw that Pat Benatar was playing at BB King with Neil Giraldo. I only own one Pat Benatar CD (Crimes of Passion) and it's absolutely awesome. I am embarrassed to admit that I had never heard the name Neil Giraldo, since he's been her husband for 26 years, and her lead guitarist for longer than that.
The site linked to above is the official Pat Benatar site, but it's at best an embarrassment. If you want to find out anything useful, including tour dates (for example), I urge you to visit the fan site instead.
We weren't sure about our schedule and didn't end up buying two tickets until a few weeks back. There's a back story to last night, but it will come after the review of the show itself.
As is typical of BB KIng (a fact that makes us like going to BB King a lot!), the group came on at exactly 8pm as advertised! At first, only the drummer (Chris Ralles) and bass player (Mick Mahan) were on the stage. You could hear a guitar playing as well, but there was no guitarist on stage at the time.
Here's a photo of Chris standing alongside his drums. Since there was a plexiglass cage around the drums, all photos of Chris while he was playing were fuzzy at best: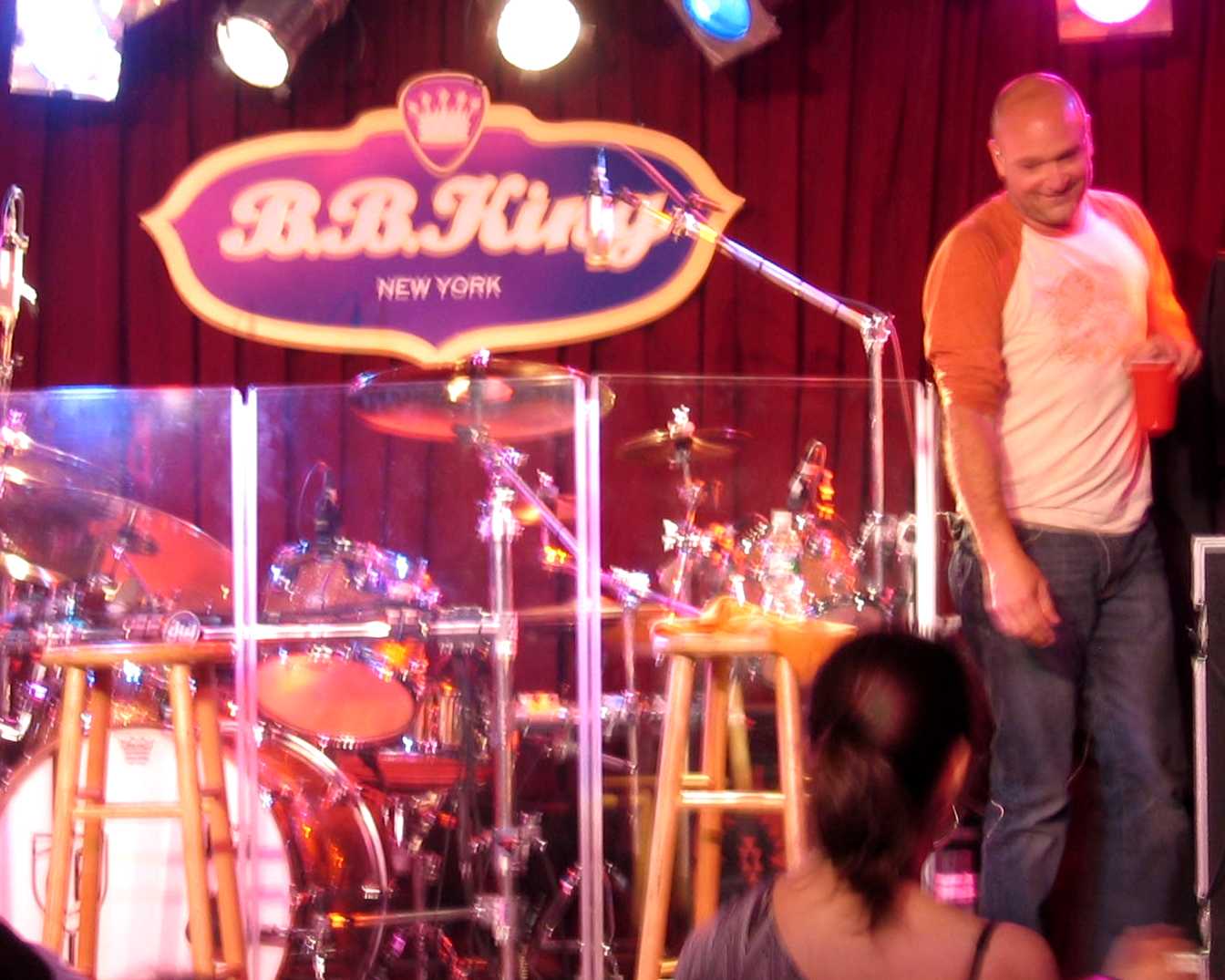 Here's Mick Mahan: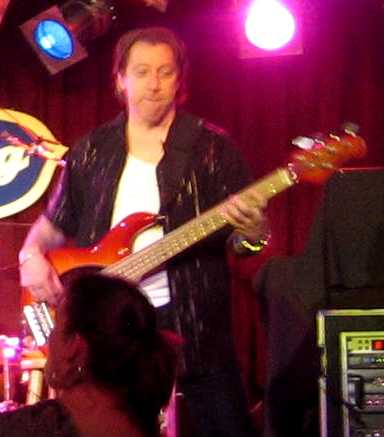 A minute later, Pat comes on to the stage to wild applause (and a few standing ovationers as well). A few seconds later, Neil Giraldo comes out as well, with striped pants and a green guitar.
This is Neil with an acoustic guitar (later on there are two photos with one of the green guitars). I'm putting it here to prove to you that he wore psychedelic pants. 😉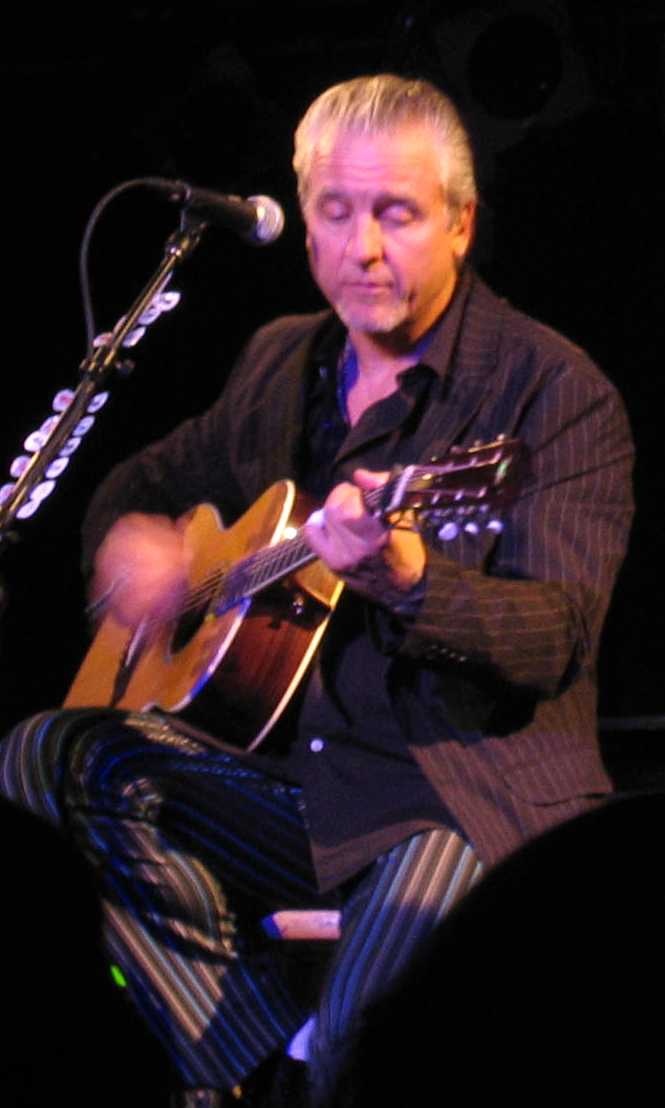 BB King normally seats 450, and when sold out, sells as many as 150 additional tickets for standing at the bar in the rear. Last night, they removed an entire row of tables at the back, reducing the seating to roughly 350, but they increased the number of standing room only tickets substantially, selling as many as 700 tickets in total. I have never seen that many people stuffed into BB King's in the many times we've been there.
This was all the more impressive given that they played BB King's just two nights before, on Sunday April 20th. So, clearly, they can fill and then refill a 700 person place two out of three nights.
In addition to taking out an entire row of tables, they also took out some center tables from the row in front of that (in the bar area) to accommodate a very large sound board. This is more typical of the size you'd see at Radio City Music Hall or even Madison Square Garden, so clearly, Pat and Neil don't do these shows on a shoestring!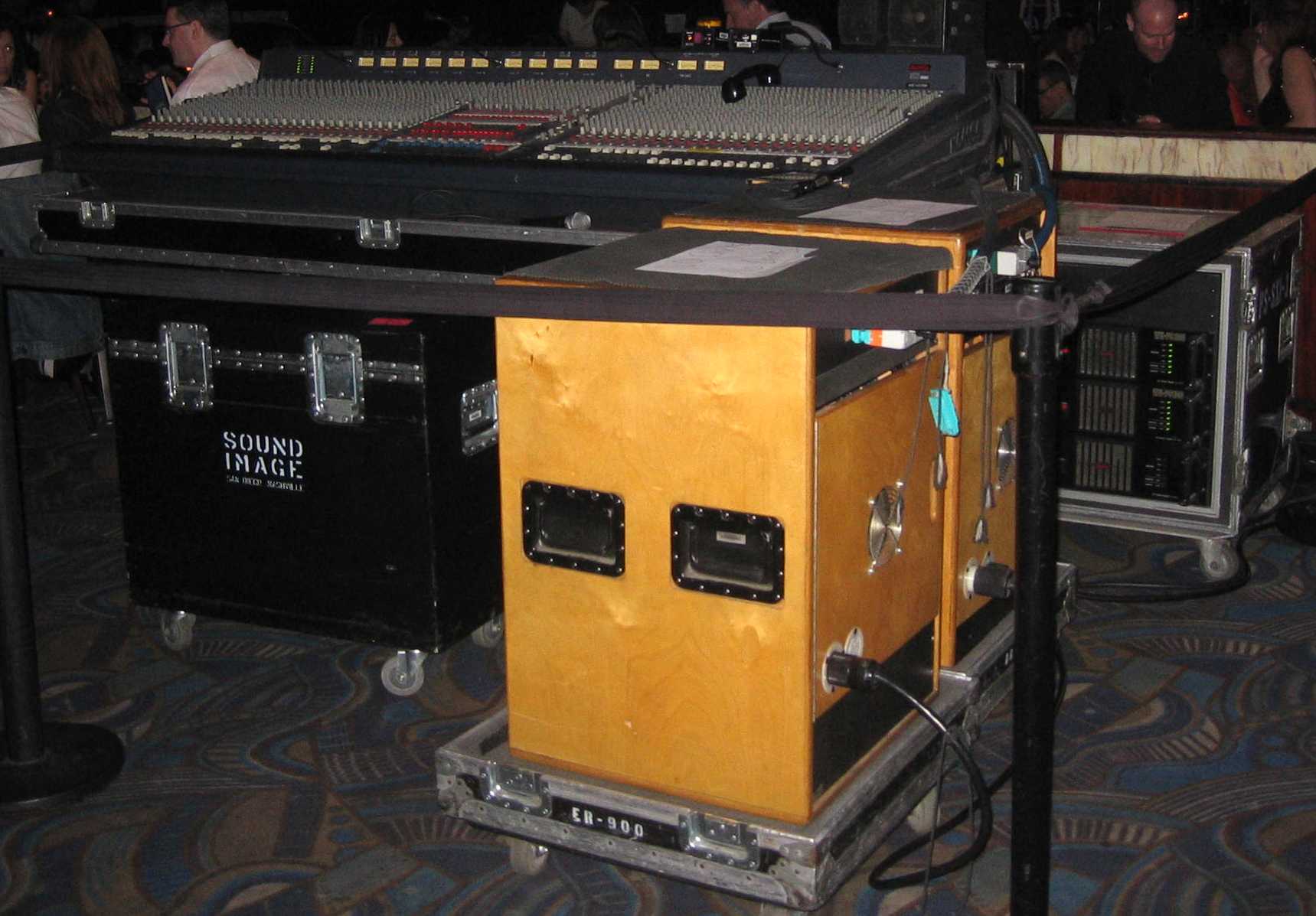 The overwhelming majority of the crowd were die-hard Benatar fans, singing (or mouthing) along every word of every song she sang. We've recently had a similar experience when we saw Dave Mason at Blend Bar (smaller venue, big rock star). There was a difference between them though. While the music/show was perfect for Dave, and the energy level high, it's hard to describe the elevation of energy for last night's show.
Pat's voice is still terrific, and they played many of their big hits, so there was nothing to disappoint in that. What I didn't know, but 95% of the crowd obviously did, was how spectacular a guitar player Neil Giraldo is. He also played some keyboards (quite well), but for the most part, he just played crazy (as in good, meaning insanely great) guitar, all night long.
Here's Neil in front of the keyboards, when he played the intro to the song, holding the guitar on his lap, which he continued the rest of the song on (twice). He also played one entire song just on the keyboards: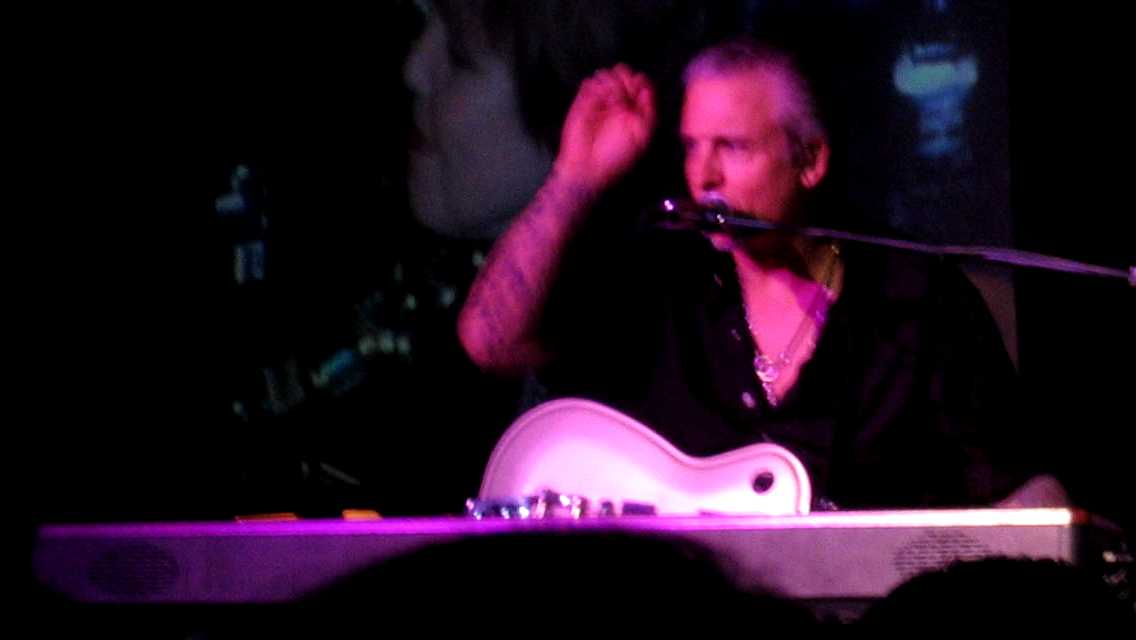 I'm nuts about Pat's voice, and I love her songs (in particular, she did Hit Me With Your Best Shot, Heartbreaker, etc.), but I would have been happy to just listen to Neil play the electric guitar (correction, guitars, as he had at least three different electric guitars, plus an acoustic one for two songs as well) all night long. My head is still spinning thinking about how good he is, and that I didn't know his name.
Here's Neil (two photos of one of the green guitars) finishing up a solo that destroyed the crowd on every level!
Since he's played on all of her CDs, I obviously have heard him before (specifically, on the CD that I own and have listened to many times), but I should have known who to credit as well…
What makes it more impressive was that he had a big bandage on his left pinky, and it appeared to be bothering him. In addition, between most songs he was violently shaking his left hand, leading a member of our group to comment that he likely had Carpal Tunnel Syndrome as well!
He certainly didn't let any of that get in the way of delivering his A-game to the wildly appreciative crowd.
Including the encore (a nice two-song set), they were on the stage exactly 90 minutes. Not long enough (by some measures), but as Lois commented to me after the show, such an intensely high energy performance, that we're sure that they were drained, and the crowd was probably a bit drained as well (though we could have taken more). 😉
Can't wrap this up with some photos of Pat. Here are two:
The show was fantastic and I'm thrilled that we went. I still much prefer the more mellow (or differently energetic) Folk and Bluegrass shows we go to more frequently, but this kind of experience should be in everyone's repertoire as well!
On to the back story.
We were driving in from the house to the city on Monday morning when I got a call from our good (and until recently long-lost) friend. I covered our reconnection with her and her husband in this post. After chatting with her for a while I handed the phone to Lois to say hi.
During their conversation, Lois asked her if they could make it in to the city the following night (Tuesday) to join us for the Pat Benatar and Neil Giraldo show. She said she'd check with her husband and call back. When she called later, she told us that her husband was swamped (he's sprinting to the finish line of his year-long fellowship at Princeton) but that she could make it. Yippee!
We told her that we'd check to make sure that the show wasn't sold out, and pick up an extra ticket if it wasn't. I went on to the site and saw that it wasn't sold out, but I also saw (for the first time ever) the warning about extremely limited seating and the word oversold. Huh? We're too old to stand for this type of show, especially if we have to get there really early and stand for hours before the show starts as well!
Lois called. They said that there would be normal seating, but that they were selling many more standing room only tickets, so that getting there super early would be prudent. I walked over (on Monday) and picked up another ticket for our friend.
Normally we show up at around 5:45 for an 8pm show. They open the doors at 6pm (more typically 6:15pm, but now I know why!) and we go in and have a leisurely dinner. Yesterday, we intended to show up at around 5pm, to be safe, and we told our friend (who was taking the train in from Princeton) to meet us on line no later than 5:45pm.
A quick diversion: We had a special lunch out yesterday with a brand new friend. She suggested we meet at Mesa Grill. We had never been there before, but we like Bobby Flay (from the Food Channel) so we were intrigued and excited to check it out. Everything about Mesa Grill is wonderful. Decor, ambiance, service (both wait staff and management) and most importantly, the food was exquisite! Sadly, our brand new friend is moving away from New York City in less than a week, so future lunches won't be quite as easy to arrange. That said, we promise not to lose touch and to have many such wonderful experiences together in the future!
Back to our main story. 🙂
We were sitting in the apartment when our other friend (the one who came in from Princeton) called to say she was at the head of the line outside of BB King! It was 4:25pm and Lois was a tad annoyed at me that we hadn't beaten her there. We logged off and jumped in a cab and were at BB King's 15-20 minutes later. Our friend had chatted with the person working the door, and when we arrived, he let the three of us go down to Lucille's (the bar next door to the club downstairs at BB King) to wait inside for the show.
We were given a numbered ticket and told that we'd be called in to the main show room in the order of our ticket numbers. There's a price to pay for this convenience, namely ordering something at Lucille's while you wait. A small price indeed, since we wanted to catch up with our friend anyway! So, we each ordered a drink (non-alcoholic), and chatted away merrily for 75 minutes.
Normally, I wouldn't post a photo of me looking so drugged out, but Lois captured me talking to our friend while Bob Dylan was showing on the big screen behind me. Being associated with one of my first musical idols bears accepting myself looking like this. 😉

They then started calling out the numbers. That's why the doors don't always open at exactly 6pm upstairs. They are first filling in from Lucille's, all of the people that showed up even earlier and gave them some extra business. A very smart thing for them to do.
We got excellent seats, nearly dead center, three tables from the stage (which given their configuration is the rough equivalent of the 9th row in a typical theater style setting). We enjoyed a wonderful (and relaxed) meal and continued chatting for another two hours. BB King rarely announces any specials (at least not to us). Lat night the waiter mentioned a number of specials and I ordered one, the crab cakes (well, it should have been called crab cake, as in singular!).
Sorry Bob, but I believe that it was the best crab cake I've ever had. Too bad it's not always on the menu.
In the small world story camp, when our friend told her kids (she has three of them) that she was going to see Pat Benatar, one of her daughters told her that she had just recently downloaded a few Pat Benatar songs to her iPod. Cool! 🙂
We walked our friend half way back to Penn Station, and then made a sharp left back to the apartment. It's safe to say that a great time was had by all!
OK, you know the drill, time to espouse the wonders of Girlyman again, and entreat you to enter the month-long Girlyman Live CD Contest. Enter now before you forget to do it and the contest comes to a screeching halt! 😉