Send to Kindle
The minute this concert was announced, many months ago, I bought two tickets. Tarrytown Music Hall is a great place to see concerts (as I've reported a number of times before), it's only four miles from our house, and I have loved Chuck Mangione's music for decades.
This was the third time that I saw him live. The first time was eons ago at Radio City Music Hall. It was a spectacular show. The second time was two years ago ago at the Blue Note Jazz Club in NYC (briefly mentioned in this very long music catch-up post). It too was terrific, and very intimate, as we sat a few feet from the stage.
Last night we were in the 10th row, dead center. The acoustics were perfect. Chuck was great. His band was/were perfect. With over 40 years of material under his belt, Chuck could play anything he wants to. Unlike some other acts that have survived this long, he tends to give the crowd what they want, rather than cater to his own personal mood.
He played pretty much all mega-hits last night. In no particular order (meaning this isn't the order he played them in!), he played:
Counsuelo's Love Theme
Give It All You've Got
Bellavia
Main Squeeze
Children Of Sanchez
Land Of Make Believe
Dizzy Miles
Feels So Good (this was the big encore!)
Fun And Games
a number of others 🙂
Here they all are together on stage:

In addition to playing the Flugelhorn and keyboards himself, Chuck is very generous with highlighting the talents of his band members (as are many Jazz artists), which was particularly appreciated last night, as each member of the band was simply wonderful.
One of the longest members of Chuck's band (with a long break in-between) is Gerry Niewood. Last night he played Sax, Flute, Clarinet and Piccolo. He was flawless and fantastic. The crowd gave him rousing applause every time he was featured. He played with Chuck at the Blue Note when we last saw him, and we sat two feet from him, so we're well aware of his extraordinary talent.
Here he is on three of the four instruments he played last night:
Continuing left to right (stage-wise) was the keyboards player. Corey Allen (sorry, couldn't find a good link to him directly, though he gets good credits on other people's albums) plays beautifully.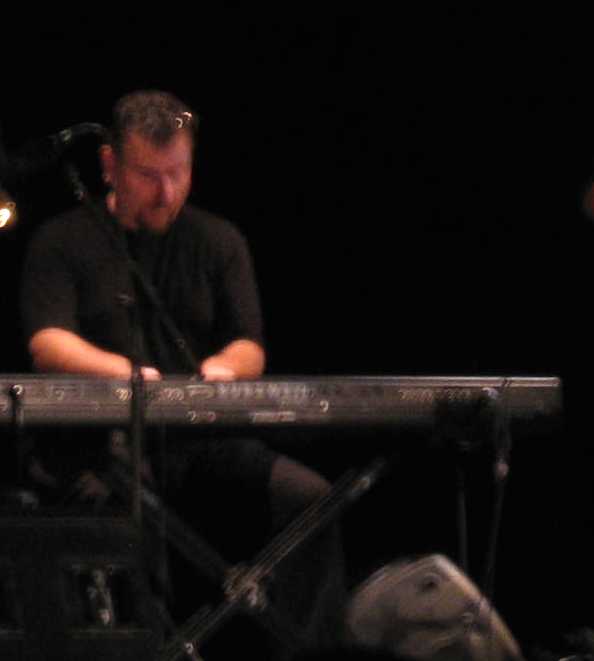 Charles Frichtel Kevin Axt (corrected due to Dave Tull's comment below) plays the electric bass (also couldn't find a good direct link, but he too gets credits, including backing up Michael McDonald!). Chuck highlighted Charles Kevin a number of times, including the uber-famous and wonderful song Fun And Games, which starts off with a funky bass solo (of course, he let loose even more live, later in the song, than they do on the studio version). Most excellent.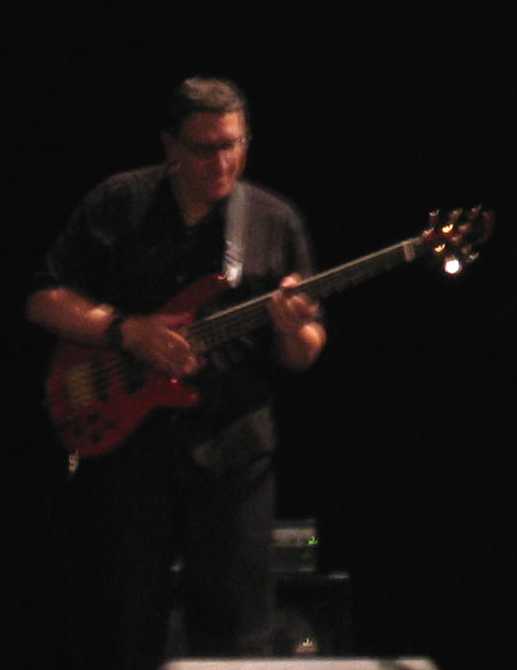 Dave Tull is the drummer and the only one who sings. He's been with the band since 2000, so we must have seen him at the Blue Note, but I wasn't blogging then, so I didn't pay as much attention to names. 🙁
First, let's get the trivial stuff out of the way. Dave sang lead on two songs, Dizzy Miles (wonderfully) and Children Of Sanchez (amazingly). He has a gorgeous voice. Now, on to the more important stuff.
The fist time I saw Chuck Mangione, at Radio City, his drummer was Steve Gadd. There are many people who believe that Steve Gadd is the greatest drummer ever. Many more who believe he is one of the greatest drummers ever. I'm definitely in the second camp, but I admit that when I saw him that night at Radio City, I was in the first camp, for sure! So, listening to another drummer play the same songs can be an unfair starting point for comparisons.
Dave Tull was so incredible last night (and probably every night), that I truly can't do justice in describing how awesome he was/is. It's likely the second best live drumming I've seen in recent memory, the other being Chris McHugh, covered here. The comparison between them isn't really fair, as the style of drumming was radically different. Anyway, Dave Tull was mesmerizing last night. Speed, grace, style, voice, without ever overwhelming any other instrument. Astounding!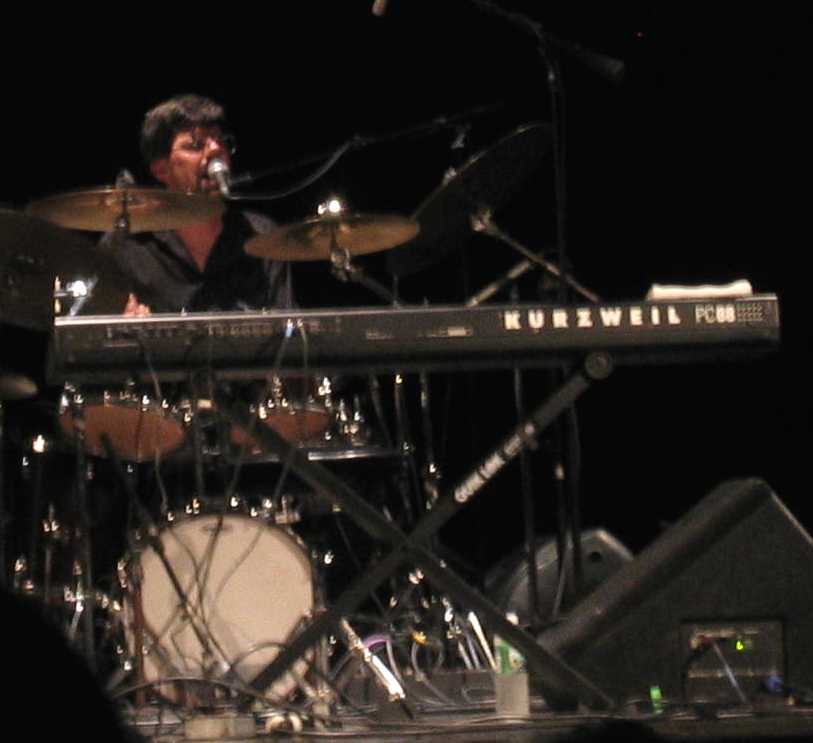 Last, but certainly not least, Coleman Mellett on guitar. Sometimes, the Jazz guitarist in a band like this can get a little lost. Coleman does a great job of avoiding that fate and Chuck made sure to highlight him a number of times. In particular, during the very long and slow intro to Children of Sanchez, while Dave Tull is singing, the only instrument accompanying him is the guitar. Coleman is excellent, and complemented the sound the entire evening, on both lead and rhythm guitar.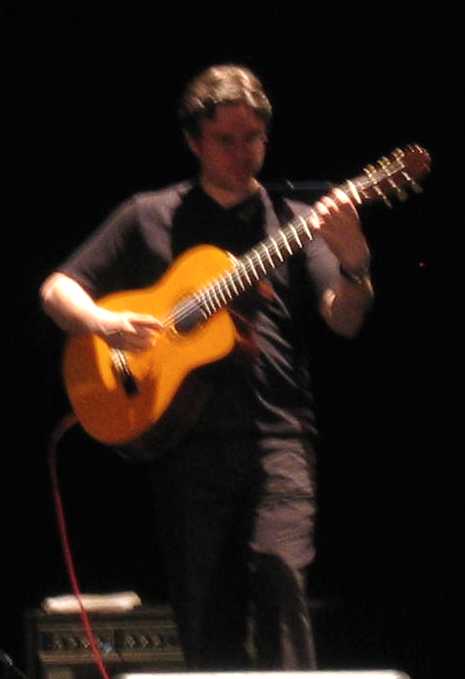 So, that covers the band. No small feat, as they are not listed on Chuck's site (a big shame, which I've pointed out as a shortcoming on other artists websites as well). In fact, I had trouble finding any of their names, with the exception of Gerry Niewood, who's been with him forever. After dozens of various Google searches, I was finally able to (accidentally) stumble on Dave Tull's name, and with that info in hand, was able to locate this article, which gave me the remaining names. Credit where credit is due, thanks Herald Tribune!
At one point during the show, Chuck gave a moving tribute to Jim KcKay who passed away yesterday. Chuck met him during the 1980 Olympics, when he was commissioned to write the song Give It All You've Got for those games. Jim McKay described Chuck as the world's foremost practitioner of the flugelhorn. After talking about Jim, Chuck and the band played a gorgeous version of Amazing Grace.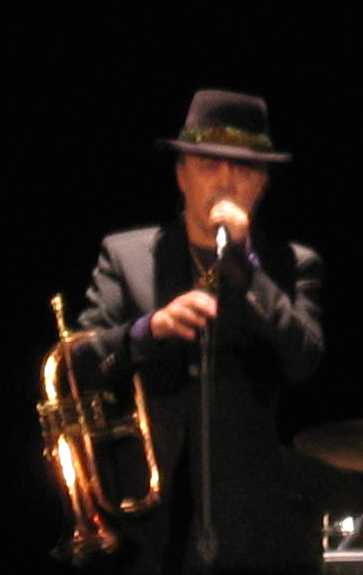 And here's Chuck on the keyboards: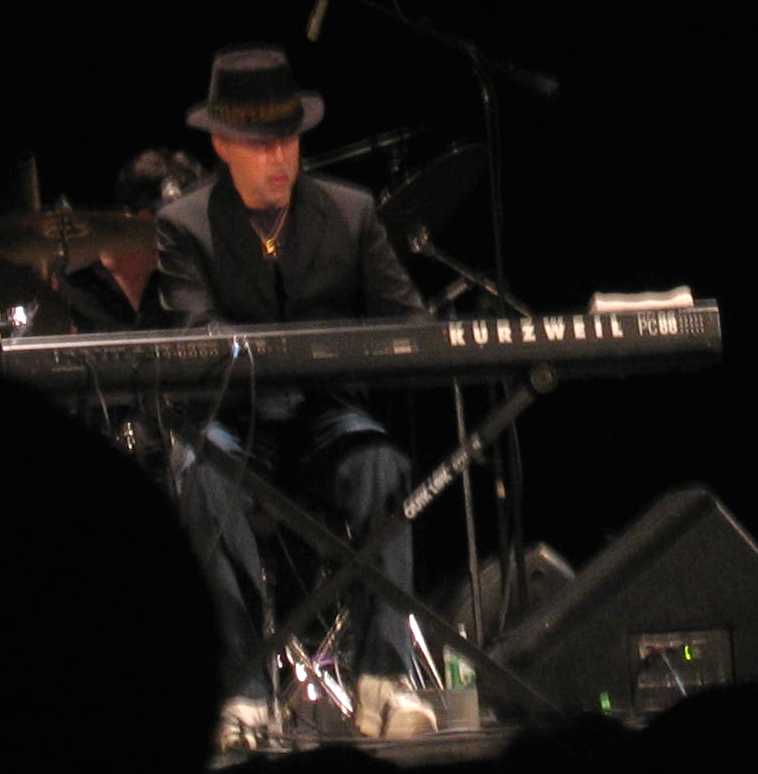 When they ended the main show, Lois and I shot out of our seats in a standing ovation. Amazingly, not a single person in the nine rows in front of us (a couple of hundred people!) stood up. I didn't look behind me, so I don't know if we were the only two people standing in the entire place. I can assure you that the crowd was thundering in its applause during and after each song, so it had nothing to do with not liking the show, or sending Chuck a message. It was strange, to say the least.
Chuck briefly left the stage, but the others stayed on. After a minute, Chuck returned. They played Feels So Good (as noted above), and snuck in America The Beautiful woven into one part of it (Chuck asked the crowd to sing while they played, and many did!). It was awesome. When they finished, everyone shot up in a standing ovation (quite rousing). So, either we shamed them, or they don't stand but once a night. 😉
If you're a New Yorker, you have a number of additional opportunities to catch them this year. You can check the Tour Dates link on Chuck's site, but specifically, they'll be at the Blue Note for six straight nights starting July 15th, and for four straight nights at the Iridium Jazz Club on December 18th. Don't miss this wonderful show!
Not much of a back-story here. We live right near the theater, and so we had our normal daily routine at the house. We had trouble finding parking (street parking is legal, it just happened to be very crowded), but finally found a spot two blocks away. We walked into the theater at 7:58pm. I wasn't worried, as they rarely start their shows on time (I don't like that part one bit…).
At 8:05, the band wandered out, with the house lights still on. Then the M.C. came out and talked about upcoming shows for a bit. Finally, he introduced Chuck and the show began (roughly at 8:12pm). They played for 40 minutes and took a 23 minute intermission. When they returned, they were on for just under an hour, including the encore. So, just under 100 minutes of music. Fantastic!