Send to Kindle
Lois and I have never watched a complete episode of American Idol, and the only time we've even seen a reasonable portion of one was at our godson's apartment, the night that Jordin Sparks won.
So, we didn't know Carrie Underwood from that show (though, of course, we knew of her). We fell in love with her when she released her first CD, and have loved pretty much everything she has done since then as well.
When I saw that she was opening for Keith Urban at Madison Square Garden (MSG), I grabbed two tickets for us, a while ago. We aren't all that familiar with Keith's music (though we obviously hear his more popular stuff on the Country channel on XM Radio). We figured that at best, it would end up being a bonus like Kenny Chesney was (when we really went to see Pat Green and Sugarland!), and at worst, we'd know to avoid Keith in the future.
I wrote about that night here, and as you can see (or already know), we were blown away by Kenny's performance. 🙂
We were both marginally surprised that Carrie opens for Keith. She couldn't be much bigger on her own, winning award after award, and selling CDs like crazy.
Last night's show was scheduled to begin at 7:30pm. As I've written a number of times before, MSG usually runs like an on-time train. It's a pleasure to know in advance that you won't be sitting around for hours wondering when the show is going to start.
Oh well, the best laid plans… Last night was a wild exception to the norm. At 7:35pm (already five minutes late, no biggie yet) they put up a very big screen, with a digital timer on it, counting down from five minutes. You could feel the excitement in the crowd, as people focused on the counter. So, the show would only be 10 minutes late, but, you had five minutes warning, so, not too bad.
When the clock hit 10 seconds left, people started to clap and get really excited. When it hit zero, the lights went out. Typically, the music would start (in the dark), almost instantaneously. Unfortunately, nothing, for more than 30 seconds. A few minutes later, some yellow lights above the stage came on, but were facing out toward the crowd. It was masking the stage, so perhaps this was part of the show.
Nope. A few seconds later, the normal background music (from the speakers, not the stage) started up. No way the show was about to start. A few minutes later, the rest of the house lights came back on. No announcement, which was very disappointing. Then the digital timer came back on with five minutes again. Much less excitement in the crowd this time, as most people ignored it.
This time, the crowd waited until the countdown was at five seconds before starting to clap and cheer. When the lights went off this time, indeed, the music started in the dark, a few seconds later. When the stage lights came on, Carrie wasn't there yet. As you started to hear her voice, they started showing videos on the very large screen behind the stage. Intermixed with desert scenes (including snakes), were snippets of Carrie, looking like she was walking through the video onto the stage. It was strange, but sort-of cool too.
Instead of her magically appearing from the video screen, after a bit, she emerged front and center stage, rising slowly from underneath. The crowd ate it up.
Let's get the mundane out of the way. Carrie Underwood is stunningly beautiful. Of course, if you didn't know that already, then you don't own a TV, have never glanced at the cover of a magazine even casually, or have very strange taste. 😉
(As with all the photos in the this blog, click on any one of them to see a larger version):
Carrie has an exceptional voice (duh, that's probably true of most Female Vocalist of the Year winners). Her songs are really good as well, and the selection last night was excellent. Her band is obviously top notch as well. All that said, with the lousy acoustics (in general) at MSG, she wasn't the best fit for the arena. Don't get me wrong, her talent was obvious to everyone there. In addition, Lois believes that Carrie was working through a cold (and I think she's right).
One of the problems (acoustically) is that Carrie's voice is loud, clear and she hits lots of very high notes as well (with lots of power!). At MSG, it was simply piercing. Not her fault, as hitting the notes is exactly what she's supposed to do. Still, it was on the painful side at times, not just because of the volume.
She has great stage presence, but even though the crowd loved her, it wasn't the same energy (not even close) that we've seen with other performers at MSG. I was very surprised.
One thing that was very different from all other opening acts that we've seen at MSG (and most other places), was the staging. Normally, the opening act does everything in as muted a fashion as possible, in order to avoid any upstaging of the main act. Since Carrie is a legitimate headliner (in my opinion at least), she had way more glitz than any other opening act we've seen before.
There were two floating screens on either side of the stage, tall and thin, that mostly showed her live, so that people sitting far away (like us) could see her up close and personal. Behind the stage, where the counter had been, was a large screen showing videos in the background. She also changed her outfit four times, making five separate outfits during her show.
To recap, she came on at 7:50pm and played for exactly one hour. She then came back for a very nice encore, going off the stage at exactly 9pm. So, she was on for 70 minutes in total, after the 20 minute delayed start.
There was a 30 minute intermission, while they prepared the stage for Keith Urban. For the first time ever (in our personal experience), the effort was entirely visible to the crowd. Usually, they hang a very large black cloth to cover up all of the activity.
While we were killing time, we were chatting about how great Carrie was, but how horrible it was to see her at MSG (she really belongs at Radio City Music Hall, which would complement her strength amazingly well!). Lois said "I'm done with MSG, this is the last time I want to see a concert here." I completely understood her feelings, but felt bad that certain acts would be shut off to us (e.g., Rascal Flatts).
At exactly 9:30pm, the lights went off, and the mood in the crowd changed dramatically. The second the first note on the guitar was heard, a bunch of people starting standing and going crazy (that didn't happen for Carrie at all), unfortunately, including the two women sitting in front of us…
I won't be able to do justice to the slick way they used the giant video screen behind the stage to introduce the first song, but trust me, the effect was mesmerizing, creative, and very cool.
When they finally lit up the stage, and Keith (and the band) were all out there (rocking their hearts out!), the crowd was in a complete frenzy. I was pretty sure it would be just like the Kenny Chesney show, but I was wrong. 😉
Kenny's show is a party, and he's the guest of honor. He loves his fans, and it couldn't be clearer, but it's not really about the music (at least, not the one show that I was at). The music that night was great, and his band is exceptional, but it still isn't/wasn't about the music (to me).
That's different with Keith Urban. In addition to the reason I mentioned above, about wanting primarily to see Carrie, I was curious about Keith, because my godson saw him two years ago in Washington, DC, and told me that he puts on a great show, and that he's an incredible guitarist. So, I was definitely curious.
Props to my godson, as he was correct on both scores. Without a doubt, Keith Urban is one of the greatest entertainers I have ever seen.
Let's start with something I really can't explain. He (and his band, obviously) pretty much overcame the horrible acoustics at MSG as best as can be expected. There's something about their sound that works in that place. As nuts as we are for Rascal Flatts, they did not overcome the problems, but we loved them despite that. Some part of it has to be the emotional connection with Keith. You are so sucked in, you aren't distracted by the acoustics.
Perhaps the most brilliant touch last night was the simplicity of the staging. Both Kenny and Rascal Flatts had amazing technical displays, and wonderful uses of them. Still, on some level, they are a distraction from the band, and the music.
Keith had a giant screen behind the stage. For all but two or three numbers, it showed the live action on the stage (of course, mostly Keith himself). For a venue like MSG, it made all the difference in the world. Now, no matter where you are sitting, you see him (or whomever else they are highlighting) larger than life, including every facial expression, and guitar lick. It was fantastic.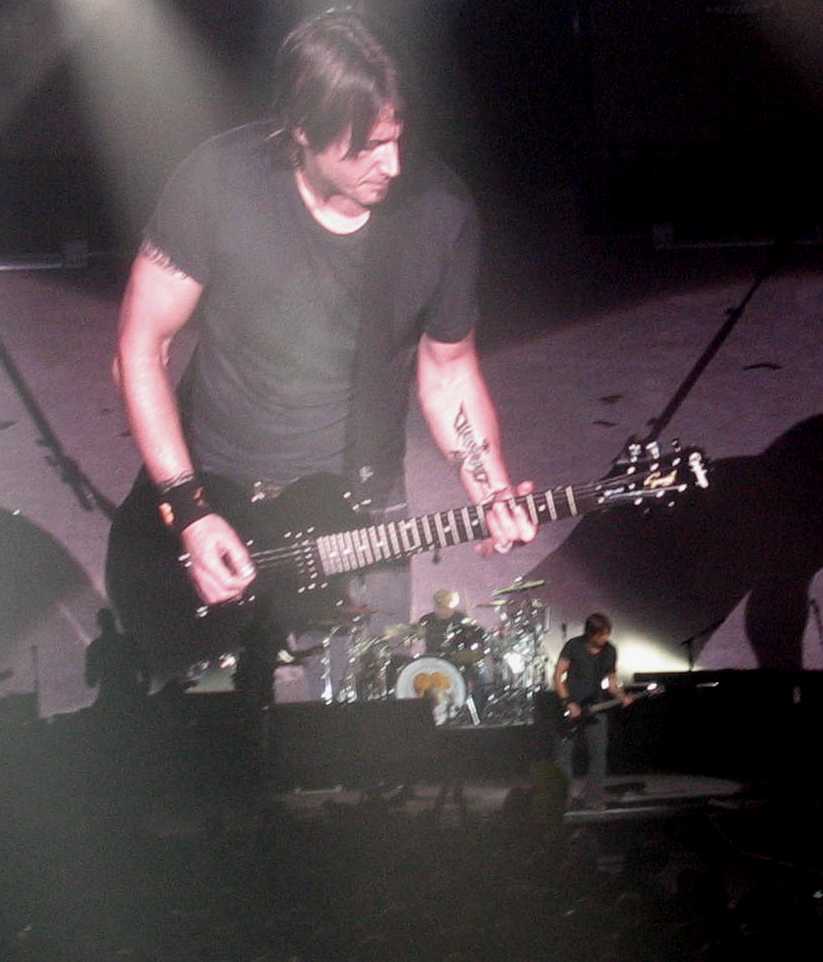 I mentioned facial expressions because there is such a warmth and sweetness about him that is completely infectious (in fact, that's true of the majority of his band as well), and if you weren't in the first few rows, you wouldn't connect to that unless they projected it so clearly.
Most of the repertoire last night was driving hard rock. It probably qualified as Country (for the most part) because of the themes and harmonies, but from a musical point of view, hard rock it was. But, he's a very talented and varied musician, and he switched gears a number of times, including a few acoustic guitar numbers, and at least two numbers with him playing piano!
He has an excellent voice (I hadn't appreciated that as much before last night), which somehow, wasn't ruined by MSG either.
Here's another example of simplicity. As I mentioned in this post (and showed photos as well), Rascal Flatts did some cool numbers on a rotating center stage, that had a special bridge which was raised and lowered at various times to give them access. It was way cool. Last night, Keith had a circular center stage as well, but there was a permanent runway connecting the two, and he used the runway effortlessly, all night.
During one set, the core members of the band (six I believe) were on the center stage, and it was a little mellower, closer to us, and amazing!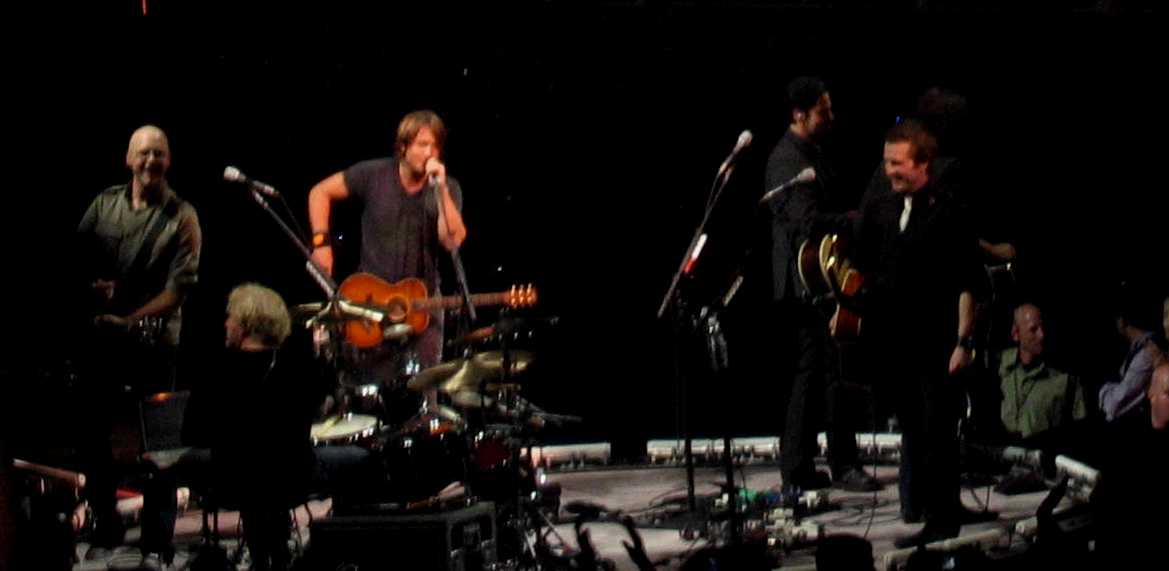 While the entire band was superb, I feel the need to specifically call out the drummer, Chris McHugh. I had never heard the name before, but obviously, I've heard him before. If you look at the page I linked to, I own at least four of the albums he's played on, and I saw the movie Cars as well. I don't know how he finds the time to eat given how much studio work he puts in, but he's so amazing, that I understand why all of these superstars want him!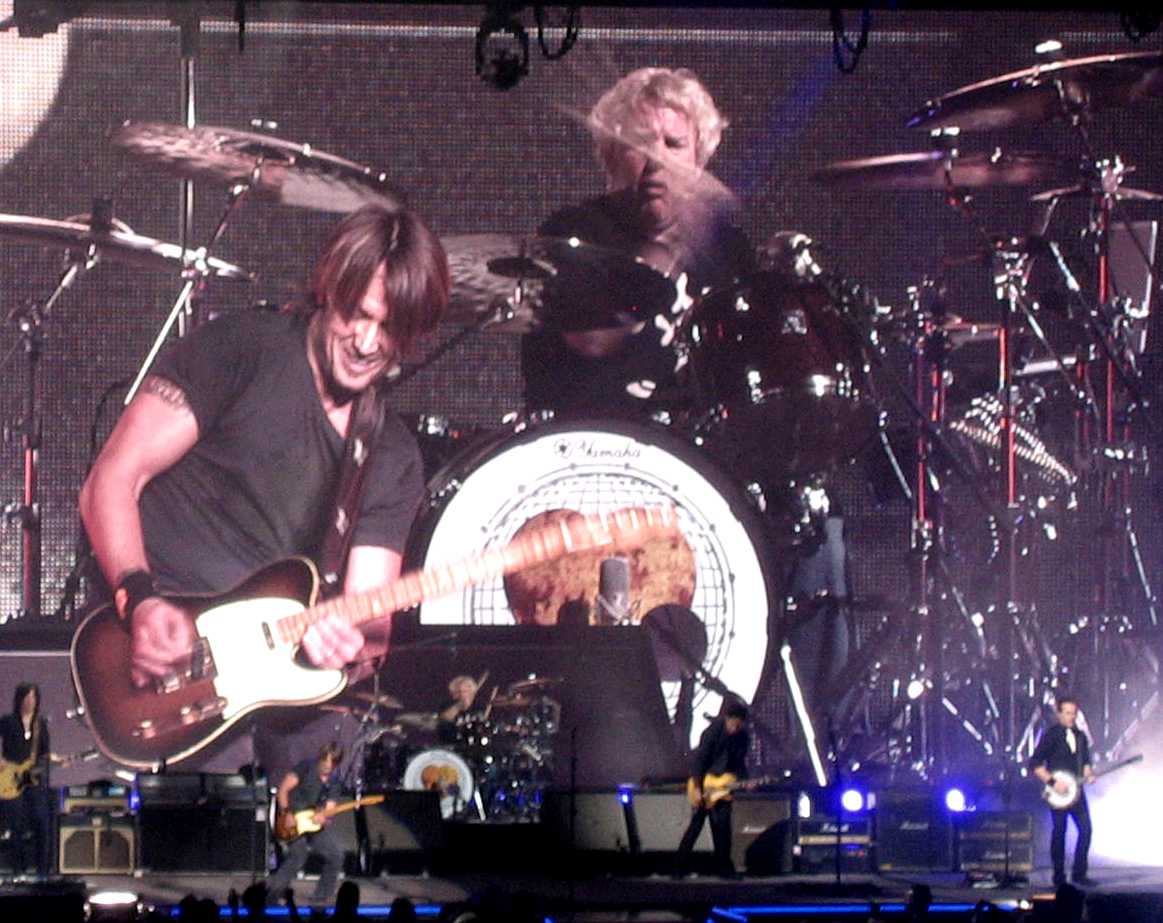 Two final examples of Keith connecting with the crowd. Toward the end of the show, he walked off the stage into the crowd. Not just a few feet, but way into the crowd, and then up into the stands! Of course, he was mobbed by back-slappers, etc., and yet never missed a beat of playing his guitar, or singing. (I'm not sure Nicole Kidman should see this next photo.) 😉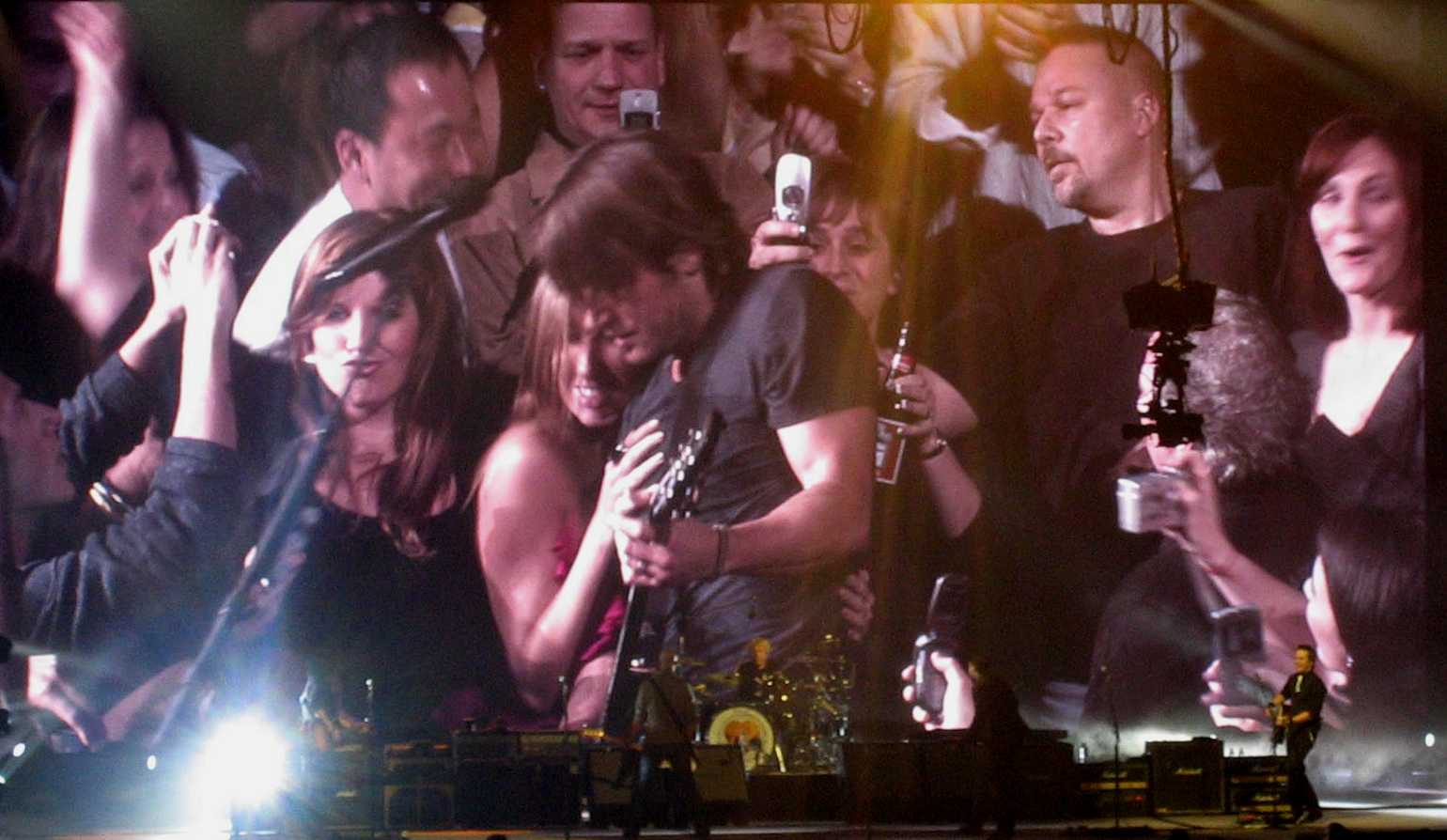 Then, when he was jamming with one particular group of people, he took off the guitar, took a marker from one of his helpers, signed the guitar, and gave it to a couple. Because of the giant screen, we could see every nuance of the gesture. The woman looked like she died and went to heaven. Keith continued to sing, ran back to the stage, grabbed another guitar, and rocked out the rest of the song on the runway.
The second example will have to wait so it can be delivered in the correct order. 🙂
Keith played for 100 minutes before saying goodnight. That alone is longer than most acts play, especially when the opening act plays for 70 minutes! In addition, the energy level they all put out (but him in particular!) was so high, that keeping it up for that long can't be easy. So, when the lights went out, Lois said: "Surely, he isn't coming out for an encore, right?"
I laughed, and said: "No way he doesn't come back out!"
He did, for a solo on the piano, in a beautifully moving song that he sang for his wife, as a Valentine's Day tribute (she's apparently back home in Australia at the moment). Then the entire band joined him, and they did at least three more numbers. The encore lasted 20 minutes (sweet!), so that he was on for a total of two hours, which put the end at 11:30pm!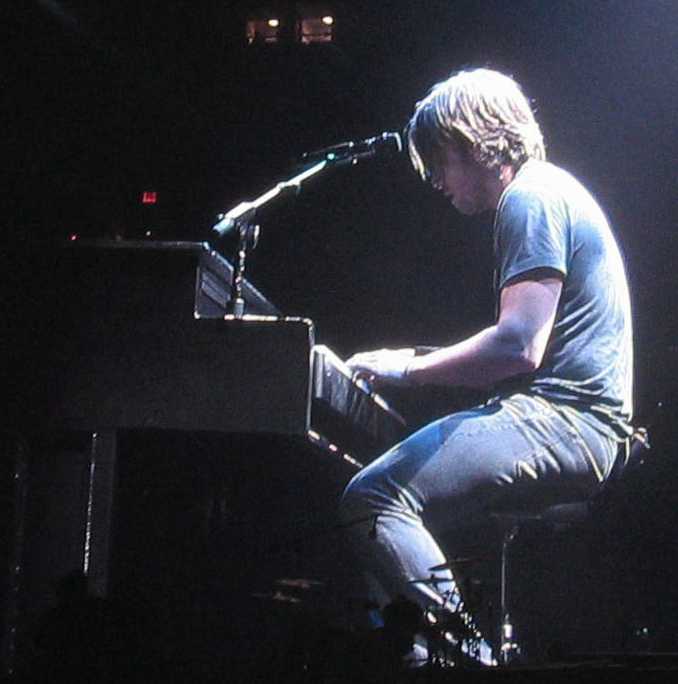 Near the very end of the show, they set off a number of confetti canons simultaneously. Here's a fuzzy shot (larger than the rest) to give you a sense of the mayhem. 😉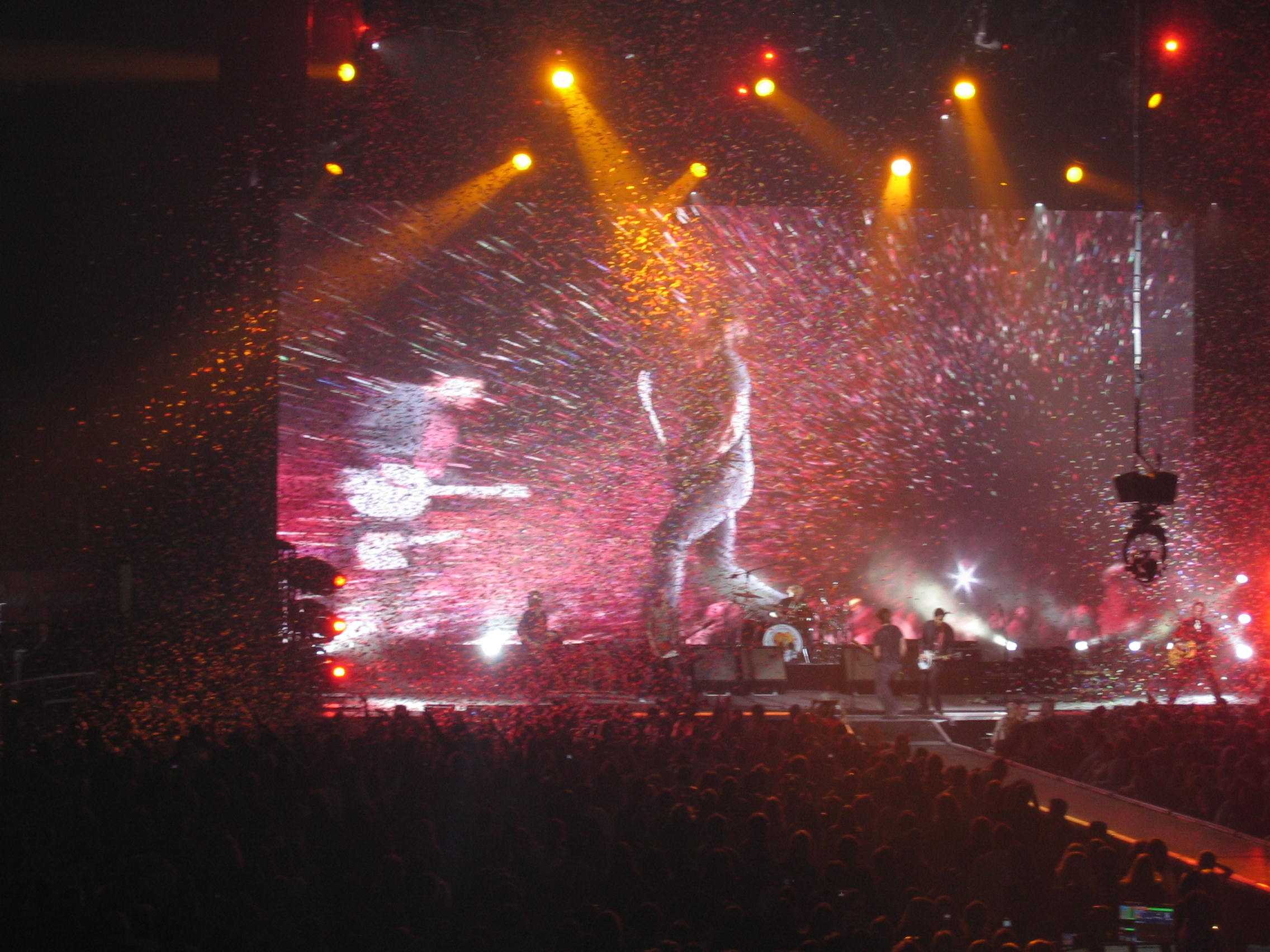 After the show, nearly every single one we've ever been to, the lights go out, and the artist is gone (after the encore that is). The house lights then quickly come up, indicating to the audience that they should get out! 😉
Last night, when the encore was over, the lights never went off. After the band collected together in front of the stage to take a group bow, they all stuck around and kept thanking the crowd. Then, even when the rest of the band was long gone, Keith kept walking around the stage and the runway, and thanking every section that was still around. There was no way we could even consider leaving before him.
It was very moving for both of us. There was a humility to his actions that was overwhelming.
So, I have no idea whether we'll ever be back at MSG for a concert or not, but we're not likely to be able to duplicate this experience without seeing this type of crowd interaction, on this scale.
Did I love it? Absolutely! Am I a Keith Urban fan now? Yes, at least for his live performances. I'm not really sure I'll run out and buy his CDs, but I might. Do I prefer him (specifically, this show!) to Girlyman or The Wailin' Jennys? (not just another gratuitous plug) 😉 Definitively, no!
There is an intimacy that comes with seeing people like Girlyman and The Jennys in a small venue that can't be described accurately to someone who hasn't experienced it. Aside from that, I actually prefer (reasonably strongly) the music and lyrics that both of those groups create to the more general Country music songs (which I love as well, but not as much, and differently).
That said, I am still amazed/impressed by how close Keith got to creating a sense of intimacy in a cavernous place like MSG.