Send to Kindle
Last night we saw Acoustic Alchemy at Towne Crier Cafe, the same place that we saw Cherish The Ladies at back in April.
I've only seen Acoustic Alchemy live once before, in 2006 at the Blue Note in NYC, but they've been my favorite Jazz group for a very long time. I owned 14 of their CDs (none of them being a Greatest Hits variety), until I bought last year's CD This Way last night (signed, of course). 🙂
Aside from being an all-around music lover, I'm a guitar nut and I've written about many awesome guitar players. One of of the things that makes Acoustic Alchemy special is that they have two awesome guitar players, who complement each other and blend their sounds deliciously well together. They also produce (consistently, for 21 years!) very melodic music, putting them at the forefront of the Smooth Jazz style.
They were at the very top of their game last night. Aside from their obvious, extraordinary talent (that is always there), Towne Crier is a special place (in general), and special to them (in particular). They have played there a number of times, and in fact are returning there for another show this coming Sunday, June 22nd. Don't miss it if you're anywhere in the NY area.
Tonight (probably too late if you didn't know already) they are playing at BB King in NYC. The show tonight benefits Pancreatic Cancer Research, so if you can make it, in addition to hearing a fabulous show, you will be doing your part for a very worthy cause!
Here's a shot of them all on stage together. Unfortunately, Greg Grainger was tucked in behind his drum set, way in the back, under the Towne Crier Cafe sign, and was invisible from Lois' angle: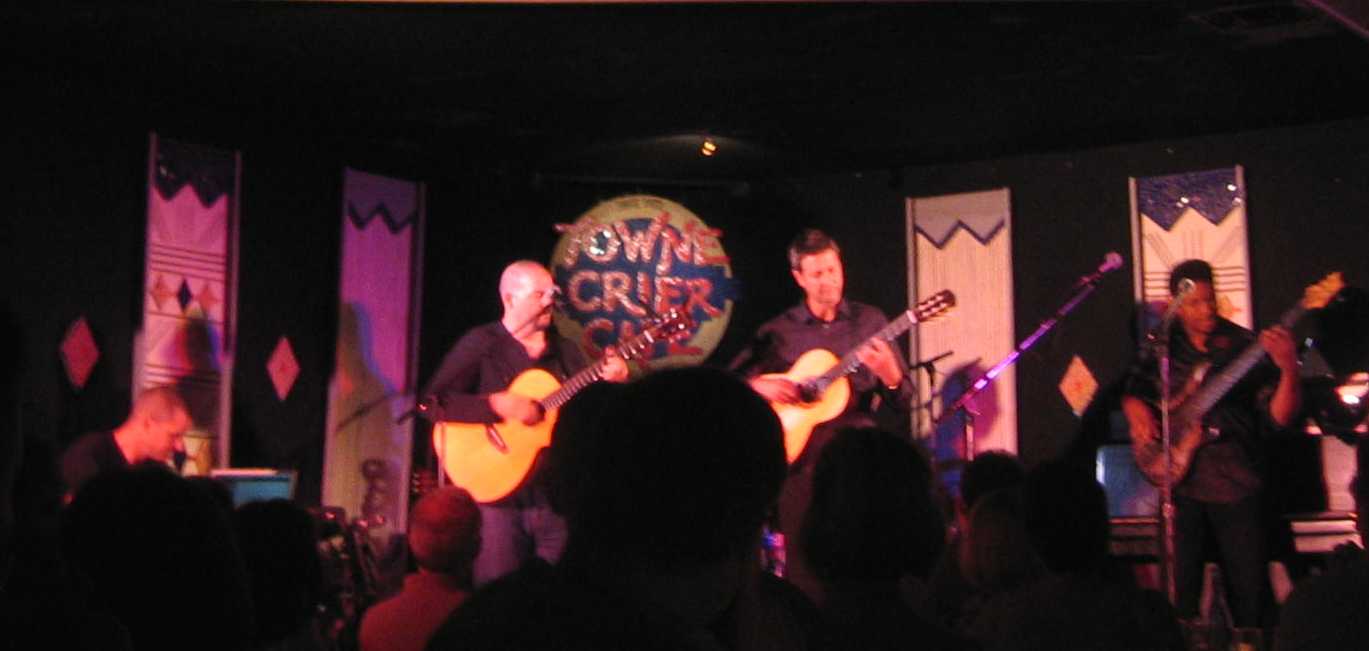 Greg Carmichael is one of the two original founders of the group. 21 years later, his fingers still fly up and down a Nylon string acoustic guitar. He produces such a clean gorgeous sound, and has a generally wonderful (and generous) spirit on stage. He's a joy to watch and listen to. The other co-founder, Nick Webb, sadly passed away from Pancreatic Cancer in 1998. He too was an extraordinary musician. You can read a moving tribute to Nick and their last collaboration together.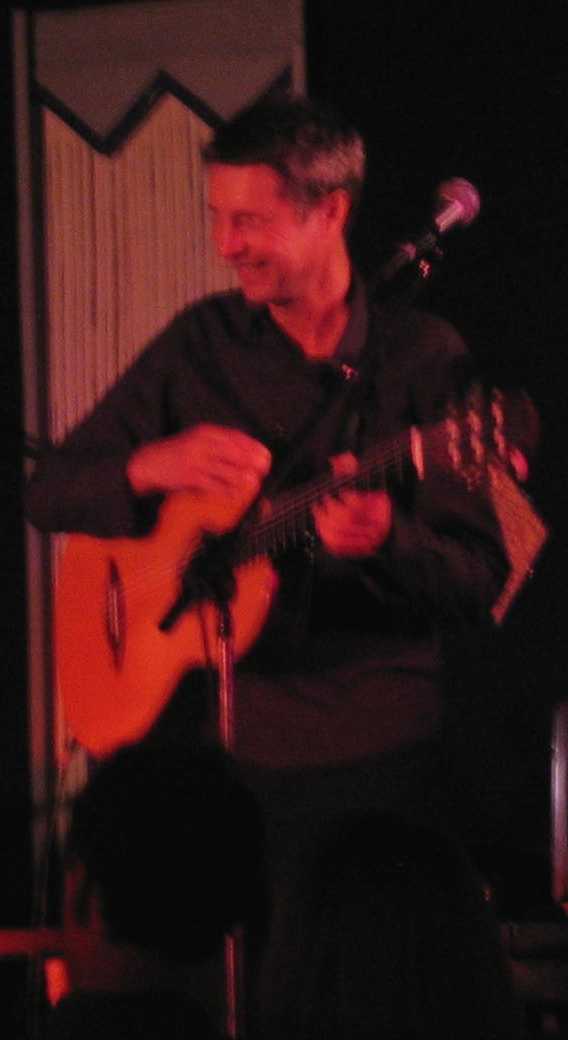 Miles Gilderdale replaced Nick Webb as Greg's partner. He had played with the band previous to being elevated to the co-lead position. He plays both Steel string acoustic and electric guitars. In addition to his amazing guitar playing, he has a fantastic stage presence, and had the crowd in stitches (and at the edge of their seats) when he introduced the amazing band one-by-one during the second set.
Here are two shots of Miles, one on acoustic guitar and the other with him holding his electric guitar and speaking to the audience:
Fred White played keyboards. I can't say enough about this guy. His fingers fly on the keyboard, producing both pure piano sounds as well as funky electronic organ ones. He took a number of exceptional leads, but he's also incredible when he plays background to the guitars. The reason I put background in italics is that he often shadows their phenomenal guitar leads on the organ, so that even his background playing is stunning.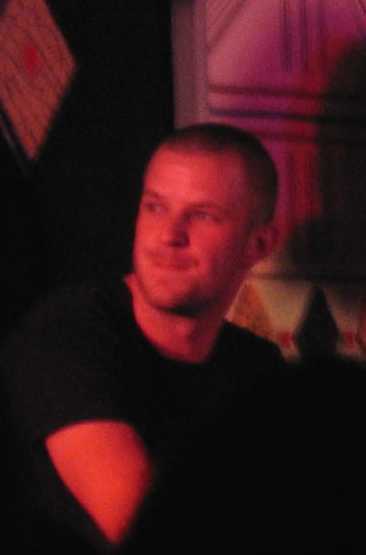 Greg Grainger played the drums. He's a great Jazz drummer, who has been playing with Acoustic Alchemy (and others) for a very long time. Back in the 80's, he also played drums for Whitney Houston (in her prime), so he's been at the top of his game forever, and continued that tradition last night.
Greg introduced his older brother, Gary Grainger to the group a while back. As mentioned above, Lois had no view of Greg. She passed the camera to me for one shot, and I snapped one of Greg, but he's partially obscured by his own cymbal. In the second shot, Lois snapped him while he was getting up to join the others in a bow, so it too isn't a great shot. Sorry Greg!
Gary Grainger played the electric bass (five string, named after him!). I don't know where to begin. He's mesmerizing. Basically, while most bass players (even great ones) lay down solid but straight-forward bottoms to anchor the sound, they reserve any flying fingers for the rare solo that they are accorded. Not so with Gary. He's essentially playing a beautiful melody all night long, complementing the lead (whether it's guitars of keyboards) in more of a harmony than just support.
His fingers are in constant motion (both hands) and he is playing a song within a song. Simply gorgeous. His smile also lights up the room (as you can see on any number of YouTube videos of him). He's played with many greats (you can read a partial bio in the link above about the Bass named after him).
Here are two shots of Gary. One playing the bass and the other with Gary both playing the bass and scatting at the same time:
Anyway, to round it out, all of them are extraordinary musicians, who play together tightly and generously, covering a selection of music that is simply beautiful on so many levels.
They played roughly half of the songs on the current CD (This Way, released in 2007). They also played some of the great oldies (including the title cut from their first CD: Red Dust and Spanish Lace).
The crowd was comprised of Acoustic Alchemy lovers. They couldn't have been more appreciative of the performance, and gave long and vigorous ovations after each and every song. No wonder Acoustic Alchemy likes coming to Towne Crier!
They came out at 8:06pm (for an 8pm announced show). They played 54 minutes in the first set and left the stage at 9pm. They returned at 9:17 and played until slightly past 10pm. After leaving the stage for two minutes, they returned for a thrilling one-song encore. Total time on stage, including the encore, just under two hours. Absolutely fantastic!
We had a 6:30 dinner reservation for the 8pm show. We arrived at 6:20 and were seated at a very nice table for two. Folks, I mentioned it before when I wrote about Cherish The Ladies, this restaurant is really terrific. Before we even sat down, my mouth was watering for the little jalapeno pepper corn bread that comes with the chips in the basket. It didn't disappoint! The chips are served with a fantastic chicken salsa.
Last time, we each had soup (I had carrot ginger and Lois had black bean). This time I went for a Caesar Salad as an appetizer. Lois tasted it (more than once) 😉 and declared it to be the best Caesar Salad she's ever had. I loved it, but nothing is ever likely to top my regular Caesar Salads at the Imperial Hotel in Tokyo, clearly produced by the staff selling their souls in return for making perfect Caesar Salads! 🙂
Lois had a salad as her main dish (and loved it) and I had one of the many specials of the day, Chicken and Shrimp Jumbalaya. Wow, it was mouth watering, with just the right amount of spice for flavor and heat. Towne Crier is famous for their desserts, but we couldn't have stuffed it down our throats even if we wanted to, so discovering whether they taste as good as they look will have to wait for another day.
The drive there was about 44 minutes, and about 40 minutes back, so not too bad all around. We did wait around for a bit after the show, to get the CD that we purchased there signed by both Greg Carmichael and Gary Grainger (the others hadn't come out yet, and we were too tired to hang around much longer).
We had a fantastic night, and can't wait to see Acoustic Alchemy again, or see anyone else that we we like at Towne Crier. Unfortunately, we will not be around next Sunday, or we could accomplish both tasks simultaneously! 🙂