Send to Kindle
Last night was our third time seeing Acoustic Alchemy perform, first time at Birchmere. It was also our third Birchmere show in the past eight days! There were also three of us in our party. Three was a lucky number last night. 🙂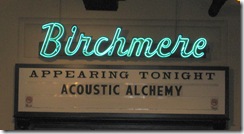 Our last Acoustic Alchemy show was awesome, and fully covered in this post. I've been trying pretty hard lately not to repeat myself too much, so if you want lots of details, please read that post, it really all applies to last night's show.
They were incredible last night, to a person. The differences were more related to the venue. Birchmere is big (seats 650) and typically produces a better sound than most clubs that we attend. They played a wide selection last night, including a couple of songs from their first CD and sprinklings throughout their catalog (I own all 15 of their CDs!).
I would guesstimate that there were 400+ people in attendance last night. The crowd was made up of huge Jazz lovers, and specifically Acoustic Alchemy lovers. We were sitting four seats from the stage, dead center, and the people around us (who were on line for an hour to get those seats) were super fans.
There were multiple spontaneous standing ovations after particularly amazing guitar solos (mostly from Greg Carmichael). He deserved every one. His partner, Miles Gilderdale, is equally mesmerizing, with a completely different style (night and day different).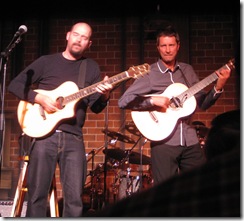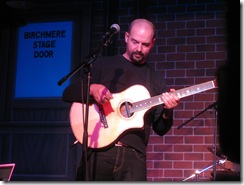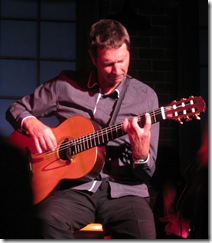 In a heart-breaking moment, Miles told the crowd (many of whom knew) that the band lost someone very dear to all of them over the summer. It was the daughter of the drummer Greg Grainger, Dianne, 24 years old! She was also the niece of the bassist Gary Grainger and the fiancée of the keyboard player, Fred White. Obviously, close friends of Greg and Miles as well. Truly tragic! Miles was choking back serious tears while talking about an upcoming benefit for Dianne.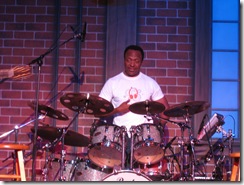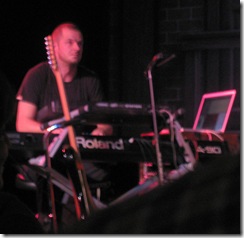 We have seen quite a number of great opening acts, sometimes even discovering a new life-long passion (The Paper Raincoat is a recent example). That said, it's sometimes hit-or-miss as to whether they're even complementary to the headliner, or good on their own. When they're good, it adds value to the ticket price. When they're bad, it drags the evening out, often bringing down your mood even before your beloved band hits the stage.
This week, at two separate shows at Birchmere, the opening bands were outstanding in every respect (Po' Girl last Sunday, and Chris Hillman and Herb Pederson on Wednesday). Still, when we showed up last night and saw that there would be no opening act, we were thrilled.
First, no gamble on the quality. Second, it was Sunday night, with a work day to follow. Third, we had a one hour drive back to the hotel after the show. All of that meant that a shorter evening was welcome.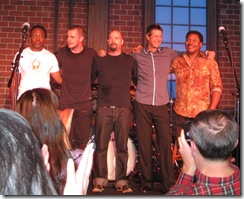 Acoustic Alchemy played for just under two hours, including a two-song encore. The food was excellent (as it always is at Birchmere), and we brought one very special guest with us, who made our evening all the more wonderful (thanks for coming along!). 🙂