The wedding weekend is upon us. In fact, the wedding itself is just over two hours away.
Yesterday was a delightful day. We're staying in Williamsburg, VA (where the happy couple both went to school at William & Mary). At 10am, 25 of us (both sides of the family) drove the 10-15 minutes from the hotel to the Historic Jamestown site. Our host, the father of the bride, arranged for a private tour guide who took us through the settlement and did a wonderful job of bringing life in the 1600's alive in the present. We have nothing to complain about nowadays…
After the 2.5 hour tour, we dispersed for lunch. I chose to spend the rest of the afternoon in bed (I'm exhausted). I didn't really nap, but I definitely rested. After a shower, I joined a much larger group for the rehearsal dinner at The Blue Talon restuarant. A great meal and a great time (including a wonderful compilation of photos of the couple). I had the Lamb Shank, it was yummy.
It was raining pretty hard during dinner so Lois and I decided to skip the fireworks and head back to the hotel. We walked. The rain had stopped, but after one block, it started coming down again, accelerating into a full downpour for the last few blocks. Lois wasn't happy with me, but I didn't really mind bonding with nature for a few minutes.
Unfortunately, even though the room and the bed are very comfortable, I didn't get any meaningful sleep last night. Nothing I can do about that now. After a wonderful buffet breakfast in the hotel with most of the men-folk in our group, I went back to our room to catch up with email. I didn't turn the laptop on at all yesterday!
The hotel charges for WiFi (through Wayport). Rather than giving 24 continuous hours of access, they give access until Check-in time. So, if you start at 10am, you get only five hours of air time before having to pay again. Not interested. I overpay for the privilege of rarely using my cell phone as a high-speed modem for my laptop. I've been logged on for five hours in a row now, through my cell phone. I am getting nearly 800Kbps downstream, and 130Kbps up, so I have no complaints (many hotels are much slower over their shared WiFi).
I received two phone calls on my cell, and the connection to the Internet wasn't dropped (I was flabberghasted!). My connection dropped once (the normal sound I hear when my cellphone has a weak signal that it reacquires), and one click on the Sprint Connection Manager software reconnected me. I am certainly delighted with the ease and reliability, if not with the price of my insurance policy.
I am (mostly) caught up now, and once I log off to attend the wedding, won't be back on until tomorrow evening, since we're heading out tomorrow morning for NY.
Update: Now that we're home, Lois uploaded her many photos. I've selected a few to support my tale. 🙂
I spent most of the social time at Jamestown chatting with the groom's grandfather. He is a fascinating man and I thoroughly enjoyed every second that I spent with him. Thanks Bill!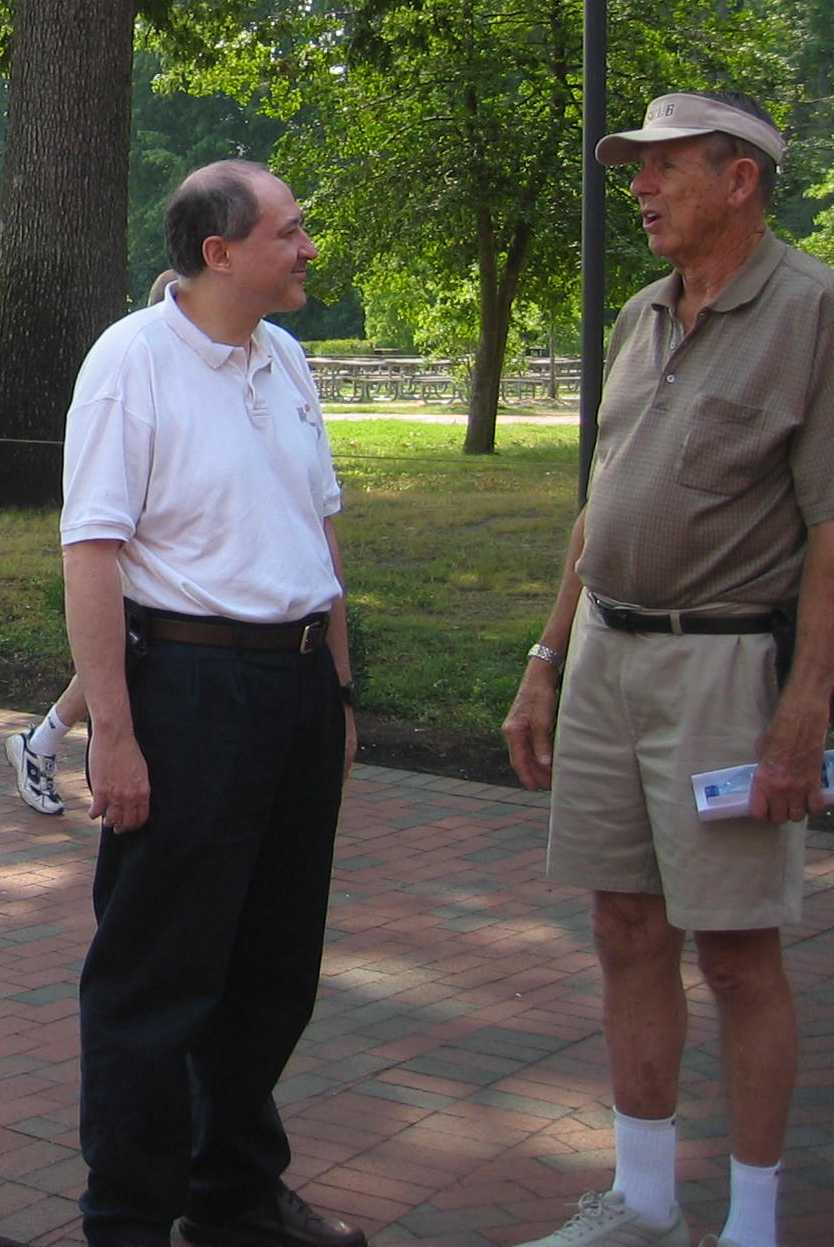 Here are a few Indian Carvings of the Powhatan Tribe: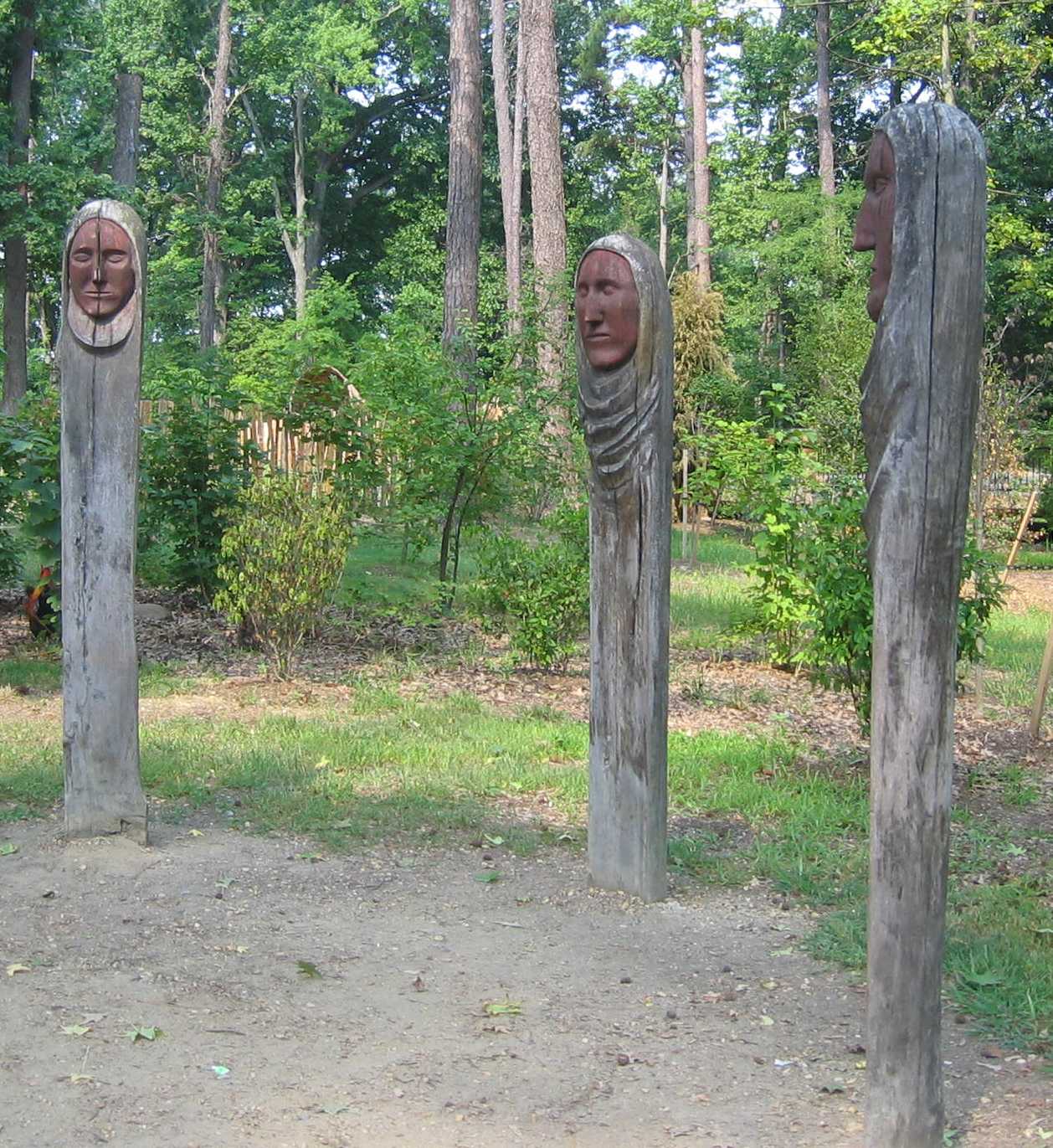 The youngest member of our 25-person-strong brigade was a 3-year-old. I'm thinking that she didn't think that living in a hut full-time would be all that bad. 😉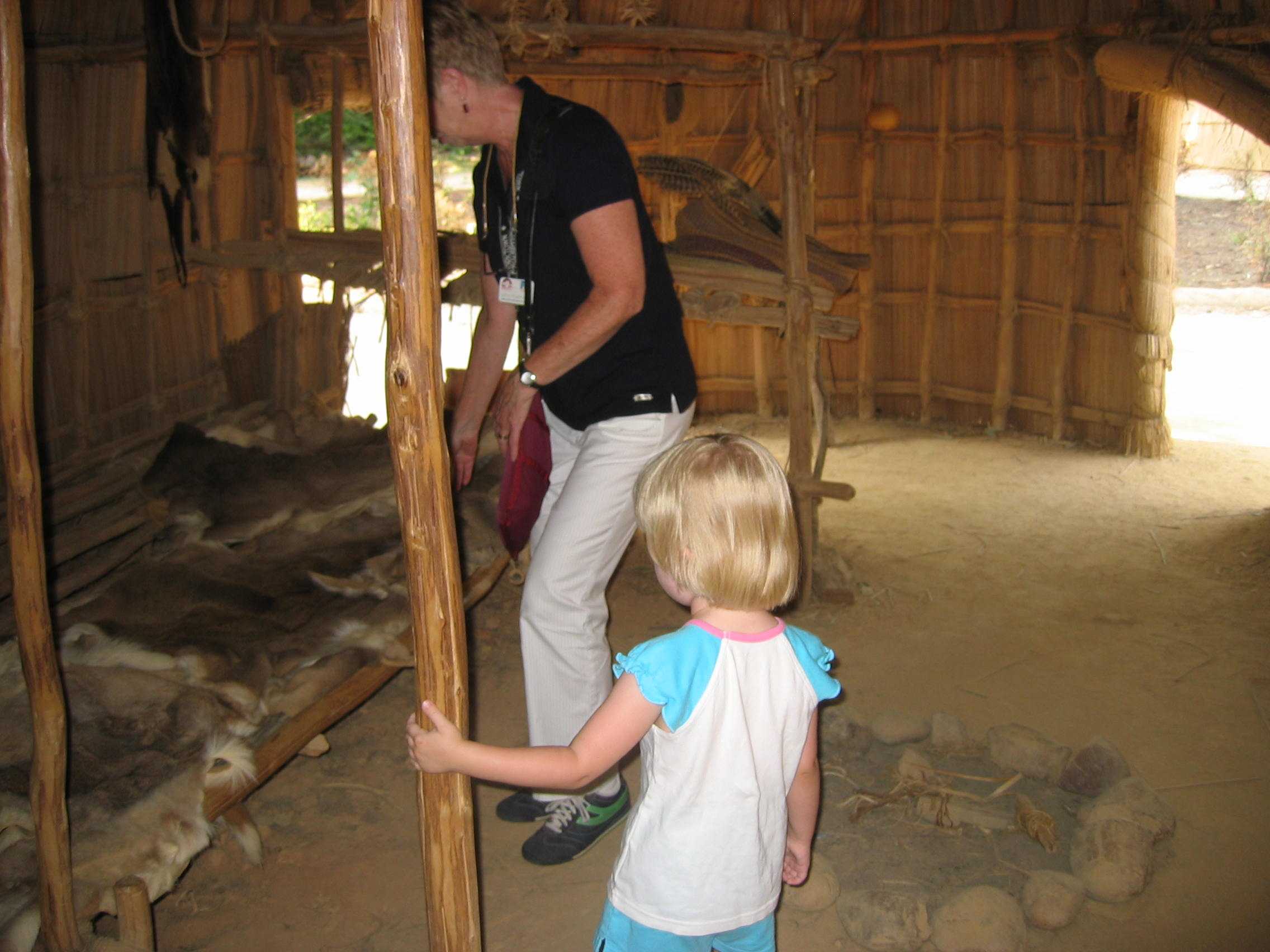 Part of our group about to board the lead ship in Jamestown: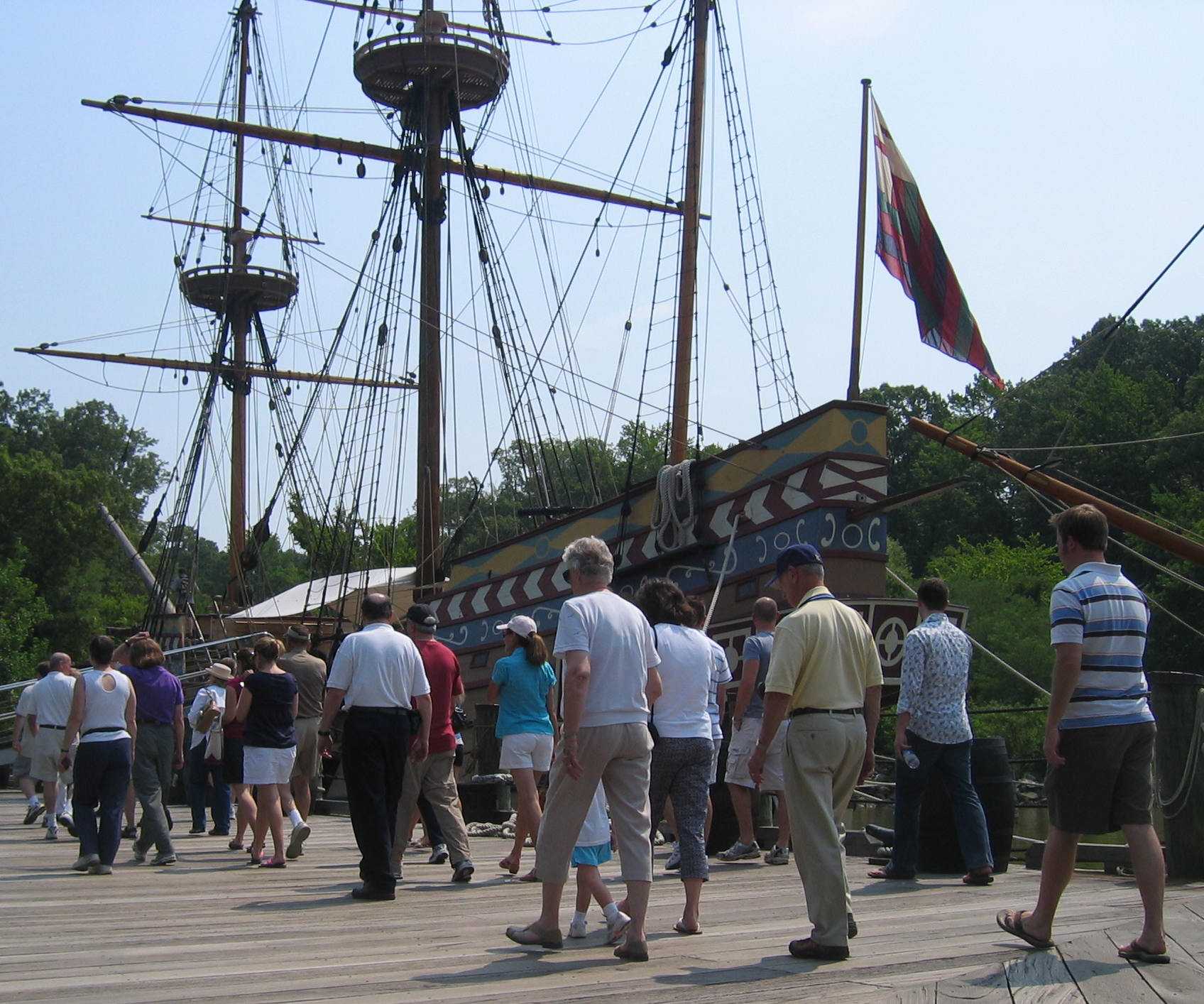 Our littlest one learning to construct things the old-fashioned way, inside the Jamestown Fort: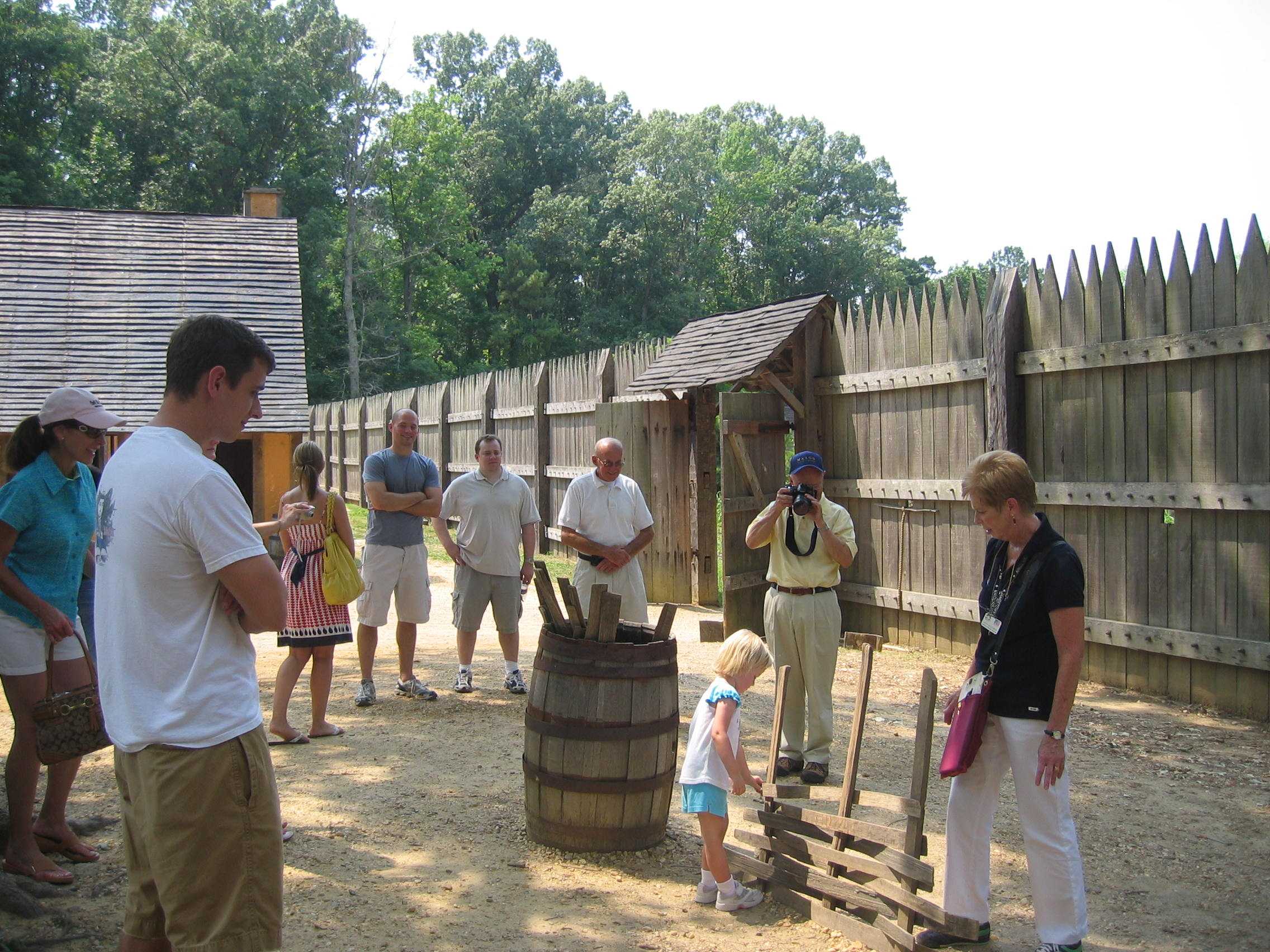 Topping off the day, here is a photo of the bride-to-be herself (now, officially married an on her honeymoon!), cutting me a slice of her world-famous apple pie! It went amazingly well with the chocolate Groom's cake with ice cream. 🙂