Send to Kindle
One of the major events in being a godparent is seeing your godchild get married. Nearly three years ago we got our first taste when Laura married Chris (captured in this post). This past Saturday, her brother (David) completed this stage by marrying the most wonderful woman (Rebecca) we could have imagined for him.
We arrived in Birmingham, AL late Monday. The festivities began in earnest on Tuesday morning, when we helped David's parents move the remaining belongings from his apartment to his bride-to-be's home. The ladies packed and scrubbed, the men hauled and drove. The next morning we sat in the new home waiting for the cable guy (he was only five minutes late, but that was five minutes after the full allotted time). In other words, a zesty start.

On Tuesday and Wednesday evenings we had wonderful meals with the groom, his parents and his future in-laws. That's more like it!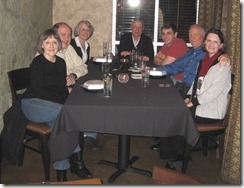 (All photos in the post can be clicked on for larger versions that will open in a separate tab/window. A few of them are courtesy of another wedding guest, Maggie, who took great shots with a better camera. I didn't ask permission before snagging them, so I hope Maggie is OK with it, or doesn't see this blog…)

Thursday became more wedding-y. I picked up my tux (yes, it was a big deal, those of you who know me, are either smiling or shaking your head in disbelief while reading that). Not just a tux, one with tails!
After that, it was off to the bachelor party. If you're easily offended, you might want to skip ahead now. Just kidding! David is a devout Christian, as was everyone in the entire wedding party, so no one needed to worry about any possible debauchery with this crowd. One of those times that the bride could concentrate on her night out with the gals, without wondering what was happening across town.
We started off the evening with bowling. If you know me, you know that's right up my alley (I know, but I couldn't resist, sorry!). Eight of us bowled two games each.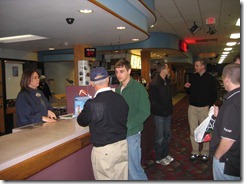 Not to brag, but to remember this years later, I started off my second game with four consecutive strikes. It devolved from there, but I still ended up with a 185. The photo below shows the name Bob next to that score. Bob left after the first game to pick up another reveler and asked me to bowl for him. When he returned, I had just finished up the fourth frame. He took over my game on the second lane and kindly let me play out his.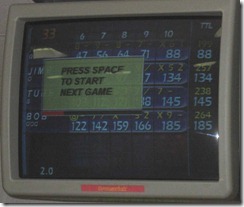 We then headed over to Buffalo Wild Wings, picking up a few more people who couldn't make it over in time for bowling. We watched ACC Basketball while drinking some beer (that's as wild as it got) and enjoying an excellent meal (my first time at a BWW, I'd happily return).
After that we headed back to the hotel and played poker for a couple of hours in the breakfast area. We got to greet more wedding guests as they arrived late into the night. Speaking of late arrivals, the groom's sister and her husband were delayed getting out of NYC and arrived after 3am!
Anyone that wasn't part of the bachelor or bachelorette night out was invited for a meal at the bride's parents' home. On Friday, the bride's father called the groom's father and told him to bring people over for leftovers (the gals were having a bride and bridesmaids tea). I knew that the bride's mom was an excellent cook and baker already (we've had quite a number of meals there), but her leftover chicken salad (with red grapes in it) still took me completely by surprise (straight out of the fridge). Wow!

Here are some photos from the tea: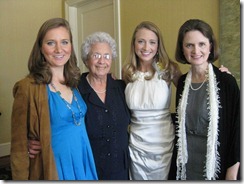 We were supposed to be at the church at 5pm for the rehearsal. I have come to trust my GPS. It rarely lets me down. It didn't this time either. It took me exactly where I told it to. Unfortunately, I punched in the wrong address (a different church). Oops, operator error. Still, even after fighting traffic from the wrong church to the correct one, we walked in the door at precisely 5pm. Whew.
One example of the lighthearted spirit during the rehearsal. When they were practicing placing the rings, there was more fumbling than exchanging. The Pastor, Dr. Dennis W. Foust (who is the doppleganger for Bill Engvall, in my opinion) said to David: "It feels like this is your first time". Perfect!

The bride's family is very large (she has four siblings, three of whom are married, each with at least two children). Most of the kids (ages 2+) were part of the ceremony (ring bearers, flower girls, junior bridesmaid). During the rehearsal, one of the two-year-old boys was told to go up the stairs and stand in a certain position. He declared, loudly, that he didn't want to go up there, because he didn't want to get married!

On to the rehearsal dinner. At some weddings this is a very small gathering, restricted to the wedding party only. Even if this one were restricted to that subset, it would have been a large party. Since everyone on the groom's side was an out-of-towner, with his family hailing from Richmond, VA and Lincoln, NE, The Preserve (the very special place where the rehearsal dinner was hosted) was at capacity, 100 people!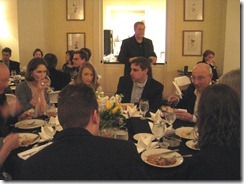 Everything about the dinner was fantastic (the food, prepared by "Chef Bob"), the wine (brought by the groom's dad from Richmond) and the company. After the meal, they projected a slide show with music. The photos were of David and Rebecca from babies all the way through to couple-hood. The families submitted the photos. The presentation was put together by Laura (David's sister) and her husband Chris.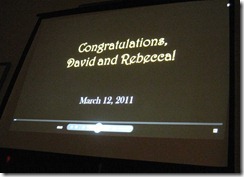 Laura selected perfect songs to accompany every stage of each of David and Rebecca's lives. This culminated in a huge surprise for us when we heard the song she picked for David and Rebecca coming together (photos of the two of them over the past 18 months). Our own Ian Axel's We Are. Here are a few of the lyrics, to give you a sense of why I think her choice was perfect:
I'll believe in you if you believe in me

We are the lucky ones

I won't let you down (repeated 16 times!)
Sounds just about right to me. If every married couple took those three lines to heart there would be no divorce!
After that, speeches from some of the bridesmaids and groomsmen (including the dad, who was also the Best Man!). With each speech came humor, love, celebration and some added understanding of how/why both David and Rebecca are so special (individually and as a couple).
That was followed by Rebecca and David giving speeches of their own, both extremely moving. The Dad led us in a toast and we called the night before the big day over.
The week started out with horrible weather: heavy rain (and cold) punctuating Tuesday and Wednesday. In fact, on Wednesday evening, the rain was so hard, it felt like a portent of end-of-days to me (or at least the return of the need for an Ark). Thursday was dry but cold. Friday was very nice, but still a tad on the chilly side.
Saturday, the big day, was extraordinary. Low 70's, sunny, crisp, perfect. Someone was smiling on our happy couple!
After gathering for breakfast in the hotel, various groups of people went off to explore the city (Botanical Gardens, Vulcan Park, Civil Rights Museum). The boys (lots of 'em) went to the park and burned off their nervous energy.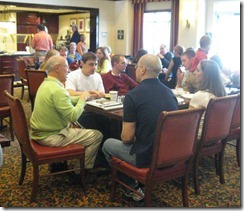 Lois and I met up with them and most of their wives for lunch, at one of my favorite BBQ places, Jim 'N Nicks (this was my fourth location, many more to try). Not including babies (at least three), there were 18 of us at lunch. Another winning meal in a week full of them.
Barely time to clean up and get dressed for the wedding party to get to the church for photos. For the groomsmen and ushers (and me), it was mostly a game of hurry up and wait. The Duke game was on. David and a number of his groomsmen are Duke graduates. Tim (a groomsman and brother of the bride) performed yeoman's duty and got a PC in the music room hooked up to a giant screen and streamed the game on ESPN3.com. Yay! Duke won (of course!).
Lois snuck some photos of her own, before we gathered for the professional photo shoot:
Since there were very few posed photos of the groomsmen, I won't have trouble selecting one: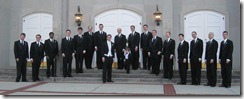 After the photo session people started streaming in. As I mentioned, the bride has a very big family. Also, since she was getting married in the church that the family has been attending for decades, the guest list was very large. When everyone was seated it was time for the seating of the Grandparents and Parents. As godparents, we were the first to walk down the aisle (hence my wearing of the tails!). After us came the parents, followed by Rebecca's one remaining grandmother.
I mentioned above that Rebecca is one of five siblings. Actually, she is one of six, but the eldest daughter, Elizabeth, passed away nearly 21 years ago. In an extremely moving tribute to her loving memory, one of Rebecca's sisters walked down the aisle, up the stairs in the center and lit a candle next to a bouquet of flowers. Amazing Grace was played on the horn to commemorate her short time on earth.
Everyone in Rebecca's family plays a brass instrument (amazingly well). Including the parents, there are two trumpet players and five horn players (that's the politically correct name for what used to be called the French Horn). To honor the love of brass instruments, there were two brass quintets, one on each side of the church (10 brass instruments in all, for those of you who didn't feel like doing the math yourselves). Rebecca's brother Tim (of the Duke fame above) performed double duty. He played the horn with the quintet on the left and also stood for the ceremony as one of the groomsmen (very busy day for Tim!).
The brass quintets were awesome in playing Canzona Per Sonare No. 2 by Giovanni Gabrieli as the Processional began.
The Bridal Processional was equally incredible. First, because she's a stunning woman (not just a stunning bride), judge for yourself from the accompanying photos. Second, because the quintets continued to impress with Canzon Duodecimi Toni also by Gabrieli.
When the entire wedding party was in place the Reverend (Dr. Foust) greeted them and the congregation. After that, there were two Scripture Readings, one by Rebecca's sister-in-law and the other by Laura.
The Marriage Vows were led by Dr. Foust. The Exchange of Rings was led by David's uncle, a Reverend from Richmond, Dr. James Colvin. David and Rebecca then lit the Unity Candle.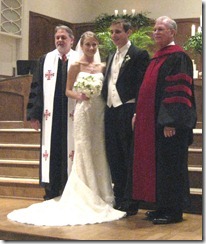 Reverend Colvin led us all in prayer followed by both Reverends simultaneously pronouncing David and Rebecca husband and wife, instructing them: "You may now Kiss your Spouse!" (that was a new one for me, I like it!). Since we were first in, we were last out in the Recessional.
The wedding party and families stayed at the church for additional photos while everyone else proceeded to the reception. We joined them all for a terrific celebration.
For those of you who know us, you know that Lois and I attend a wee bit more than our fair share of live music. Over the years, we've dragged many guests along with us (some kicking and screaming), including our godchildren and their spouses. When we heard that Laura chose one of Ian Axel's songs (someone we introduced her to) it was obviously gratifying.
Apparently, we had a musical effect on David as well. For the mother/son dance, he selected a song by another of our favorite artists, Vienna Teng. They danced to Harbor, another perfect choice (in my opinion). A few select lyrics (in case you require proof!):

The light in me will guide you home

All I want is to be your harbor

You've got a journey to make

There's your horizon to chase

So go far beyond where we stand

No matter the distance I'm holding your hand
Seriously, can a mother say anything more beautiful and meaningful to her son on the day she's letting him go? I didn't think so!
The father/daughter dance was to Cinderella by Steven Curtis Chapman. Another perfect choice. Unfortunately, we can't take credit for that one.

Both of those dances were serious affairs. When David and Rebecca danced their first dance (Feels Like Home by Chantal Kreviazuk), a much more lighthearted moment was created. Prancing on to the dance floor was a 2.5-year-old from Richmond, who just wanted to dance with the happy couple. The first photo shows them noticing something low, approaching them. Then David appears to be high fiving her in the second photo, before she was coaxed back to her parents. Precious!
The rest of the evening was filled with music by a jazz quartet. The female sax player was incredible as was the electric guitarist.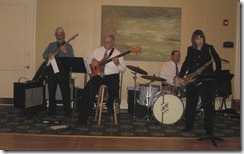 There were two absolutely incredible cakes, one for the bride and one for the groom. That made for two cake-cutting photo ops. Since the cakes were on opposite sides of the room, it enhanced the chance that guests would catch at least one. I caught both.
I also caught the photo op (Lois didn't, so I don't have a photo to attach) with the person who introduced David and Rebecca. If she ever stops wanting to be a doctor (at least I believe she is), she can probably make a living as a matchmaker!
In a shocking turn of events, while the cakes were being cut, a group of hoodlums were vandalizing the couple's car outside. It turns out that some good samaritans caught it all on camera, so the police shouldn't have too much trouble bringing them to justice!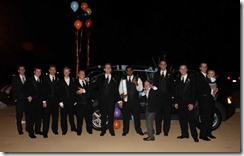 We all lined up outside to send the happy couple off on their well-deserved honeymoon. May they enjoy it at least a drop as much as the rest of us enjoyed sharing the last few days with them!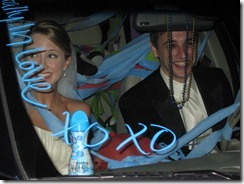 A few straggler photos: